Let me offer you a link to the PAYSEND,
where in the "Send to" line you only need to enter IBAN: UA423348510000026200404121108


SITE MENU / Heading Content
ROYAL AIR FORCE. COMMON CORE AND DEPLOYMENT SKILLS AIDE-MEMOIRE
TASK 20. THE NUCLEAR IMMEDIATE ACTION DRILL
You have to be able to:
Recognise a nuclear explosion and carry out the Immediate Action (IA) drill.
Study Notes
The main differences between a nuclear and any other explosion are its scale and the fact it gives out radiation. You cannot sense radiation so you must recognise such an explosion by its other characteristics. These will be: a blindingly bright flash, followed by a wave of intense heat and a devastating blast wave. To survive, as soon as you sense the flash, you must:
a. Shut your eyes.
b. Drop to the ground face downward.
c. Place your hands under your body.
Note: On a ship place one arm over and one under your head to reduce whip and shock injury.
d. Remain flat until the heat and 2 blast waves have passed you.


Practice
Learn the characteristics and practise the IA drill, reacting to a flash of light.

TASK 21. NUCLEAR IMMEDIATE DECONTAMINATION
You have to be able to:
a. Know the form radioactive contamination takes.
b. Know the effect that radiation will have on your body.
c. Be able to remove it from your person.
Study Notes
When a nuclear weapon bursts close to the Earth's surface, large quantities of dirt or water are drawn up with the hot air rising from the explosion. It becomes radioactive as it rises. Heavy debris will fall back close to the point of explosion but lighter particles are carried down wind to spread across the Earth's surface as a carpet of 'fallout'. All radiation is dangerous to the body. Some causes burns if it lands on exposed skin and is a serious hazard if inhaled, swallowed or enters open wounds. Gamma radiation is particularly dangerous. It causes 'radiation sickness' which takes the form of nausea, vomiting, loss of appetite, general malaise and, with a high dose, eventual death. Radioactive fallout can be recognised only by special instruments called dosimeters and dose-rate meters.
Decontamination
You cannot destroy radiation but can protect yourself by removing fallout from your body and personal equipment as soon as possible by brushing, wiping, dusting or shaking. This should be done in an area where it will not be a hazard to you or others later on.
Gross contamination may require a change of suit. Before entering the shelter remove as much of the radio-active dust as possible.
Practice
a. Learn the form fallout will take and the effects radiation can have on your body.
b. Practise decontaminating yourself while wearing full IPE.
TASK 22. COLLECTIVE PROTECTION (COLPRO)
COLPRO
What is it?
NATO definition "Protection provided to a group of individuals in a nuclear, biological and chemical environment which permits relaxation of individual nuclear, biological and chemical protection".
What it does
Colpro is provided for two main functions, to provide a Protected Working Environment (PWE) and for rest and relief.
How it does it
Colpro is achieved by providing a room or container that is or can be airtight, and free of toxic liquid and vapour; this is called the Toxic Free Area (TFA). To prevent vapour from seeping in through cracks it is necessary to ensure that there is an over pressure of air inside that is always greater than the pressure outside. This is achieved by pumping in clean air that has been passed through suitable filters, ensuring any leaks are outwards.
Variants
Hardened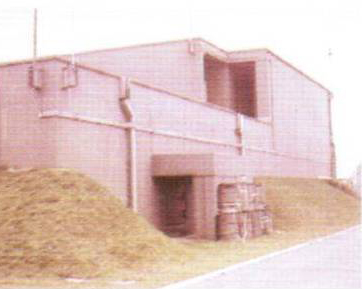 Unhardened
Should be placed inside a building where possible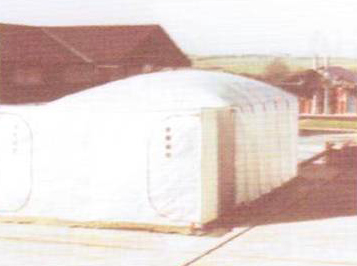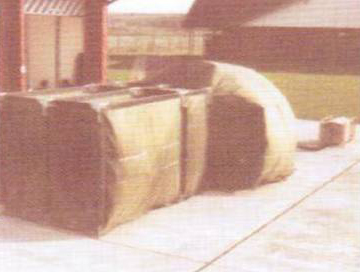 Winterbourne Liner
Porton Liner (Twin Airlock version)
Contamination Control Area (CCA)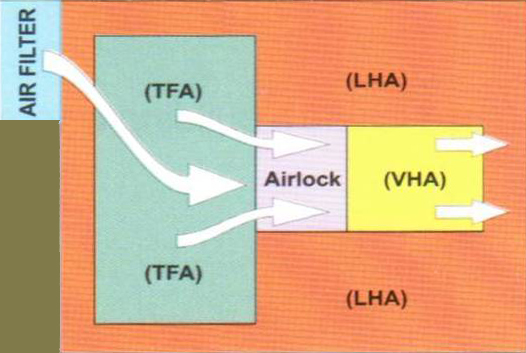 LHA
Liquid Hazard Area: An area outside the VHA where personnel can remove and store their equipment: Helmets, Webbing, Respirator, Haversack, Overboots, etc. Transit overboots are donned at this stage.
VHA
Vapour Hazard Area: An area immediately downstream from the airflow before the airlock where the final items of IPE are removed. (Note: the respirator is not removed until entering the TFA).
AIRLOCK
Airlock: An area where the final purging of personnel is carried out, final checks to confirm the absence of contamination before entering the TFA.
TFA
Toxic Free Area: An area free from contamination where personnel can work and carry out everyday tasks without the restrictions imposed by full IPE.
Shelter assistants will supervise and guide personnel through the entry/exit procedures.
Unhardened Collective Protection Liners (RAF Pattern and Winterbourne) Ground Forces Entry And Exit Procedures
NO HAZARD
ENTRY PROCEDURES
INWARD OUTSIDE SHELTER
◉ UNLOAD AND PROVE WEAPON
◉ ENTER CCA
INWARD IN LHA - EQUIPMENT STORAGE RACK
◉ DEPOSIT: EQUIPMENT, HELMET, WEBBING AND RESPIRATOR HAVERSACK
◉ RETAIN RESPIRATOR AND NBC GLOVES
◉ DOFF OVERBOOTS AS REQUIRED
INWARD IN LHA - VHA ENTRANCE
◉ ENTER OUTER AIRLOCK AND ZIP DOOR
INWARD IN VHA - STEPOVER LINE
◉ ENTER AIRLOCK AND ZIP DOOR
INWARD IN AIRLOCK
◉ ENTER TFA AND ZIP DOOR
INWARD INTFA
◉ RESPIRATOR AND NBC GLOVES CARRIED AT ALL TIMES
NO HAZARD
EXIT PROCEDURES
OUTWARD INTFA
◉ DON IPE AS REQUIRED
◉ CARRY RESPIRATOR AND WEAPON
◉ ENTER AIRLOCK WHEN FREE
OUTWARD IN AIRLOCK
◉ ZIP INNER DOOR
◉ ENTER VHA
◉ ZIP OUTER DOOR
OUTWARD IN VHA
◉ ENTER LHA AND ZIP DOOR
OUTWARD IN LHA-EQUIPMENT STORAGE RACK
◉ DON OVERBOOTS AS REQUIRED
◉ COLLECT: WEBBING, RESPIRATOR HAVERSACK, HELMET AND EQUIPMENT
◉ LEAVE CCA
VAPOUR HAZARD
ENTRY PROCEDURES
INWARD OUTSIDE SHELTER
◉ UNLOAD AND PROVE WEAPON
◉ ENTER CCA
INWARD IN LHA-EQUIPMENT STORAGE RACK
◉ DEPOSIT: WEAPON, EQUIPMENT, HELMET, WEBBING AND RESPIRATOR HAVERSACK
◉ DOFF OVERBOOTS
◉ GO TO VHA
INWARD IN LHA-VHA ENTRANCE
◉ ENTER VHA AIRLOCK AND ZIP DOOR
INWARD IN VHA AIRLOCK
◉ DOFF: NBC SMOCK (WITH UNDRESSER); NBC TROUSERS
INWARD IN VHA AIRLOCK-STEPOVER LINE
◉ ENTER AIRLOCK AND ZIP DOOR
INWARD IN AIRLOCK
◉ WHILE PURGING, AGITATE CLOTHING AND HAIR
◉ DOFF: RESPIRATOR INTO RESPIRATOR; TRANSIT BAG (RTB); NBC GLOVES INTO RTB
◉ ENTER TFA AND ZIP DOOR
INWARD IN TFA
◉ COLPRO CAM CHECK
◉ WASH AS REQUIRED
◉ DON: CLEAN/NEW NBC SUIT (IF AVAILABLE )
◉ BAGGED RESPIRATOR AND NBC GLOVES CARRIED AT ALL TIMES
VAPOUR HAZARD EXIT PROCEDURES
OUTWARD IN TFA
◉ DOFF NBC SUIT (IF WORN)
◉ CARRY BAGGED RESPIRATOR AND GLOVES
◉ ENTER AIRLOCK WHEN FREE
OUTWARD IN AIRLOCK
◉ ZIP DOOR
◉ DON: RESPIRATOR FROM RTB; NBC GLOVES FROM RTB (AS REQUIRED)
◉ DEPOSIT RTB
◉ ENTER VHA
◉ ZIP DOOR
OUTWARD IN VHA
◉ PREPARE NBC SUIT FOR DONNING
◉ DON: NBC TROUSERS; NBC SMOCK (WITH DRESSER)
◉ ENTER LHA AND ZIP DOOR
OUTWARD IN LHA-EQUIPMENT STORAGE RACK
◉ DON OVERBOOTS
◉ COLLECT: WEBBING, RESPIRATOR HAVERSACK, HELMET, EQUIPMENT AND WEAPON
◉ LEAVE CCA
◉ UNLOAD AND PROVE WEAPON
◉ ENTER CCA
◉ DECONTAM GLOVES
◉ DOFF ONE OVERBOOT
◉ DECONTAM GLOVES
◉ DON TRANSIT OVERBOOT/POLY BAG
◉ DECONTAM GLOVES
◉ REPEAT FOR OTHER FOOT
◉ GO TO VHA
INWARD IN LHA-VHA ENTRANCE
◉ ENTER VHA AND ZIP DOOR
◉ DECONTAM RESPIRATOR
◉ DECONTAM GLOVES
◉ DOFF; NBC SMOCK (WITH UNDRESSER); DECONTAM GLOVES; NBC TROUSERS (WITH UNDRESSER); DECONTAM GLOVES
INWARD IN VHA-STEPOVER LINE
◉ UNDRESSER: REMOVE TRANSIT OVER-BOOT/POLY BAG
◉ DECONTAM GLOVES (SUBJECT: PLACE FOOT OVER LINE)
◉ REPEAT FOR OTHER FOOT
◉ ENTER AIRLOCK
◉ EXTEND HANDS TO UNDRESSER
◉ NDRESSER: DECONTAM OWN GLOVES
◉ REMOVE OUTER GLOVE
◉ DECONTAM GLOVES
◉ REPEAT FOR OTHER HAND
◉ ZIP INNER AIRLOCK DOOR
INWARD IN VHA AIRLOCK
◉ WHILE PURGING, AGITATE CLOTHING AND HAIR
◉ DOFF: RESPIRATOR INTO RTB; INNER GLOVES
◉ ENTER TFA AND ZIP DOOR
INWARD IN TFA
◉ COLRRO CAM CHECK
◉ WASH AS REQUIRED
◉ DON NBC SUIT (IF AVAILABLE)
◉ BAGGED RESPIRATOR AND NEW NBC GLOVES CARRIED AT ALL TIMES
LIQUID PERSISTENT HAZARD
EXIT PROCEDURES
OUTWARD IN TFA
◉ DOFF NBC SUIT (IF WORN)
◉ DON: TRANSIT OVERBOOTS/POLY BAGS; NBC GLOVES (INNER AND OUTER)
◉ CARRY BAGGED RESPIRATOR
◉ ENTER INNE AIRLOCK WHEN FREE
OUTWARD IN AIRLOCK
◉ ZIP INNER DOOR
◉ DON: RESPIRATOR FROM RTB (IA DRILL)
◉ DEPOZIT RTB
◉ ENTER VHA
◉ ZIP OUTER DOOR
OUTWARD IN VHA
◉ DECONTAM GLOVES
◉ DRESSER: PREPARE NBC SUIT FOR DONNING
◉ DON: NBC TROUSERS (WITH DRESSER); DECONTAM GLOVES; NBC SMOCK (WITH DRESSER); DECONTAM GLOVES
◉ ENTER LHA AND ZIP DOOR
OUTWARD IN VHA
◉ DECONTAM GLOVES
◉ DRESSER: PREPARE NBC SUIT FOR
◉ DON: NBC TROUSERS (WITH DRESSER); DECNTAM GLOVES; NBC SMOCK (WITH DRESSER); DECONTAM GLOVES
◉ ENTER LHA AND ZIP DOOR
OUTWARD IN LHA-EQUIPMENT STORAGE RACK
◉ DOFF ONE TRANSIT OVERBOOT/POLY BAG
◉ DON THE OVERBOOT
◉ DECONTAM GLOVES
◉ REPEAT FOR OTHER FOOT
◉ DECNTAM GLOVES
◉ COLLECT: WEBBING, RESPIRATOR HAVERSACK, HELMET, EQUIPMENT AND WEAPON
◉ DECONTAM GLOVES
◉ LEAVE CCA
BW COLPRO DRILLS
INBOUND OUTSIDE COLPRO FACILITY
◉ Unload and prove weapon
◉ Spray personal equipment, IPE or clothing outside of S10 with 0.1% chlorous solution
◉ Move to LHA door
◉ Enter LHA door and close door
INBOUND LHA
◉ Store personal equipment on bench/hook/rack
◉ Doff IPE overboots (if worn)
◉ Move to outside of VHA door
◉ Spray outside of IPE or clothing with 0.1% chlorous solution
◉ Step onto first duck board inside LHA
◉ Close LHA door
INBOUND VHA
◉ Doff IPE and place in bag (to include outer and inner gloves). If no IPE worn then go to Step 4
◉ Dip hands in 0.1% chlorous solution
◉ Spray outside of clothing. All exposed skin, hands, outside surface of S10 with 0.1% chlorous solution
◉ Doff boots, don transit boot and step forward onto second duck board in VHA (repeat for second boot)
◉ Dip hands in 0.1% of chlorous solution
◉ Doff clothing to underwear
◉ Dip hands in 0.1 % of chlorous solution
◉ Spray outside of underwear. All exposed skin, hands, hair, outer surface of S10 with 0.1 % of chlorous solution
◉ Confirm with shelter marshal that RTB and paper suit is in airlock
◉ Move to airlock
INBOUND AIRLOCK
◉ Close airlock door
◉ Doff S10, wipe face with baby wipe
◉ Wipe inside of S10 with fresh baby wipe
◉ Don paper suit
◉ Enter TFA and close door
INBOUND TFA
◉ Wash with wipes within 30 minutes
◉ Dry shave (if applicable)
◉ Retain S10 at hand
◉ Commence routine
BW COLPRO DRILLS
OUTBOUND
◉ Outbound TFA
◉ Doff paper suit
◉ Dress in new clothing, if available
◉ Don transit boots
◉ Retain S1 Oat hand
◉ Enter airlock and close door
OUTBOUND AIRLOCK
◉ Don S10 respirator
◉ Move into VHA and close door
OUTBOUND VHA
◉ Don clothing (if not already worn)
◉ Doff transit boots
◉ Don combat boots
◉ Don IPE in accordance with current dress state (not inclusive of overboots)
◉ Move into LHA and close door
OUTBOUND LHA
◉ Don overboots iaw current dress state
◉ Don personal equipment
◉ Collect personal weapon
◉ Exit Colpro facility then load weapon (if applicable)



Let me offer you a link to the PAYSEND,
where in the "Send to" line you only need to enter IBAN: UA423348510000026200404121108


(⇚ + ctrl) PREVIOUS PAGE ◄► NEXT PAGE (ctrl + ⇛)