We still have a lot of creative ideas, but unfortunately we lack the financial means to realize them.
If you enjoy the publications on this site, you can support us financially with:


,

,


svetvik@gmail.com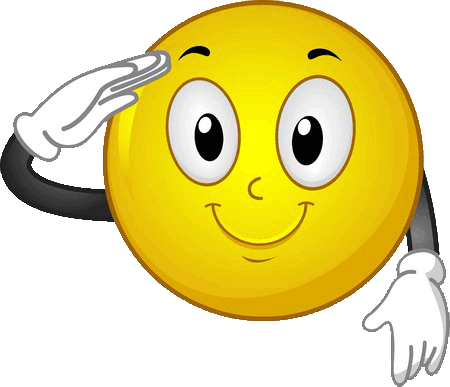 Thank you for your donation: Andrei Stanevich


SITE MENU
Rights Reserved - Free Access.
This digital object is protected by copyright and/or related rights. This digital object is accessible without charge, but its use is subject to written permission.
Unless expressly stated otherwise in the licensing conditions, you are free to make any of the acts permitted by your national copyright and related rights act, including browsing, printing and making a copy for your own personal purposes.
All other acts of reproduction and communication to the public are subject to the licensing conditions attached to the digital object.
ARMY BOOTS OF THE WORLD. REVIEWS
Important notice: we do not sell any boots! The prices are given for information purposes only!
Australia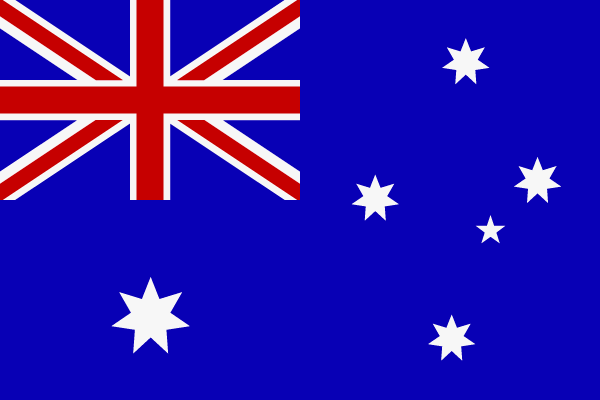 Modern combat boots, used and approved by the Australian Defence Force

As it was told in a previous review, the "Terra" Combat Boot was introduced into service in 1999 as the replacement for the General Purpose boot. However, the Australian Defence Force (ADF) is operating in a wide variety of geographic and climatic conditions which were not envisaged when the requirements for the current in-service boot were stated. It is clear that one boot can not meet the requirements of all soldiers or be suitable for desert, tropical, temperate and cold weather wear. So there is the need in determining what boots are to be approved for use by the ADF "diggers". For example, according to ADF command opinion, the "Zamberlan" extreme cold weather boot was performing well.


According to the opinion of the ADF command, the majority of soldiers were satisfied with the in-service boot, which has seen five versions developed from user feedback and advances in technology since it was introduced at the beginning of the new century.
The Australian Dept. of Defence Land Engineering Agency (LEA) has supported the Australian soldier for the last 75 years. This support has focussed on the engineering aspects of acquiring and sustaining capability. The equipment acquired is wide ranging and includes body armour, night vision equipment, communications equipment, medical equipment, rations, clothing, small and large calibre weapons, general use and armoured vehicles and radar amongst other equipment classes.
The Land Engineering Agency was assessing non-issue boots against a wide range of criteria, ensuring they at least met the same specifications as the current in-service boot, and that more boots could be added to the initial list. Back in the 2008 an independent Combat Boot Review identified the need for a new generation combat boot, or range of boots, to meet the demands of Australian soldiers. While the DoD Defence Materiel Organisation (DMO, the Body responsible for acquiring and sustaining military equipment and support services) had been developing this new range, the interim policy allowed soldiers to wear non-issue boots.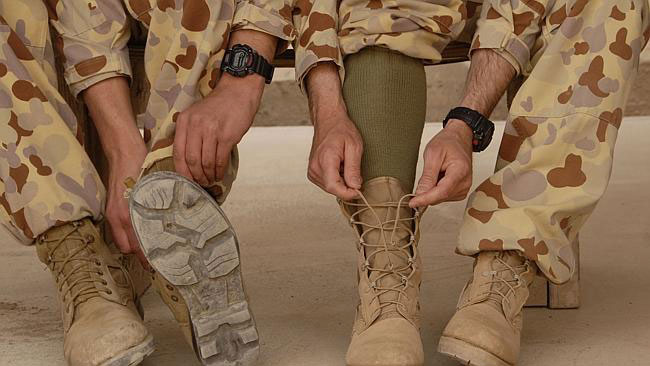 At that time the soldiers were allowed to wear the in-service boot or choose to buy one of the following non-issue boots:
* Altama 4158 3LC Hot Weather;
* Belleville M590 Hot Weather;
* Bates 30501 Durashock Desert; and
* Crossfire Peacekeeper Plus.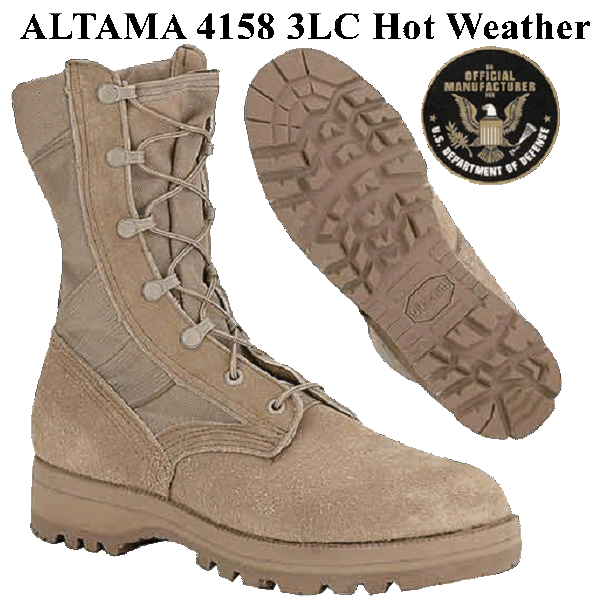 The interim combat boot policy authorises soldiers to purchase and wear the non-issue boots. In barracks they continued to wear the "Terra" boots. Soldiers who chose to wear non-issue boots had to buy them themselves, and these boots were designed for exercises and operations only. These boots must be similar colour to in-service boot, and be from the endorsed list (i.e. the authorised list of boots). Soldiers are to wear the in-service boots in barracks or when directed by their CO (commanding officers) when wearing Dress Order Numbers 4A, 5B and MP5.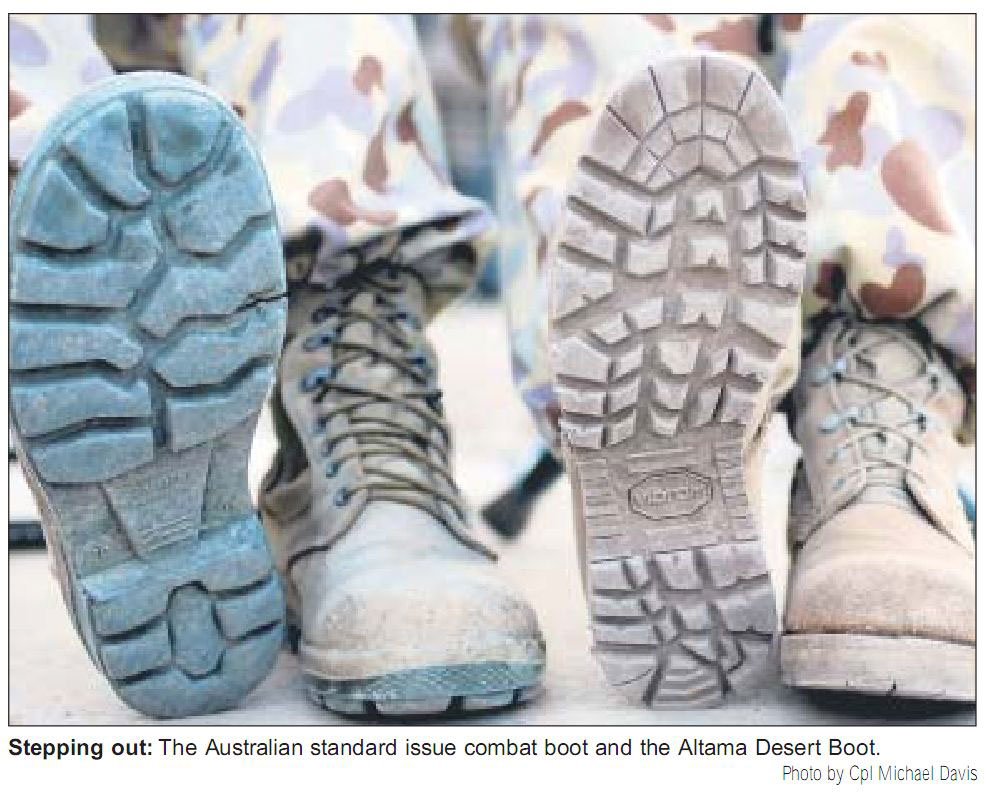 If non-issued boots needed replacing in the field, they had to be replaced with the issue boots. The ADF members were still entitled to be issued medically indicated non-standard footwear. All footwear relating to trades and personnel in Army Aviation will need to comply with safety guidelines in relation to foreign object damage and possible flammability issues. The suitable boots for flying duties that might be added to the authorised list of boots were to be determined by the commander of aviation brigade.
To ensure the proper fitting of the in-service boot, the boot fitting specialists were permanently posted to Army point-of-entry Q-stores (Quartermaster's Stores). It would take into consideration the variety of environments Australian soldiers operated in now and could be expected to operate in the future. It was yet to be determined whether the recommendations to the Defence Materiel Organisation would be for one boot or a range of boots. From June 2, 2008 only issued boots or endorsed boots were authorised for wear.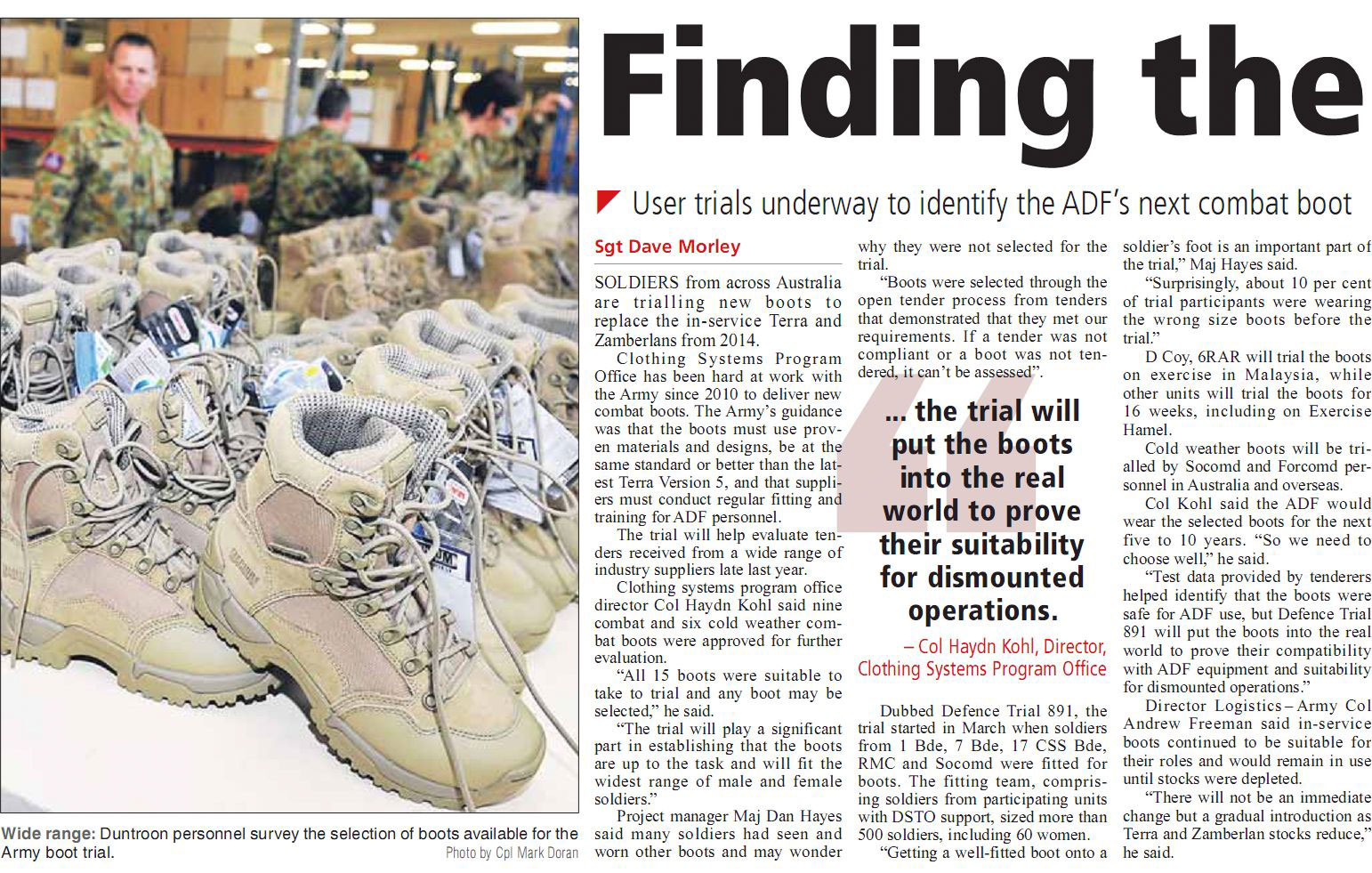 In 2012 soldiers from across Australia were trialling new boots to replace the in-service "Terras" and "Zamberlans". Clothing Systems Program Office has been hard at work with the Army since 2010 to deliver new combat boots. The Army's guidance was that the boots must use proven materials and designs, be at the same standard or better than the latest "Terra" Version 5, and that suppliers must conduct regular fitting and training for ADF personnel. Boots were selected through the open tender process from tenders that demonstrated that they met our requirements. If a tender was not compliant or a boot was not tendered, it can't be assessed.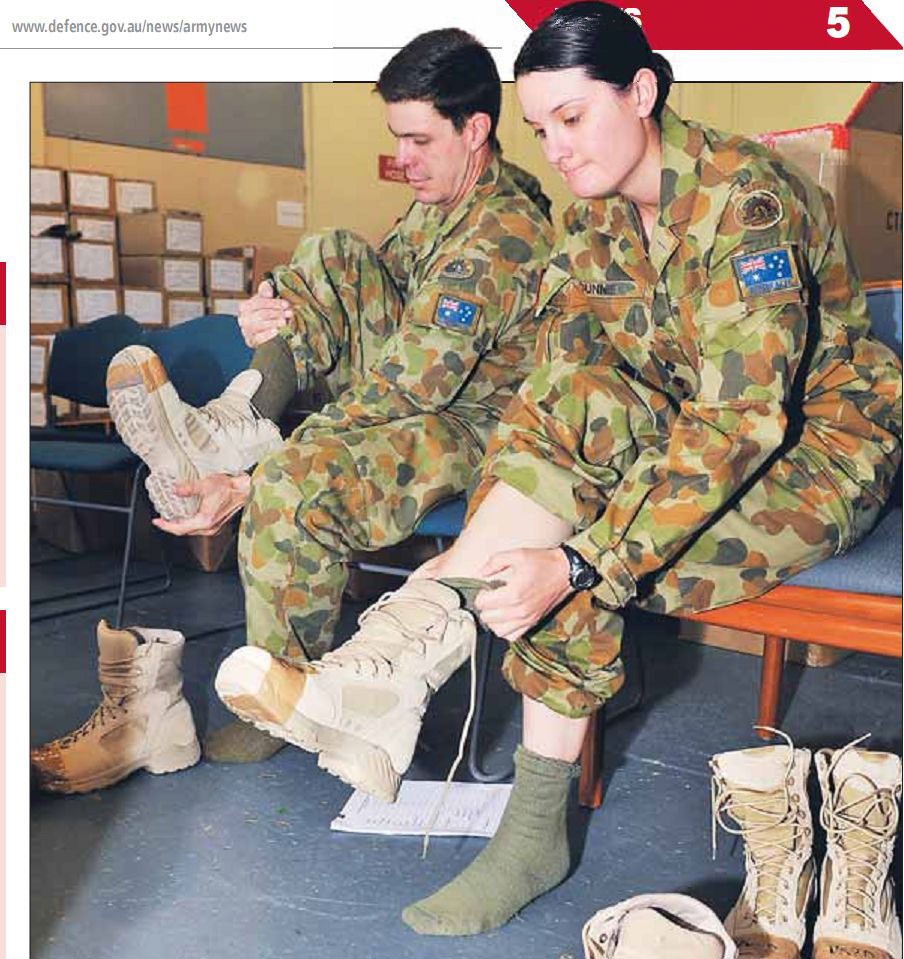 The trial started in March 2012 when soldiers from 1 Bde (Brigade), 7 Bde, 17 CSS (Combat Service Support) Bde, RMC (Royal Military College) and Socomd (Special Operations Command) were fitted for boots. The fitting team, comprising soldiers from participating units, sized more than 500 soldiers, including 60 women. Surprisingly, about 10 per cent of trial participants were wearing the wrong size boots before the trial. The boots were trialled on exercise in Malaysia, while cold weather boots were tested by Socomd and Forcomd (Forces Command) personnel in Australia and overseas.
No immediate change of the combat boots was planned, but a gradual introduction as "Terra" and "Zamberlans" stocks reduce.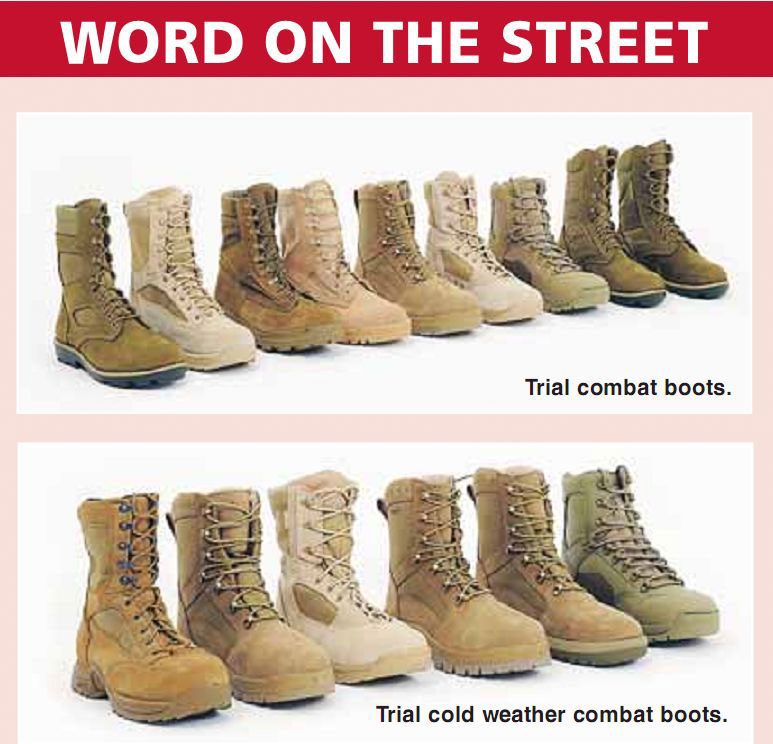 In mid 2013 a boot trial was undertaken by the ADF to find a replacement for the issued "Redback" Combat Boot. Boots trialled included updated versions of the Redback Boot as well as various off the shelf boots. At the conclusion of the trial the Danner TFX 8 was selected as one of the new ADF combat boots, they were comfortable in hot weather and provided good support. However these were found to fail prematurely and were never issued on a large scale.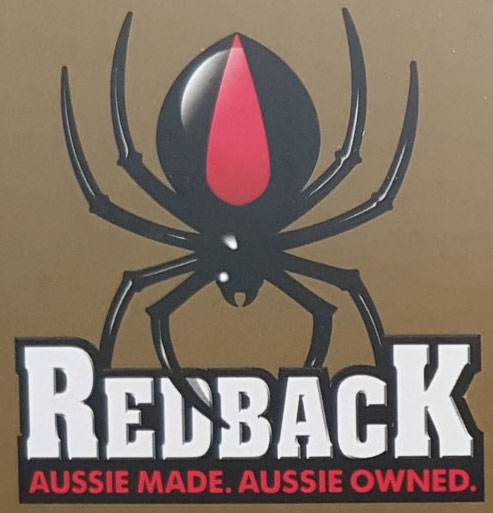 As a result, "Redback" were tasked with once again providing a range of combat boots to the ADF including a General Purpose boot, a Jungle Style boot and a Flame Resistant boot. These boots were issued on a very limited basis and underwent limited testing. However early reports were not favourable with complaints of failing eyelets and lack of water resistance. Danners are still being retained as one of the approved "desert" boots or for those who don't fit the current boot.
As of February 2020 the "Redback" Terra style combat boot is still the standard issue ADF combat boot.
The new version of the ADF General Purpose boots are known as "Army 2017 GP Combat Boot".
Only the out-sole tread pattern of these "desert"-style khaki boots remind the old black leather GP boots.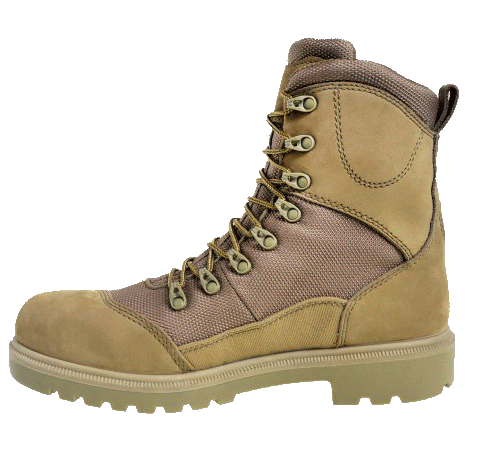 These "Redback" boots feature lightweight TPU out-sole, premium nubuck leather and Cordura upper, moisture wicking AirMesh lining, comofort PU footbed with arch support and padded leather collar. This is standard military deployment boot of the ADF.
The ADF cadet boots are now manufactured in "desert" version as well, and they have the features similar to the new GP "desert"-style boots.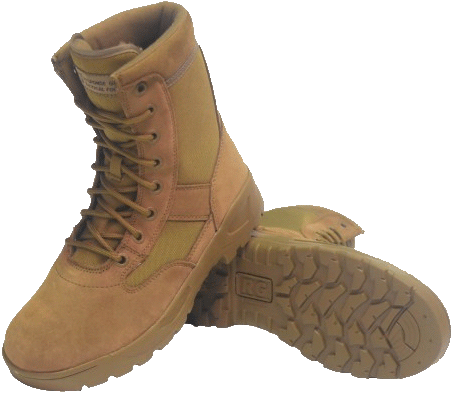 New Redback combat boots is the new ADF replacement for the "Terra" boots.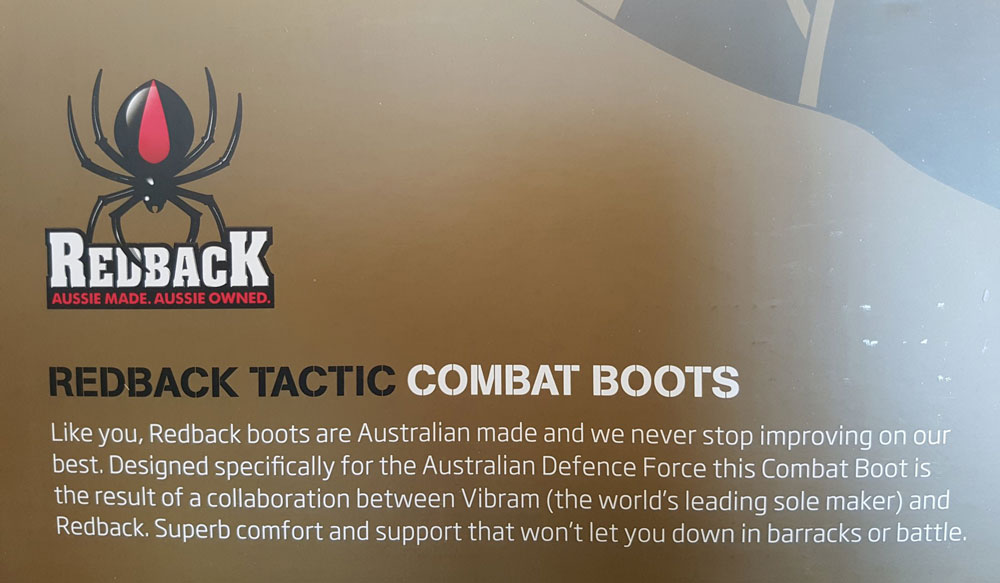 These waterproof leather lace-up boots are now produced in Australia exclusively for the ADF. They feature dual density nitrile rubber vulcanized heat, oil & acid resistant Vibram out-sole with the tread pattern, similar to the latest fifth version "Terra" boots. The boot's shape is designed to reduce arch flexion (sagging), subsequent foot fatigue and referred leg and back pain. This profile encourages normal foot functioning including maintaining forefoot flexibility, fore-to-hind foot and heel stability. The tibiofibular bones are protected by cushioning protective elements, the outer side rubber shield bears the logotype with "Redback" spider. The toe and the heel areas, as well as the top side of the boot and the boot's tongue are covered with premium nubuck leather, while the rest of the boot's top is made of waterproof and breathable synthetic material.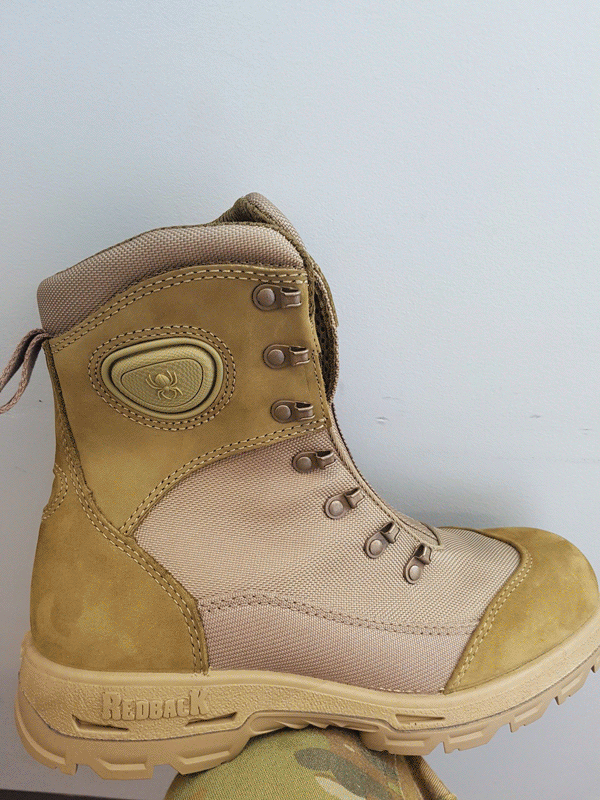 The speed-lacing hardware system consists of seven pairs of brass eyelets, the top three of which are attached to the nubuck part of the boot's top. These boots lack a pair of mesh covered ventilation holes located at each instep, as it used to be in the previous models of "Terra" boots.
At first glance these boots look great, they have a tough construction and well made appearance, representing by themselves a long lasting heavy duty boot.
But we are looking forward to customer's opinions about the features, advantages and disadvantages of these boots after really hard trialling.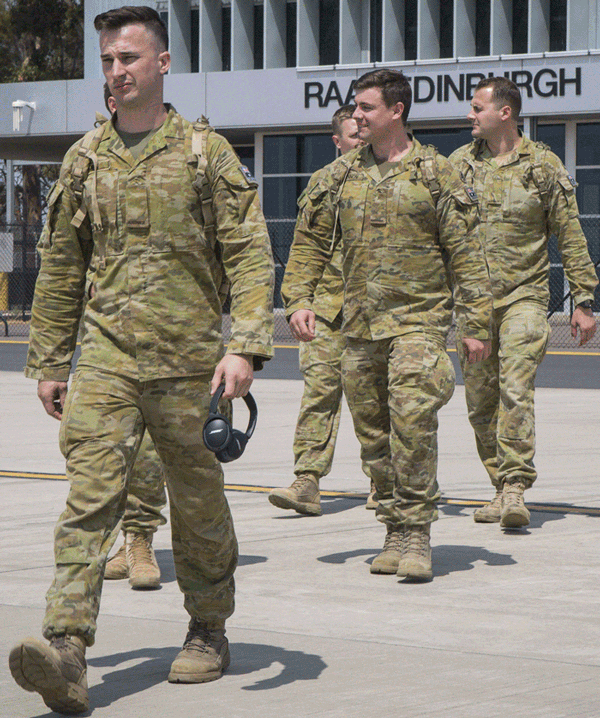 Among the other top boots allowed for use by the ADF, one should mention: Garmont T8s (Garmont T8s Boots (Vibram's BIFIDA, NFS (Need for Speed) and Extreme GTX models), Meindl Desert Foxes, Altama 4156, Blackhawk warrior, Danner, Bates, Salomon, Crossfire Peace keeper...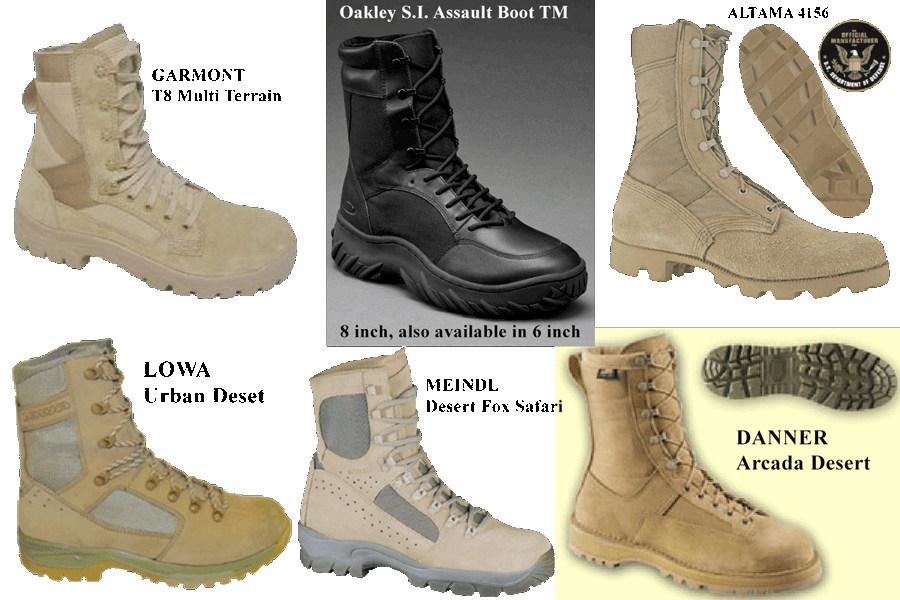 Garmont T8 Bifida Tactical Boot (Coyote)
Garmont has been around for more than 50 years. And during that period, they have established themselves as a reputable brand when it comes to high-quality footwear for comfort, fit and functionality. These boots are designed to handle even the most demanding situations, from the city to the jungle. They produce one of the best army boots for hiking.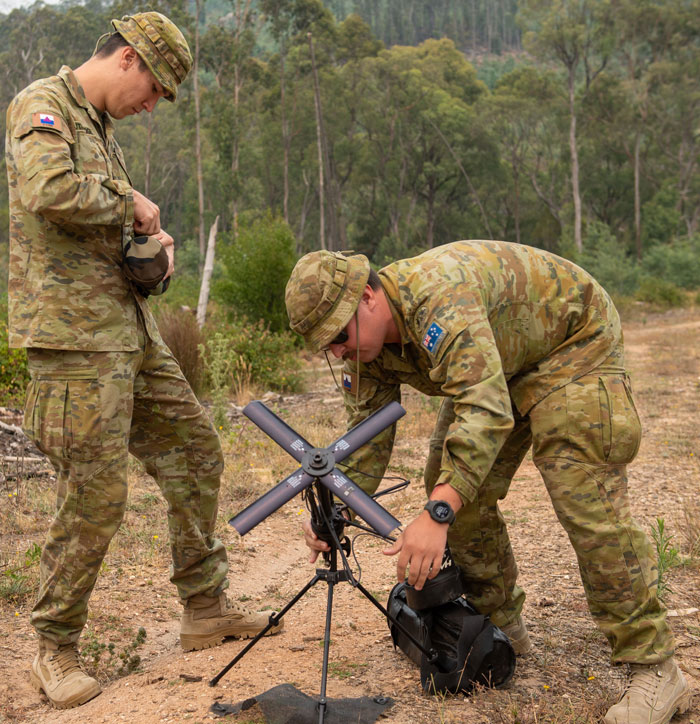 Footwear manufacturers have always faced the challenge of coming up with an army boot that provides a careful blend of traction, ruggedness, support, and comfort, without the addition of excess weight. Boots to be worn in wet conditions require quick-drying materials, but such materials tend to be prone to abrasion. However, Garmont finally found a winning formula and the T8 Bifida can handle a wide range of applications such as hiking, trail running, amphibious operations, and stealth operations.
If you intend to use these army boots for hiking, then you don't have to worry about slipping, even when you are walking through slippery surfaces, since they come with a heel retention strapping system. On the other hand, these boots remain comfortable and light, when you are using them on dry pavements. Apart from that, the use of quick-drying materials makes them good for amphibious operations.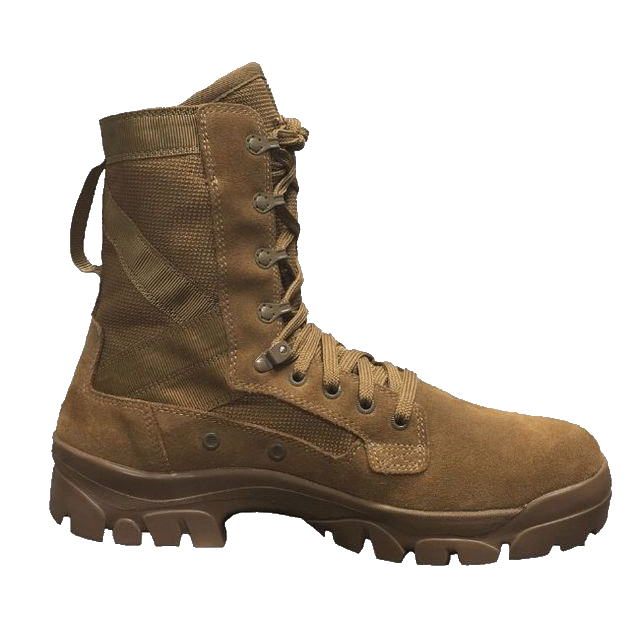 The Garmont T8 BIFIDA Boots (Coyote) are designed to provide the best in durability and comfort throughout hard use while on duty. Constructed with an upper composed of split-grain leather and heavy duty DD (double density) grid materials, these boots are designed to be abrasion resistant while still allowing your feet to breathe comfortably. Fitted with a backward-sweeping design, these boots supply a snug fit that prevents blisters that can slow you down while on duty. The roller bearing hookless rigging-proof hardware reinforces the snug fit to ensure you receive the necessary support for your ankles, arches and shins. A ruggedly dependable Vibram Bifida out-sole completes the external design of the Garmont T8 Bifida compliant boot to provide multi-terrain performance.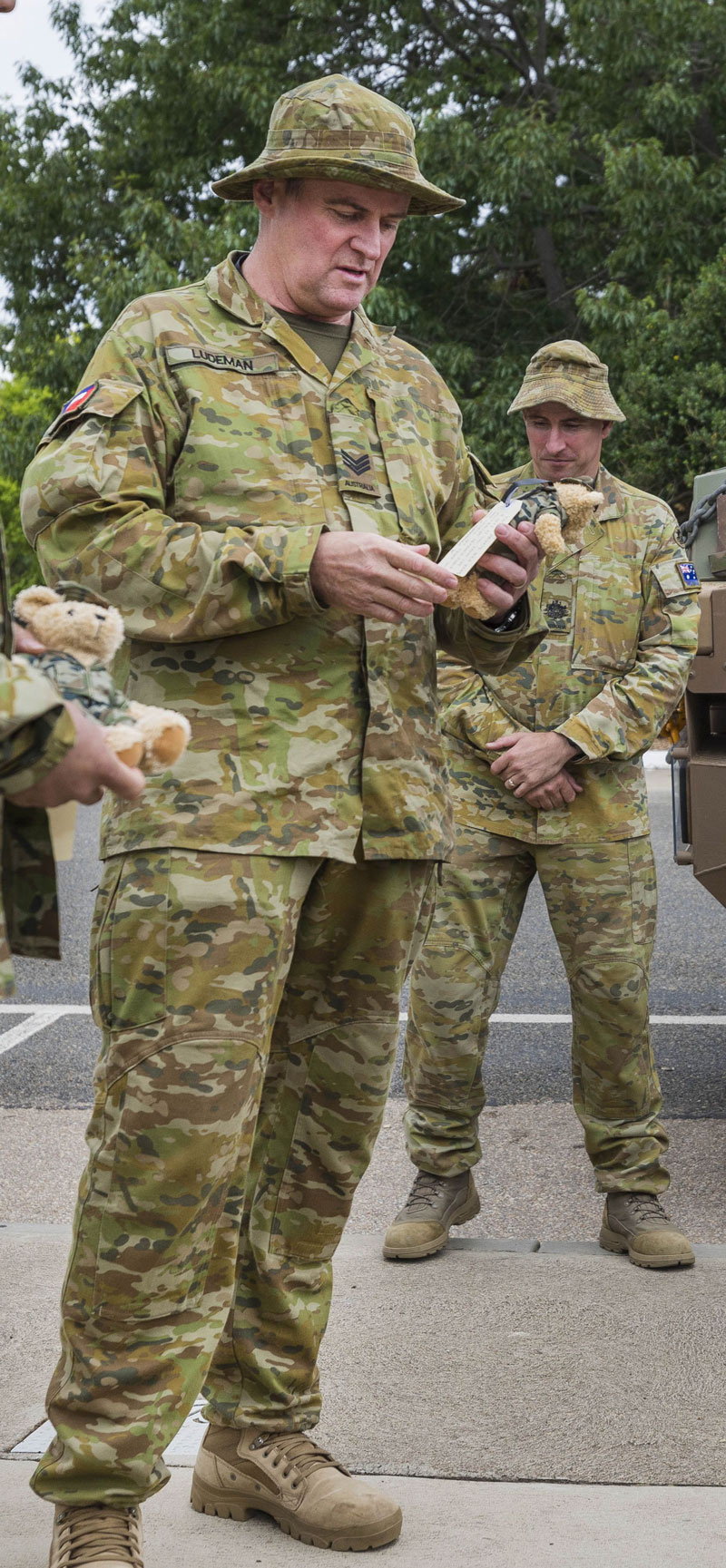 Internally, a tapered nylon woven footboard provides stability and shock absorption. An ergonomic injected nylon footbed also provides improved stress reduction on your ankles and knees in harsh terrain. Garmont's footbed cup system utilizes an innovative heel retention technology that supports your overall body throughout unstable landscapes. Overall, the insole has been custom designed by Garmont to ensure good fit and feel throughout wear. An additional fact: these boots are authorized for wear with OCP uniforms for US Army and USAF members, and "MultiСam" uniforms for Army members.
Operational Camouflage Pattern (OCP), originally codenamed Scorpion W2, is a military camouflage pattern adopted in the mid-2010s by the United States Army for use as the U.S. Army's main camouflage pattern on the Army Combat Uniform (ACU). This pattern officially replaced the U.S. Army's previous Universal Camouflage Pattern (UCP) as the official combat uniform pattern for most U.S. soldiers at the end of September 2019. The pattern also superseded the closely related "MultiCam", a pattern previously used for troops deploying to Afghanistan. The United States Air Force is also replacing their Airman Battle Uniform with the ACU in OCP after positive feedback from airmen who wore the uniform while being deployed to Afghanistan with Army soldiers.
The original "Scorpion" pattern was developed by a joint venture of the Army's Natick Labs and Crye Precision as part of the Objective Force Warrior (OFW) program more than a decade prior. Crye then modified it to create "MultiCam" for commercial sales. In July 2014, the Army announced that OCP could be used in the field by the summer of 2015.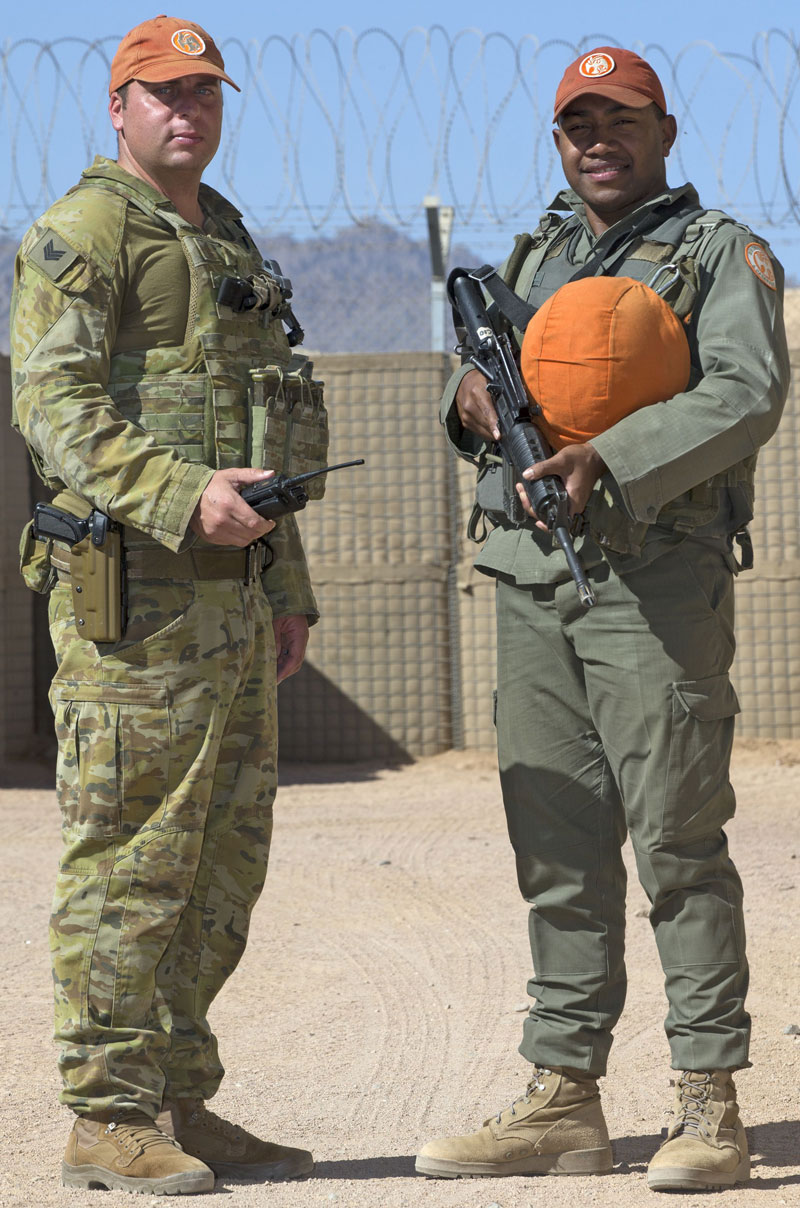 The Garmont T8 BIFIDA Boots feature:
* Split-grain leather upper with heavy duty DD Grid is abrasion-resistant and allows feet to breathe;
* Boot opening is made with a backward-sweeping design for a snug fit without additional padding ;
* Roller bearing and hookless rigging-proof hardware supports ankles, arches and lower shins;
* Vibram's "Bifida" sole is rugged and stable for multi-terrain performance;
* Tapered nylon woven footboard provides impressive stability and shock absorption;
* Ergonomic injected nylon footbed ensures stress-reduction on your ankles and knees;
* Footbed cup system utilizes a unique heel retention system which supports your body at all times;
* Insole is custom-designed to ensure a great feel and fit throughout use;
* AR670-1 compliant for US Army wear with multicam and OCP;
* AFI 36-2903 compliant for US Air Force wear with OCP.
These boots are made of durable materials and they provide great ankle support, but break-in time required. As of March 2020, these boots cost about 150 US dollars.
The Garmont T8 BIFIDA Boots (Desert Tan and Khaki) are lightweight, rugged and durable desert tan boots can be worn on patrol, to the range, on all-terrain vehicles, even in amphibious or extremely wet climates.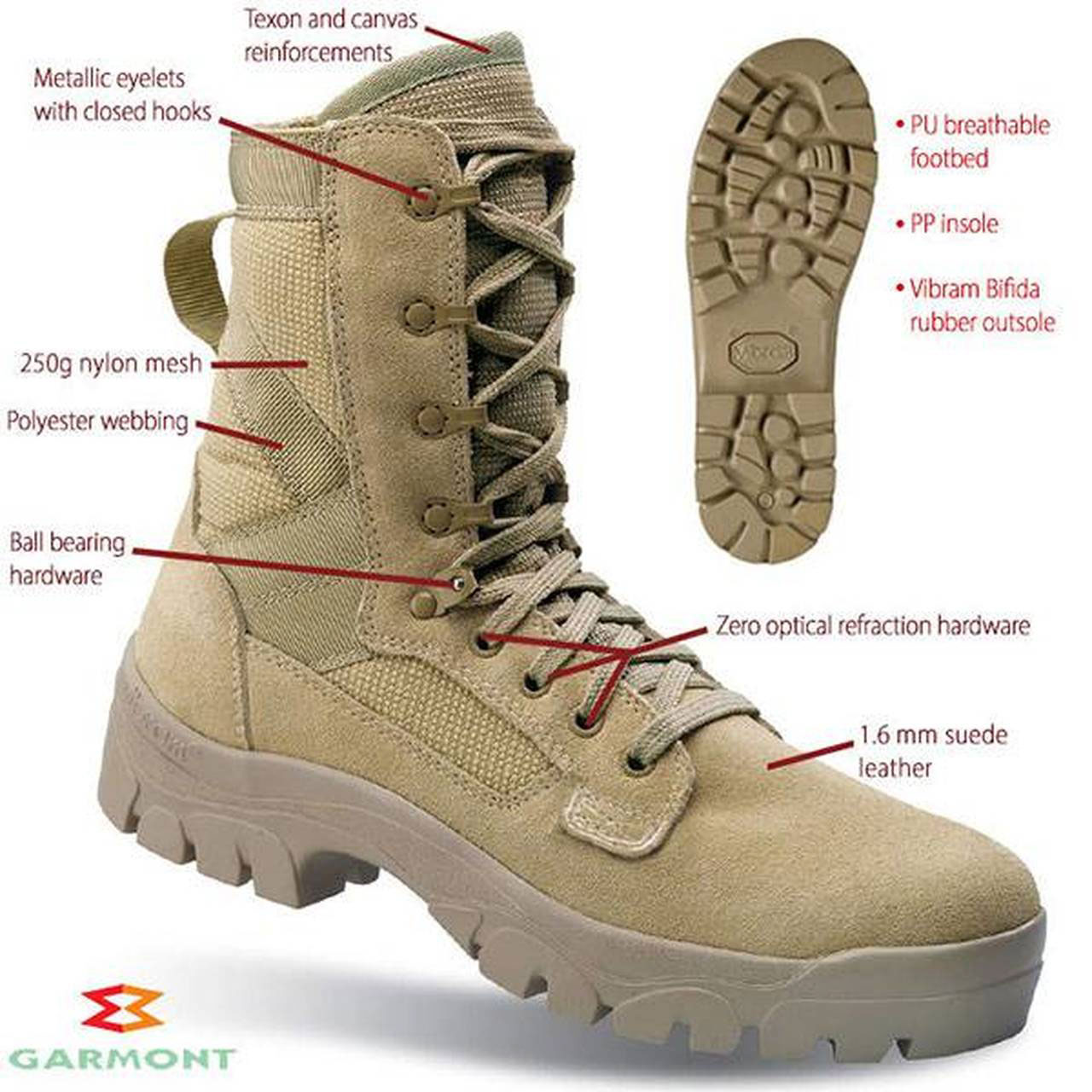 These boots dry so quickly you barely know they were ever wet, sparing feet the agony of red hot blisters. Plus, they require less break-in time than most other tactical boots on the market. The Vibram's "Bifida" sole features rugged lugs made for hiking, running and climbing over all kinds of terrain.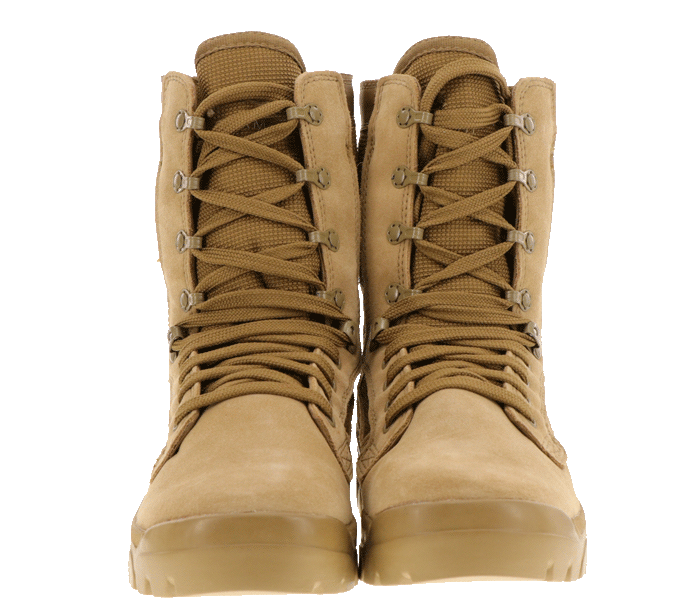 These boots feature:
* Superior traction, stability and shock reduction technologies are injected into nearly all areas and surfaces;
* Multi-terrain performance from rugged, stable Vibram "Bifida" sole;
* Tapered nylon, woven footboard provides superb traction, stability and shock absorption
* Insole is custom-designed for a great feel and fit;
* Ergonomic injected nylon footbed has a unique cup system that allows the boot to work with your body to provide a more natural, stable performance and stress-reduction on ankles and knees;
* The opening is constructed with a backward-sweeping design to provide a more snug, ergonomic, supported fit and feel without any extra padding;
* Abrasion-resistant, split-grain leather upper combined with heavy duty DD Grid (looks similar to canvas) allows feet to breathe and stay ventilated;
* Garmont uses zero optical refraction hardware, combined with roller bearing and hookless rigging-proof hardware, to support ankles, arches and lower shins over any type of terrain, on the ground or during airborne operations and exercises;
* Footbed cup system works in tandem with unique heel retention strapping system to support your body at all times ensuring maximum stability;
* NSN# 8430-01-551-4915;
* Approved for wear by the ADF (Australian Defence Force);
* West Point Approved.
Garmont T8 NFS (Need for Speed) Tactical Boot (Coyote)
These are the fastest army boots in the entire Garmont military series of boots. And these boots are not just fast and lightweight, they are also high-performance, which means they can endure rugged terrains and conditions, without exposing the wearer's feet to any hazards. They feel more like a pair of running shoes but come with the ruggedness and durability of tactical boots.
Breathability and ventilation remain the main features of this pair of army boots. Also, these boots are combat ready, since they come with zero optical reflection hardware. In addition, they are highly versatile. Their rubber outsole provides a firm grip on different surfaces such as sand, snow, rain, and mud. On the other hand, the spongy and flexible outsole makes it easy to tackle the steep terrain.
Despite being one of the lightest army boots, the Garmont T8 NFS is well built, with sturdy materials. It's one of the best army boots for deserts and other hot climates, due to their excellent ventilation as well as quick-dry materials. They fit well; the ankle and the outsole are supportive while the toe area has ample space for the toes to wiggle. These are designed for anyone who wants fast movement in combat situations. They are also ideal for law enforcement officers, as they will come in handy when chasing bad elements. Furthermore, you can also wear them as a civilian, if you are looking for a lightweight but protective pair of hiking boots if you will be hiking in hot climates.
These boots are lightweight and comfortable, so they are good for use in a deserts as well as in wet climates where boots may become heavily saturated. The suede leather upper has heavy duty nylon and polyester webbing incorporated to ensure ankle support throughout use. The rugged TPU outsole has dig-in tread to provide traction in every terrain. Garmont also fitted their innovative T8 NFS boot with a ball bearing instep which provides much needed support for stability. The closed hook metallic eyelets are strong and durable to ensure a secure and snug fit each time you strap them on while the polyester laces are designed to resist wear and tear for long-lasting durability.
A reinforced lining on the inside is made with Texon Grid canvas to allow unwanted moisture to escape, keeping the feet dry. An EVA midsole provides baseline cushioning throughout while an additional EVA insole (which is 2 mm thick) allows for extra cushioning and great comfort. Underneath, a PU breathable footbed forces sweat out for dry boots at all times. A TPU heel insert with built in elasticity distributes impact to avoid stress pain while on duty.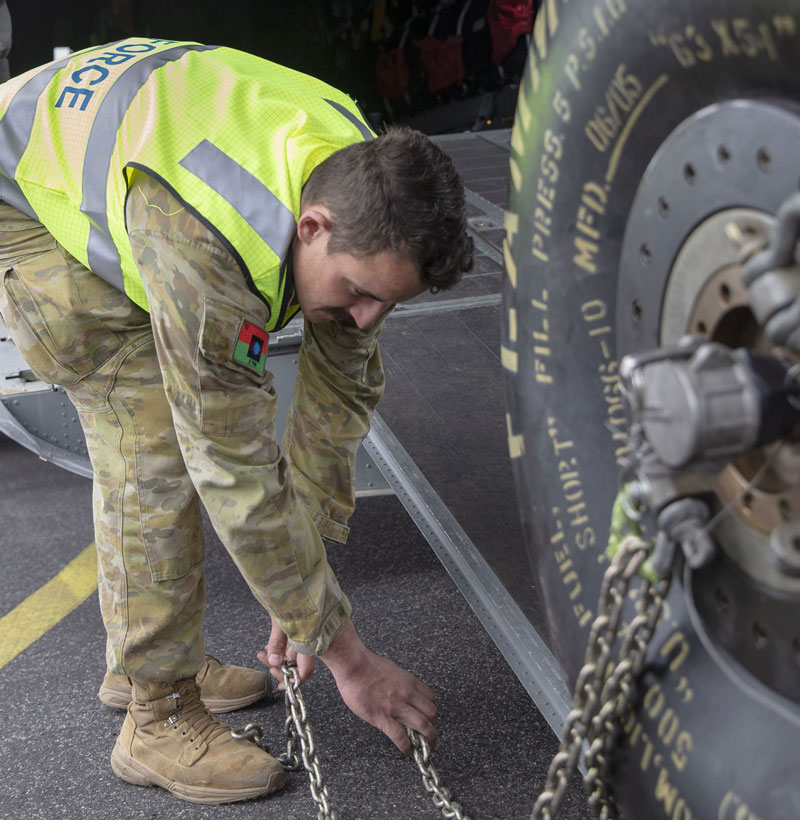 These boots are authorized for wear with OCP uniforms for the US Army and USAF members, and "multicam" uniforms for Army members.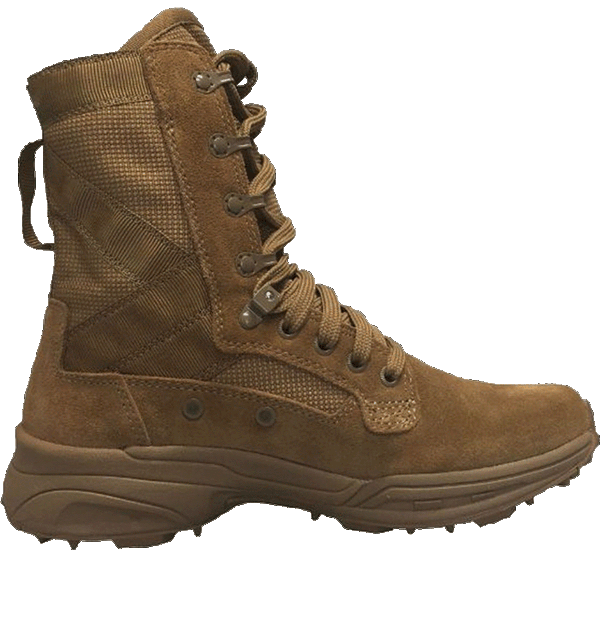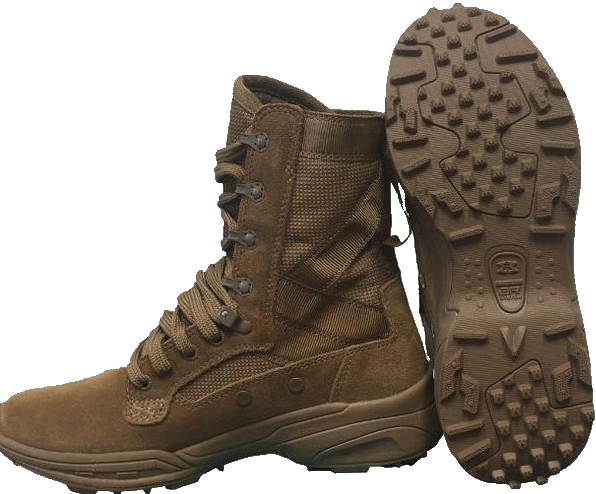 So, the Garmont T8 NFS Lightweight Boots (Coyote) feature:
* NFS "Need For Speed" design is the lightweight version of the original Garmont T8;
* Ultra lightweight multi-terrain design ideal for desert climates or wet conditions;
* Upper made from 1.6mm suede leather as well as 250gr nylon and polyester webbing for reinforced support;
* Heavy duty TPU outsole fitted with dig-in tread for traction in all terrains;
* Unique ball bearing placed in the instep provides stability and support;
* Closed hook metallic eyelets provide secure lacing for a snug fit;
* 8mm flat polyester laces are incredibly durable and designed not to fray;
* Reinforced lining made with high tech 320gr Texon Grid canvas for superb breathability;
* EVA midsole provides cushion for your feet and easily molds to feet for a custom fit;
* EVA insole is 2mm thick and provides extra cushioning for great comfort;
* PU breathable footbed keeps your feet dry;
* TPU heel insert has elasticity built in to distribute impact during duty;
* AR670-1 compliant for US Army wear with multicam and OCP;
* AFI 36-2903 compliant for US Air Force wear with OCP/
Though these boots are lightweight and comfortable, and no break-in needed, actually they are not for heavy-duty use. As of March 2020, the Garmont T8 NFS tactical boots cost about 150 US dollars in the on-line shops.
The Garmont T8 Extreme GTX Boots (Coyote) are cold weather tactical boot with GORE-TEX® Insulated Comfort membrane, and they are designed to provide support, warmth and comfort on assignments requiring long periods of standing or in demanding field conditions carrying heavy loads. These boots feature a Vibram sole for maximum traction, stability and shock reduction in nearly all environments and weather. Its durable compound ensures extended life and great friction on a variety of surfaces. The durable upper construction is quick drying and offers excellent breathability and ventilation.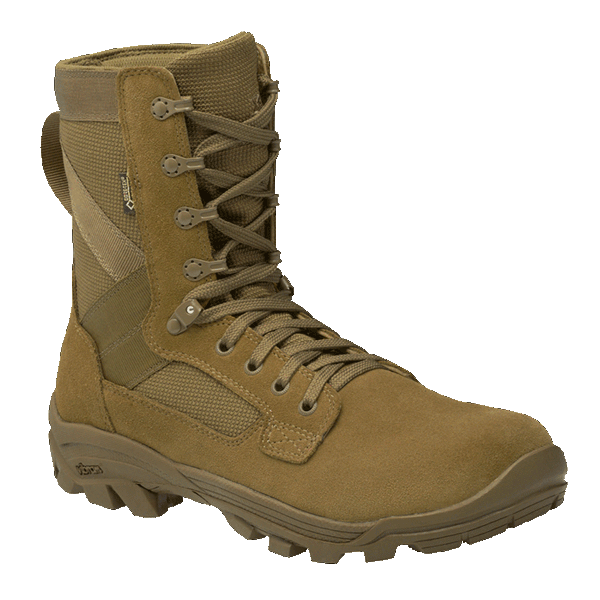 The Garmont T8 Extreme GTX Boots (Coyote) feature:
* Upper: 1.6 – 1.8 mm suede leather + 600D nylon + nylon webbing;
* Lining: GORE-TEX® Insulated Comfort;
* Footbed: PU;
* Weight: 680 g (1/2 pair size 8UK);
* Size Range: 4-13US, including half sizes;
* AR670-1 compliant for US Army wear with multicam and OCP;
* AFI 36-2903 compliant for US Air Force wear with OCP.
As of March 2020, the Garmont T8 Extreme GTX Boots cost about 190 US dollars on the appropriate web-sites.
Meindl's Desert Fox Boots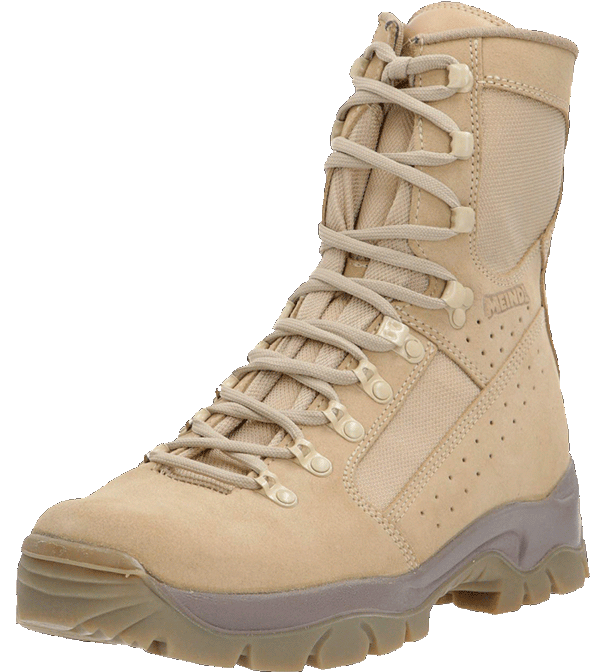 Actually Meindl's Desert Fox Boots are not just for the desert terrain. Unlike many "desert" boots which often use a synthetic nylon upper, the Desert Fox use a robust combination of Nubuck and Cordura, giving them a good degree of torsional rigidity, which in turn makes them very stable over rocky terrain. These boots are initially quite stiff, and they require quite a bit of breaking in. They are quite heavy for a warm weather boot but they breathe very well. The ClimaDry lining helps wick moisture and the Cordura panels and ventilation / drainage holes help keep the feet cool, while preventing the intrusion of dirt and sand.
These boots are superb over hard rocky terrain, providing excellent traction over loose gravel, sand and rock. However, they're also pretty good over wetland in warm conditions.

After ingress of water they drain extremely well. Hiking even when they are drenched is surprisingly comfortable.
Nubuck is very tough, but requires a little more after-care than some other leathers, e.g. Meindl's own Conditioner & Proofer, Nikwax's Nubuck and Suede Leather Proofer etc.
The height of the boot (size 9, including heel) is 22 cm, the weight is approximately 800 g per boot.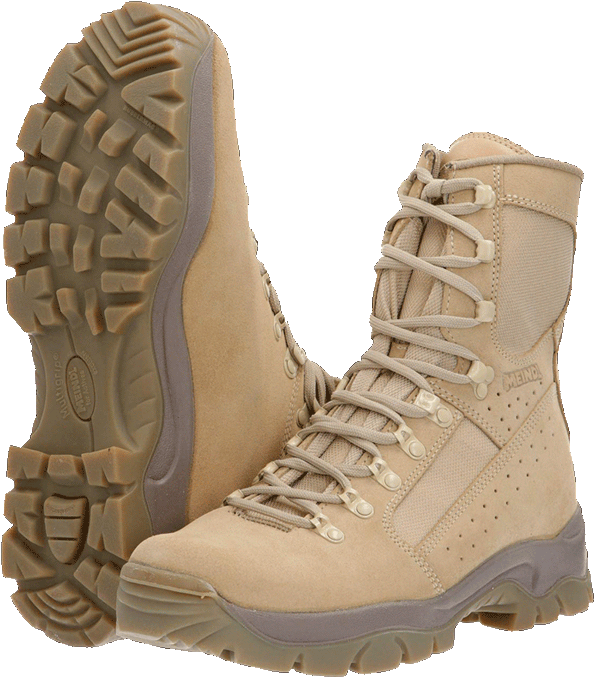 The Desert Fox boots have a thick, "Multigrip" sole with a noticeable drop (raised heel) and an aggressive tread. They don't come in a variety of widths, and the shoe is on the narrow side, so if you have wide feet, these definitely aren't for you. And these boots can't be re-soled.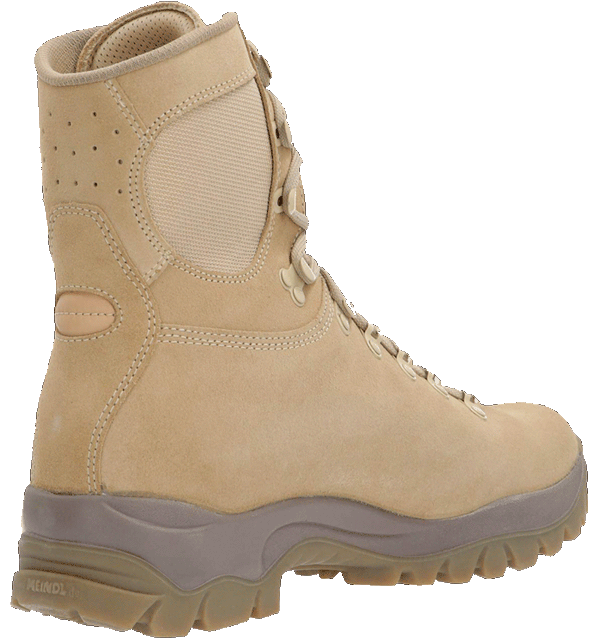 Though ideal for use in safari and desert conditions, from Africa to the Middle East, much of South and Central Asia and anywhere arid, dusty and rocky, these boots are a great option for long distance treks in any warm weather where conditions are going to be mainly dry (i.e. no good for the jungle or the arctic, but certainly fine for European summers, rain or shine).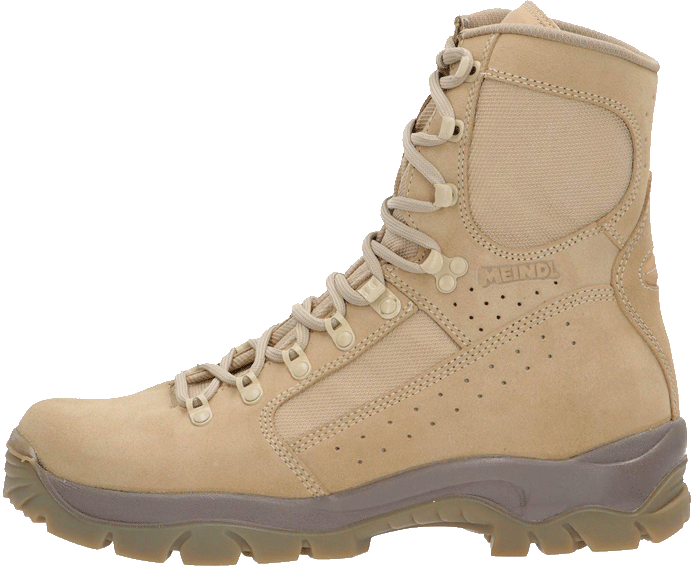 So if one needs a warm weather boot that's tough, durable and provides great support and comfort, the Meindl Desert Fox are certainly worth considering. Furthermore, due to these being issued to certain NATO forces in areas where they really shouldn't be, you can pick these up in new and grade 1 condition for a fraction of their retail price (eBay and army surplus stores could be helpful).
Blackhawk Desert Ops Boots (Coyote)
The Desert Ops line of boots are one of "Blackhawk's" best selling and most popular style in their footwear collection. Authorized for wear with OCP uniforms for the US Army and USAF members, and "multicam" uniforms for Army members, this boot is fully compliant with the military standards. These boots feature a "Vibram" out-sole for oil resistance, which have wide open lugs for enhanced traction. The lining is moisture wicking to keep the feet dry while working hard, and the custom-molded "OrthoLite" footbed is antimicrobial and washable to help keep those common boot odors at bay.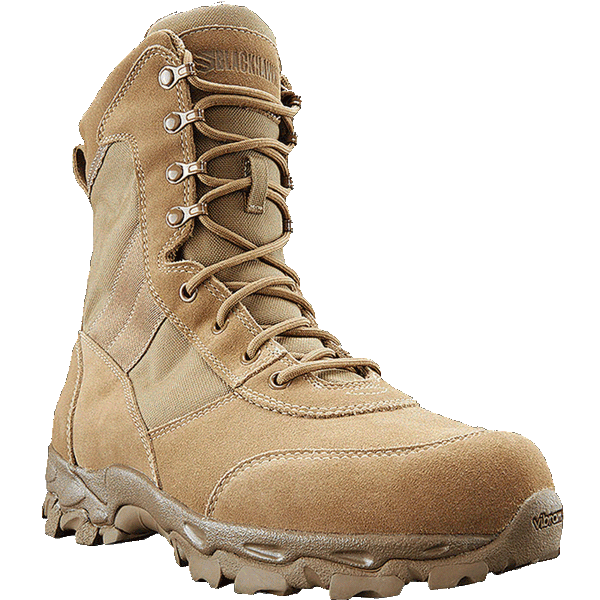 The Desert Ops Boots has a fully gusseted tongue to prevent debris from getting into the boot, and features abrasion-resistant, non-woven reinforcement on the inside heel to prevent wear. For additional support when under full load of a pack, this boot includes a steel shank for added stability. Finally, Blackhawk has added toe reinforcements and an extra layer of suede in the heel for additional resistance to common wear points.
The Blackhawk Desert Ops boots feature:
* Dri-Lex moisture wick inner lining to draw moisture away from the feet;
* OrthoLite custom molded antimicrobial & washable footbed for enhanced comfort and odor prevention;
* Fully gusseted tongue to prevent debris from reaching the foot;
* Steel shank for optimal support under full loads;
* Abrasion resistant, non-woven back counter reinforcement inside the heel;
* Extra layer of suede in heel for abrasion resistance;
* Toe reinforcement;
* Vibram outsole for oil-resistance;
* Large, open lugs for enhanced traction ;
* AR670-1 compliant for US Army wear with multicam and OCP;
* AFI 36-2903 compliant for US Air Force wear with OCP.
Blackhawk Desert Ops Boots (Coyote) cost about 150 US dollars on the web-sites.
Danner Desert TFX (TERRA FORCE X) G3 Tan boots
"Danner" is a company of footwear craftsmen existing since 1932, the year Charles Danner decided to open his boot making business in the midst of the Great Depression and risk his future on a stubborn belief that superior craftsmanship mattered. Rooted in the Pacific Northwest with their headquarters and "Danner" factory located along the Columbia river in Portland, Oregon, they provided the highest standards combat boots for decades.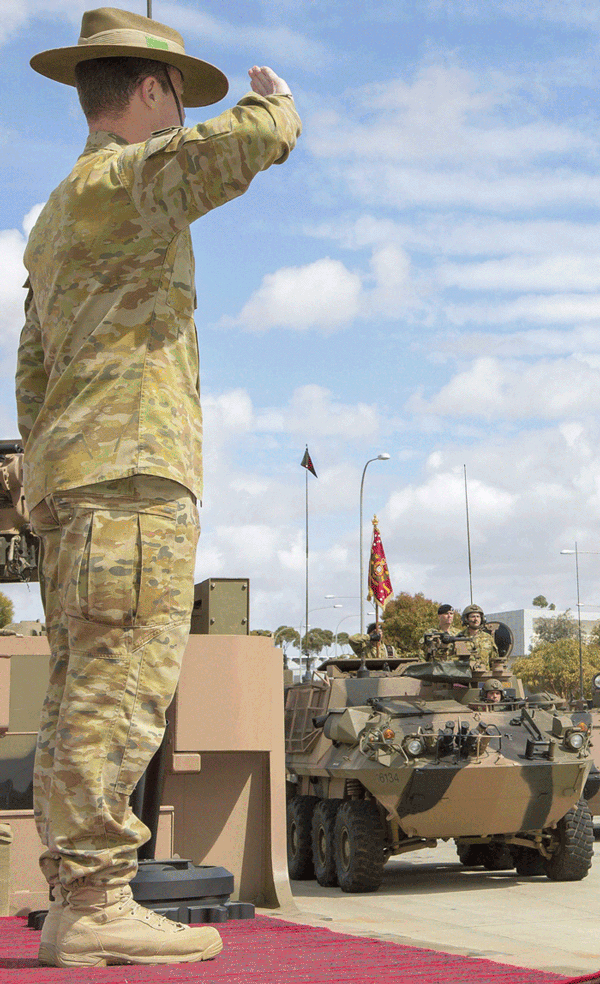 Regardless of whether you are in a rural environment or within an urban setting, a pair of well-built army boots should keep your feet comfortable, while protecting you against the elements. Danner Rivot TFX 8 provide comfort, protection as well as lightweight durability, all in a single package. These army-approved boots made in Oregon leather and textile uppers, a Vibram outsole, and cushy insoles.
Designed for speed and constructed for stability, the G3 is built on Danners lightest weight and most versatile TFX platform, the Danner® TFX-8. The Desert TFX G3 also features a durable, rough-out leather upper with lightweight 1000 Denier nylon. The Vibram® Striker® Torrent Oil & Slip Resistant out-sole is designed with a pentagonal pivot point low lug pattern for grip in all directions, a flex notch design adds flexibility in key pivot areas and a more rugged outer lug pattern sheds water and provides maximum surface contact...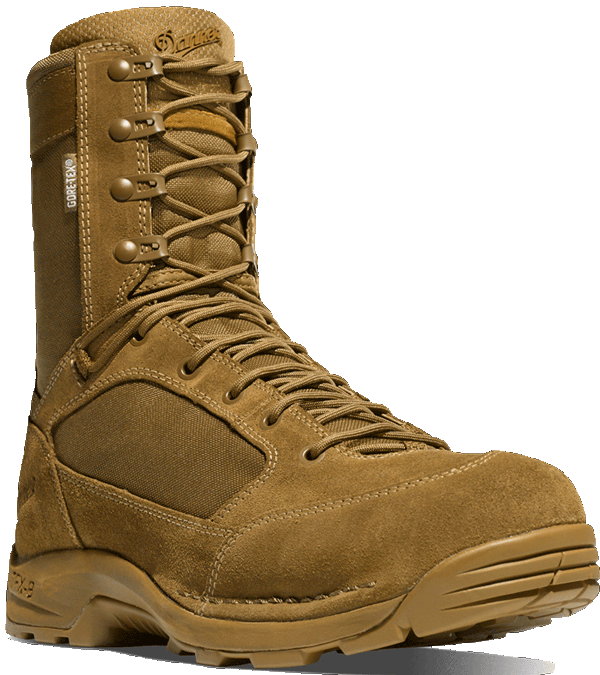 100% waterproof and breathable, GORE-TEX liners ensure that no water gets in, while allowing sweat and moisture to get out. The variable lacing system allows one to customize the fit by choosing the ankle hook that fits best. The extra deep hook will help lock the heel in place for a glove-like fit and superior control. The lace garage prevents loose laces from snagging or dragging. At the top of the boot's tongue is a stretch fabric pocket designed to tuck the lace ends into.
Danner's TFX-8 Platform is the company's lightest weight and most versatile TFX construction featuring a cross-stitch design for added durability and stability in the lateral toe and media heel pivot zones.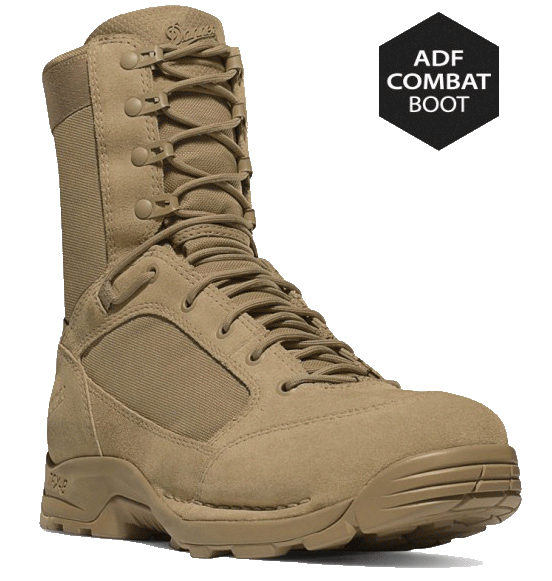 A solid performer, the Danner Rivot TFX (ADF Issued Combat Boot!) is just what you need to tackle adverse weather conditions. Its uppers are made of sturdy leather, which has been reinforced with double stitching. With a flexible shaft measuring 8 inches, the se boots are designed to protect the ankles but not to encounter any challenges with different maneuvers.



Underfoot, these army boots for trekking have been equipped with a polyurethane footbed, which supplies superior shock absorption as well as cushioning. The PU footbed features open cell construction for enhanced air circulation. Just as their name suggests, these Danner army boots are equipped with a TERRA FORCE X (TFX) platform, which offers durability, maneuverability as well as improved traction. On the other hand, the Vibram Rivot outsole ensures superior traction, acceleration, braking as well as 360-degree pivoting.

Army boots are designed to handle rugged terrain and aggressive elements. The rough-out leather used on the upper provide good protection to the feet. Furthermore, the Aero-Spacer technology enhances air circulation, thus ensuring the feet are cool. Even while hiking in desert climates, these rugged army boots don't accumulate heat. Their footbeds are made of durable polyurethane, which supplies underfoot cushioning while promoting additional air circulation. The quick lacing system allows to save both time and energy. And with a Vibram Rivot TFX outsole, you are not only assured of traction but great pivoting motions, agility, and acceleration.
So, these boots are made of high-quality materials, they provide good waterproofing capabilities and they are versatile enough to handle different weather conditions. The boot's rough-out, full-grain leather upper is paired with 1000 Denier Nylon Upper for protection and durability.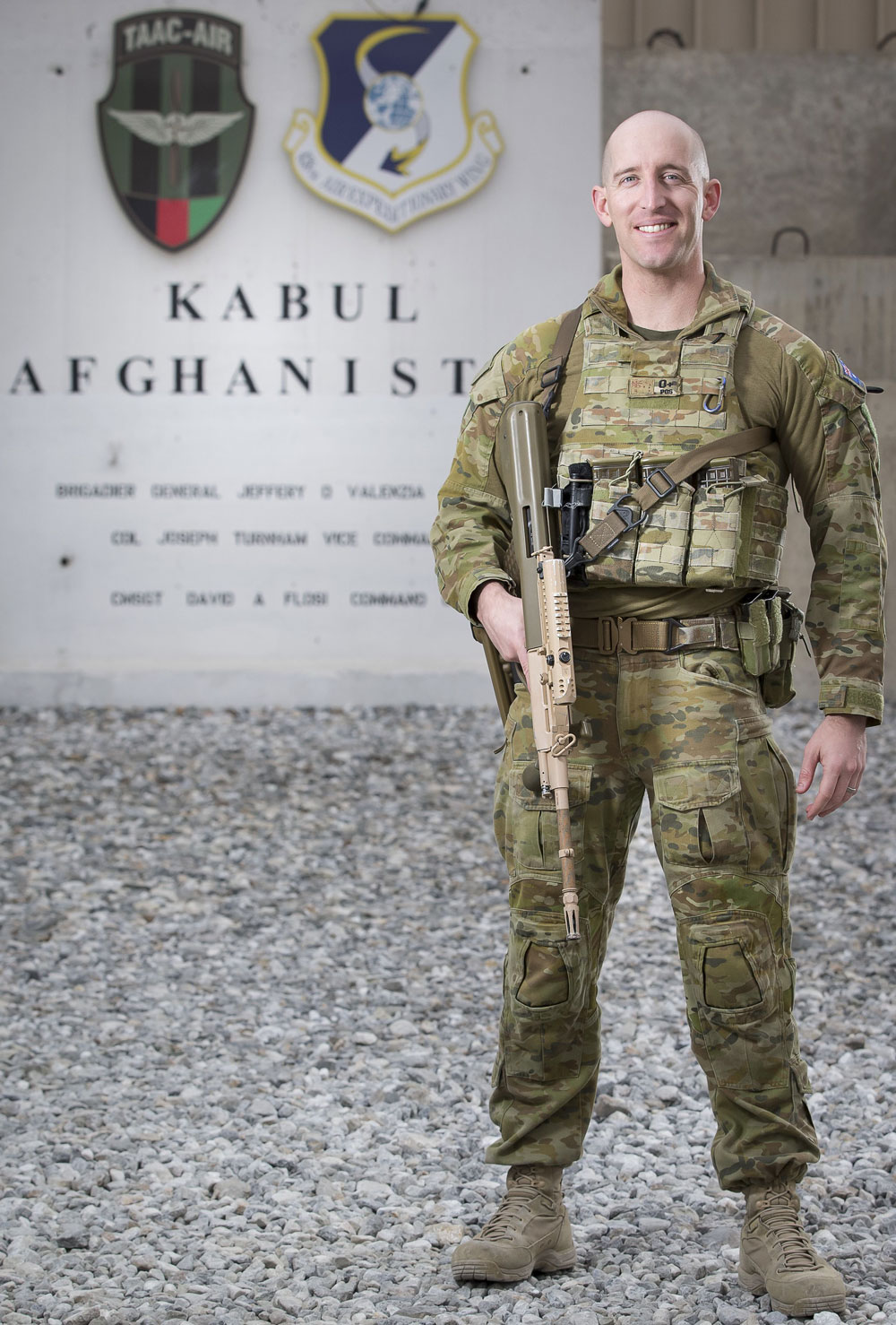 The Danner Desert TFX G3 8 inch tan boots feature:
* Durable, rough-out leather upper with rugged and lightweight 1000 Denier nylon;
* Breathable, moisture-wicking mesh lining;
* Variable lacing system and lace garage for secure, glove-like fit;
* Danner® TFX-8 platform is the lightest weight and most versatile TFX® construction, features a cross-stitch design which provides added durability and stability in the lateral toe and medial heel pivot zones;
* Vibram® Striker® Torrent outsole is oil and slip resistant and features a 360 degree pentagonal low lug pattern for grip in all directions, a flex notch design in key pivot areas and a more rugged outer lug pattern which sheds water and provides maximum surface contact;
* Meets AR 670-1 US Army requirement for optional wear;
* Nylon shank;
* 8" height;
* 1360 grams (pair);
* This is one of the two ADF Issued Combat Boot styles;
* Style 24301.


As of March 2020, the Danner Desert TFX G3 boots cost from 150 US dollars to 155 Great Britain pouds on the appropriate web-sites. The weight of the boots is 51 oz (1.45 kilograms) per pair.
Bates Durashocks USMC Hot Weather Boots 30501 (Coyote)
The ADF-approved "Bates" Durashocks USMC Hot Weather Boots (Coyote) are built to keep feet cool, dry, cushioned and comfortable so one can get on while serving in the air, on the ground or at sea. The upper and sole of this boot work together to provide slip-resistant, shock-absorbing, breathable comfort built to withstand the rigors of hot weather ops. These boots have the following features: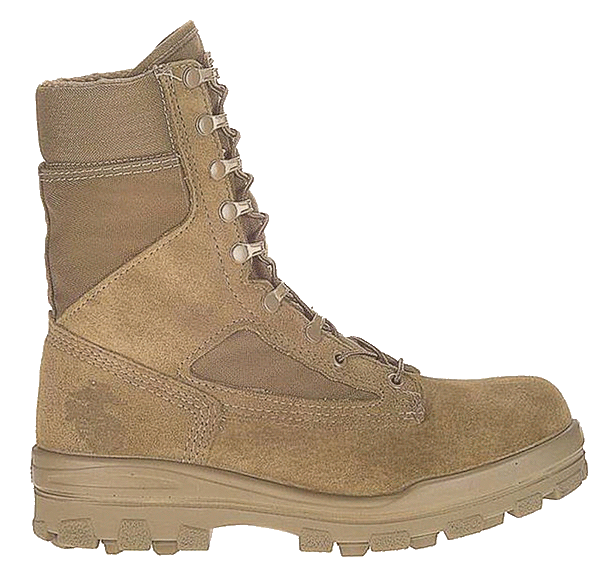 * Designed especially for hot weather ops and the unique demands of Marine warfare;
* Wolverine Warrior leather upper is engineered to take a beating. Made of tough, stain-resistant pigskin leather, more durable and easier to care for than traditional cowhide leather;
* 1680 denier nylon works in tandem with leather upper for long-lasting wear;
* Triple threat resistance to dirt, oil and water;
* Slip-resistant sole prevents unexpected falls;
* Lining is breathable;
* Dri-Lex lined to keep feet cool and dry;
* Bates Durashocks comfort technology has special shock absorption zones on the heel and forefront of the outsole to provide spring-back cushioning with every step. Preserves energy and prevents aching, tired feet and legs;
* Vibram rubber lug outsole provides low-maintenance performance;
* Direct attach construction means all parts of the boot are fused together reducing the frustration factor of frequent repairs;
* Berry Amendment compliant (i.e. made in the USA) for use with OCP Scorpion uniform;
* USMC Marine Corps-certified.
As of March 2020, the Bates Durashocks USMC Hot Weather 30501 (Coyote) boots cost about 225 US dollars on the appropriate web-sites.
Salomon Guardian Boots (Coyote)
Frankly speaking, the author of this review did not manage to find the evidences, what "Salomon" boots are approved exactly for use by the ADF. I used to find only the info that this company's boots are in the ADF Approved list. But I can suppose the Australian DoD were likely to approve the boots, which had been authorized for wear with OCP uniforms for the US Army, Special Operations soldiers and USAF members, and "multicam" uniforms for Army members, i.e. Salomon Guardian Coyote Boots. These boots combine "Salomon's" trail running and hiking knowledge. The uppers consist of Nubuck leather and textile and feature anti-debris mesh panels. Non-reflective hardware keeps the laces in place while strong 550 paracord keeps the feet strapped in. A protective heel cup guards the heel while also keeping the foot secure. The Contagrip outsole is composed of patented rubber compounds for extreme traction and durability.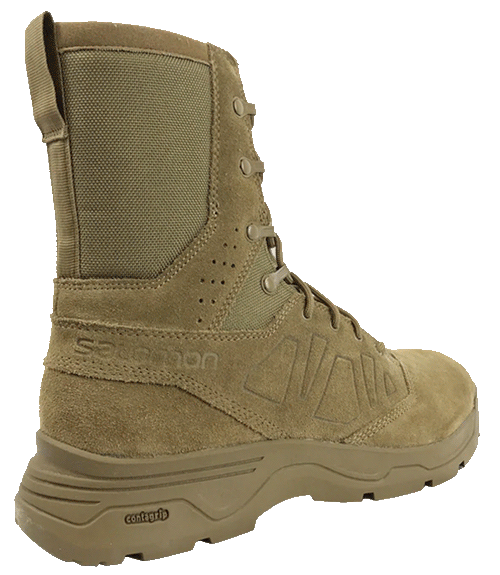 So, the benefits of the Salomon Guardian Boots (Coyote):
* Minimalistic stealth design and printings;
* Injection molded EVA midsole for comfort;
* Protective heel cup guard;
* Gusseted tongue;
* EVA sapped footbed with closed-cells sockliner;
* Contagrip outsole for ultimate traction;
* Anti-debris mesh keep unwanted material out while keeping your feet cool;
* Non-reflective eyelets and lace hooks;
* GSA compliant;
* AR670-1 approved with OCP and multicam;
* AFI 36-2903 approved with OCP;
* 710g/25oz weight (Based on size UK 8.5) per one boot.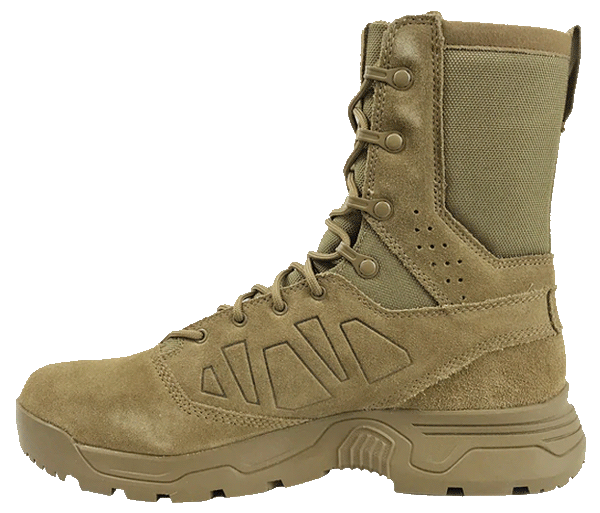 As of March 2020, the Salomon Guardian Boots (Coyote) cost about 160 US dollars on the appropriate web-sites.
One of the customers wrote about these boots: "... at first glance they are heavy looking but deceptively light weight. The Danner's boots are heavier than the Guardians, because the sole on the Danner's is much more hardened. The Guardians has a softer sole and is much more quiet". Another customer wrote: " … as comfort and the break in period they are fantastic and feel much like the Garmont NFS. But they have no water draining holes and are not Gor-Tex. So as you can imagine the time it takes for these boots to dry. ...Not "Salom's" greatest product...is not feasible for field operations. They also don't breathe very well making your foot hot and sweaty. For winter months that may be a pro but for the rest of the year it is a struggle. I wouldn't recommend these boots for anyone who spends a lot of hours with a ruck on their back. Hopefully "Salomon" can identify these deficiencies and correct them".
To finish this review, let me provide you with some pieces of advice how to make wearing your combat boots both with high comfort and good performance, and some tips for the Perfect Fit.
The methods of boots breaking -in have been used for decades with great success:
* Measure both feet. If one foot is slightly larger than the other, select a size that fits the larger of the two.
* Consider the type of socks you'll be wearing with your boot. For thicker socks, you may want to select a half size larger than you normally wear.
* When you do receive your boots, we recommend first wearing them indoors for a few hours to ensure they're the right fit.
* Wear them in a hot shower, this allows the materials to soften and mould to your unique feet shape.
* Find a clear wax to semi – waterproof the boots. This also helps protect the outer shoe from wear and tear and prolong water ingress.
* Tying a knot in the shoe laces above the last eyelet stops the lace from always slipping out and saves you some valuable seconds when pulling the boots on.
* Lastly nothing beats just putting the time and distance in with the boots. This allows us to workout any "hot spots" and minor adjustments. Allows your feet, stride and hips to adjust and become comfortable with eventually adding load for pack marching.
* "Hot spots" are what we call rub points when walking in boots. If not fixed or prevented this will cause blisters and further problems. Take notice of your rubbing points and tape your feet accordingly prior movement.
* Boot free time is a great way to toughen up your feet. Walking around on rough surfaces (use common sense) can harden the skin. We have also seen this can strengthen the ankles stabilising muscles and tendons, great for injury prevention and increases ones overall durability.
* Use decent socks. In particular, for long pack marches it could be a pair of cotton sports socks underneath the issue pair. This reduces friction on rub points. For the boots with Gore-Tex liner, using of the quality synthetic socks only, without any natural material like cotton of wool, is the best choice. The synthetic layers work as a wick to extract the sweat out of your boots via the membrane micro-holes.
* Potassium Permanganate or aka Condy's Crystals are used to dry out the skin of the feet leaving them harden. This can reduce blisters or allow yourself to cover more kilometers during the week if working up for a selection or deployment.
* When it comes to achieving our goals, attention to detail is crucial. Having the right bit of kit for the task can be the deciding factor of pass or fail. Investing in quality boots or just taking the time to properly prepare your feet is a necessary discipline.
The sources of photo and information:
http://british-club.org.ua
http://scramblekit.uk
http://soldiersystems.net
http://warwicks.com.au
https://adelaidenow.com.au
https://amazon.co.uk
https://army.gov.au
https://au.carousell.com
https://australiangeographic.com.au
https://awm.gov.au
https://camopedia.org
https://cyclestation.com.au
https://defence.gov.au
https://ebay.co.uk
https://ebay.com.au
https://en.wiktionary.org
https://engineersaustralia.org.au
https://everythingaustralian.com.au
https://frogmanproject.com.au
https://global.danner.com
https://graysonline.com
https://internationalshoesizes.com
https://lubrizol.com
https://military.wikia.org
https://news.com.au
https://picclick.com
https://platatac.com
https://redbackboots.com
https://seiyaku.com
https://talesfromthesupplydepot.blog
https://tbwsafety.com.au
https://uspatriottactical.com
https://victoriancollections.net.au
https://wikizero.com
https://worthpoint.com
Exclusively for cartalana.com

We still have a lot of creative ideas, but unfortunately we lack the financial means to realize them.
If you enjoy the publications on this site, you can support us financially with:


,

,


svetvik@gmail.com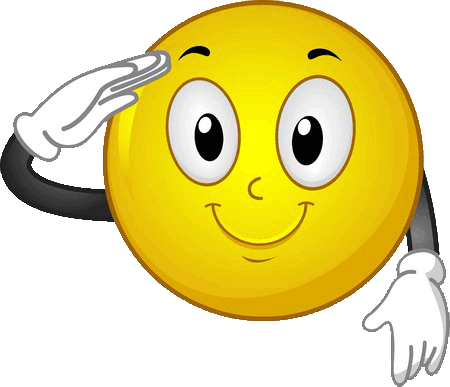 Thank you for your donation: Andrei Stanevich


(⇚ + ctrl) PREVIOUS PAGE ◄► NEXT PAGE (ctrl + ⇛)