We still have a lot of creative ideas, but unfortunately we lack the financial means to realize them.
If you enjoy the publications on this site, you can support us financially with:


,

,


svetvik@gmail.com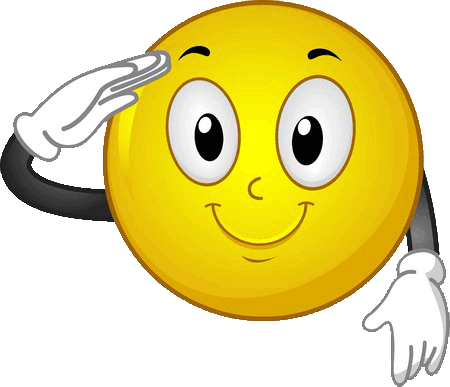 Thank you for your donation: Andrei Stanevich


SITE MENU
Rights Reserved - Free Access.
This digital object is protected by copyright and/or related rights. This digital object is accessible without charge, but its use is subject to written permission.
Unless expressly stated otherwise in the licensing conditions, you are free to make any of the acts permitted by your national copyright and related rights act, including browsing, printing and making a copy for your own personal purposes.
All other acts of reproduction and communication to the public are subject to the licensing conditions attached to the digital object.
ARMY BOOTS OF THE WORLD. REVIEWS
Important notice: we do not sell any boots! The prices are given for information purposes only!
Australia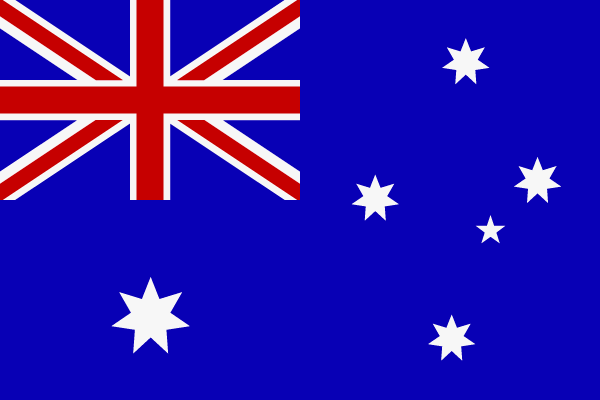 The Australian "Terra" Combat Boots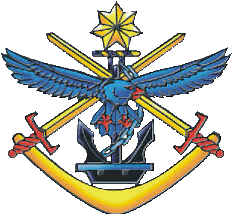 The so-called "Terra" combat boots of the Australian Defence Force (ADF) had been developed by "Redback Boot Company Pty. Ltd." as a replacement for the Vietnam War-era General Purpose combat boots.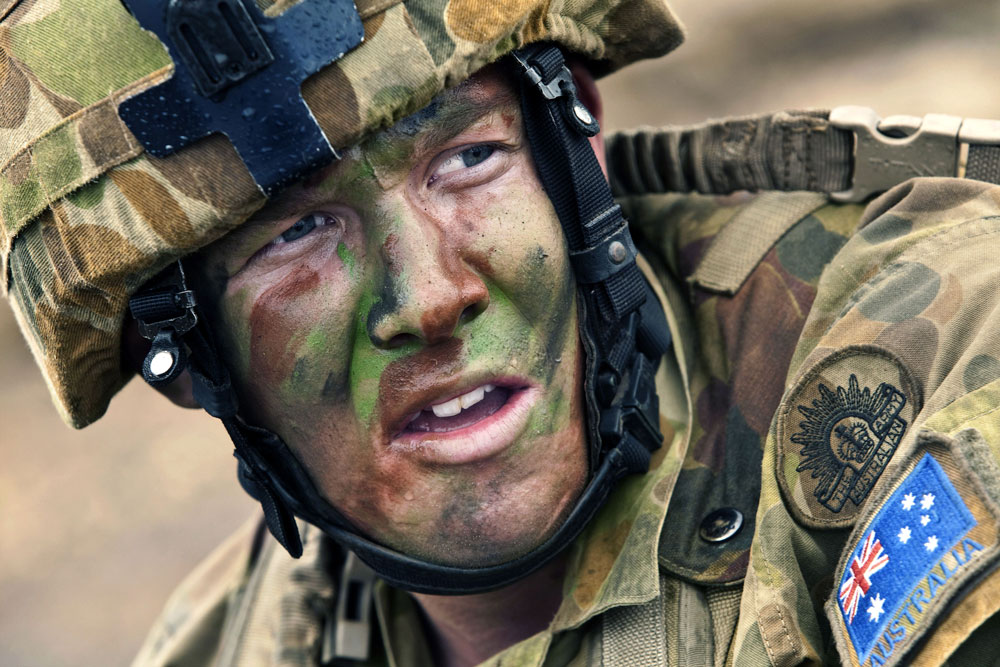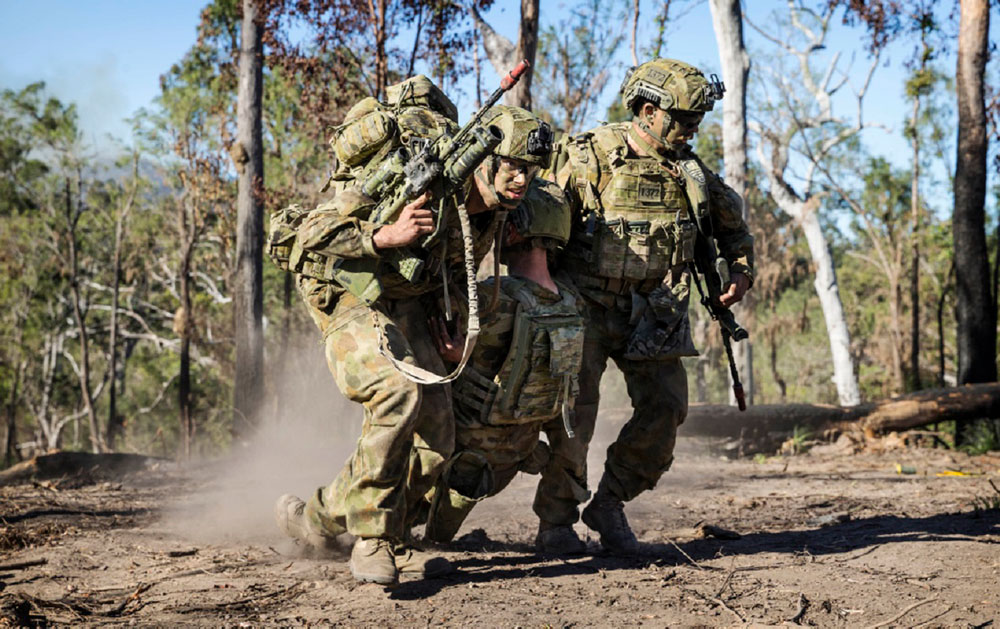 These waterproof leather lace-up boots are now produced exclusively for the Australian Army. Usually there are only 2 ways to legally possess a pair of Terra Combat Boots: to join the ADF and have them issued to you (they remain the property of the Commonwealth of Australia), or to purchase them from Army Disposal Auction or from someone that has already done so.
The "Terra" combat boots feature waterproof breathable leather (kangaroo and bovine), this is the so-called "All Weather Leather" which has waterproofing agents added during the tanning process to create a truly "low-maintenance" high performance upper.


The latest in boot technology is the "Terra's" dual density nitrile rubber vulcanized out-sole, where the "air cushion" mid-sole includes millions of tiny air bubbles for shock absorption, energy return and shock reduction helping to reduce lower limb injuries and "road burn".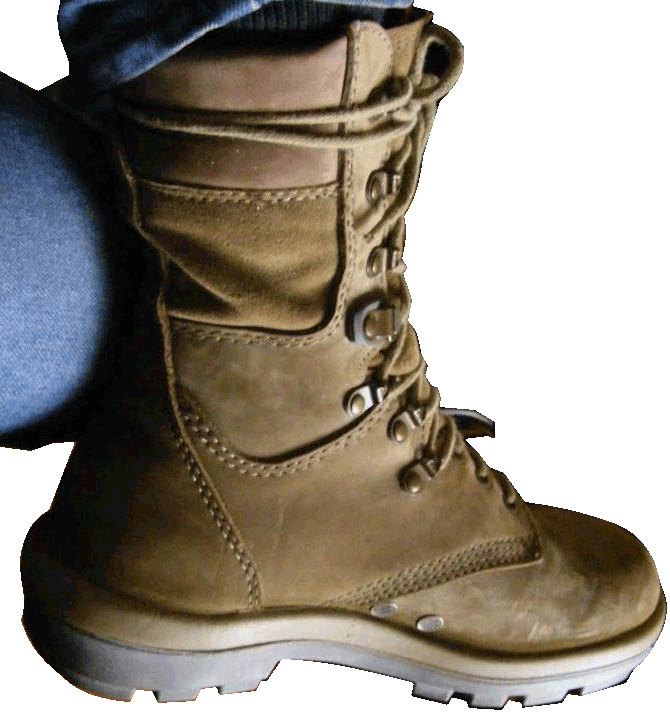 The orthopedic comfort is provided due to the "Terra" boots combat fit quality components and boot shape is designed to reduce arch flexion (sagging), subsequent foot fatigue and referred leg and back pain. This profile encourages normal foot functioning including maintaining forefoot flexibility, fore-to-hind foot and heel stability. The boot's tongues have built-in "Hook and Loop" pockets to accommodate the supplied padded tongue inserts.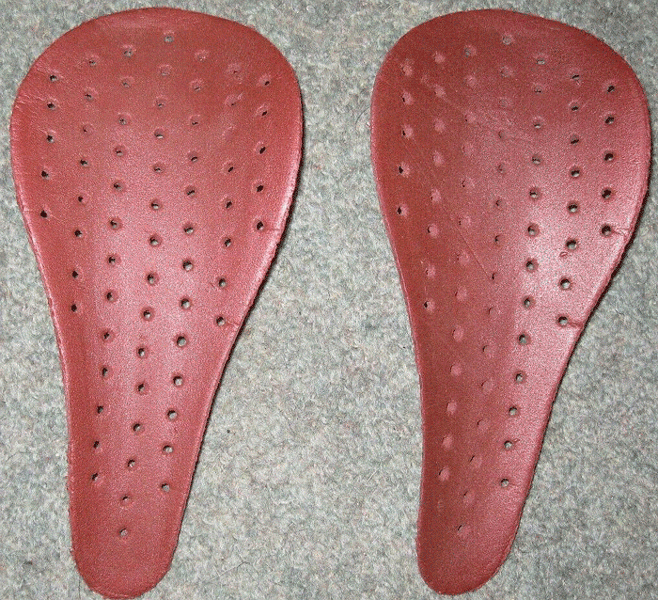 Also these boots feature:
- Non-magnetic and corrosion resistant hardware and a "Dual Tension" locking cleat system as used in premium hiking boots;
- "Shock Absorber" footbeds with contoured heel cup, arch support and ventilation holes for additional comfort and hygiene;
- Anatomic support - the Trilaminate Insole & Gold Passivated ladder shank as used in premium hiking boots gives extra torsion strength and arch/tendon support;
- Padded collar for comfort and leg seal;
- Removable padded tongue inserts for instep comfort, which fit both smaller and larger sizes quite comfortably. Dimensions are 17cm × 8cm their widest, their weight is less than 500 grams;
- Breather Holes for rapid water exclusion.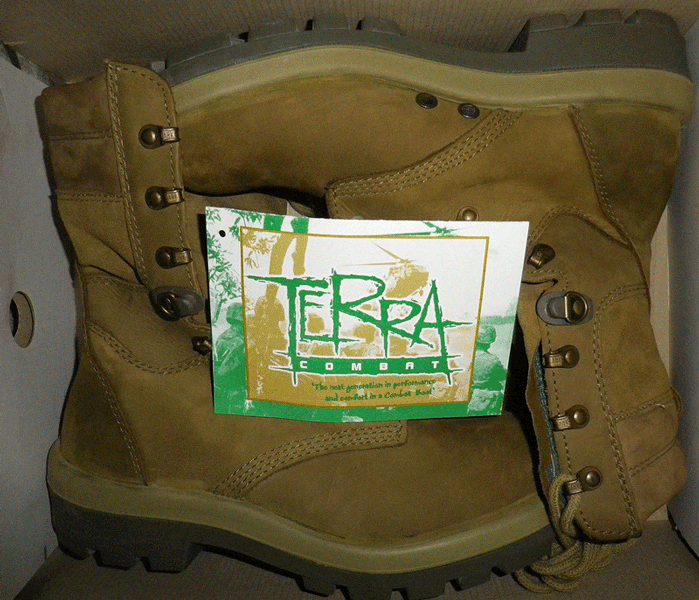 The Australian Defence Force primarily uses these boots since the year 2000. It was given a limited amount of tests in 1999, and "Terra" boots were distributed on the next year. Despite the boot's general aptitude for the tasks which the ADF had first put it in place for, the first early model of the "Terra" combat boots still had major flaws. 90% of all negative feedback from soldiers was about its inappropriate sizing, having only 43 different sizes. Many also claimed that its sole could rot in worst case tropical circumstances. Various military personnel have also used "Rossi" boots.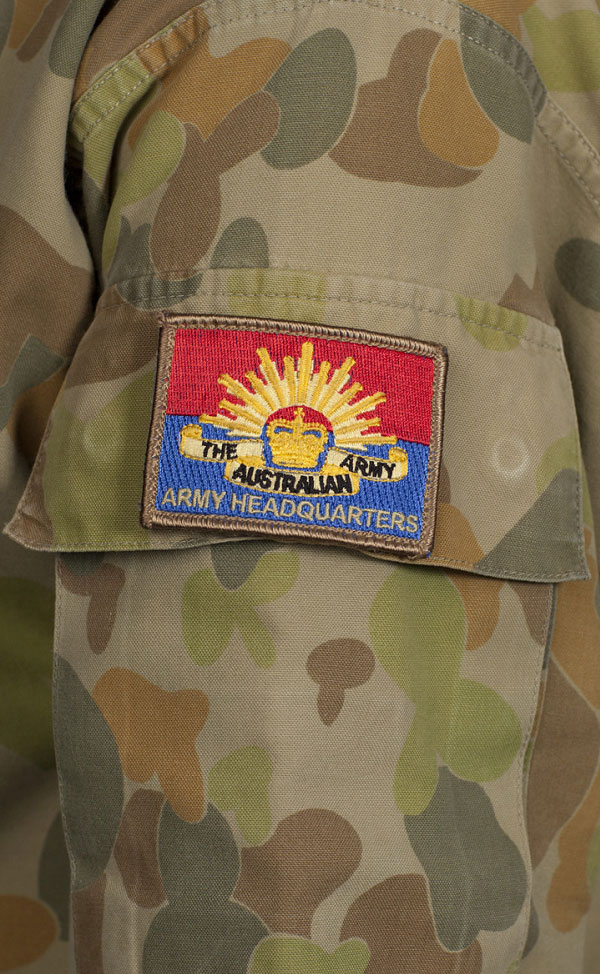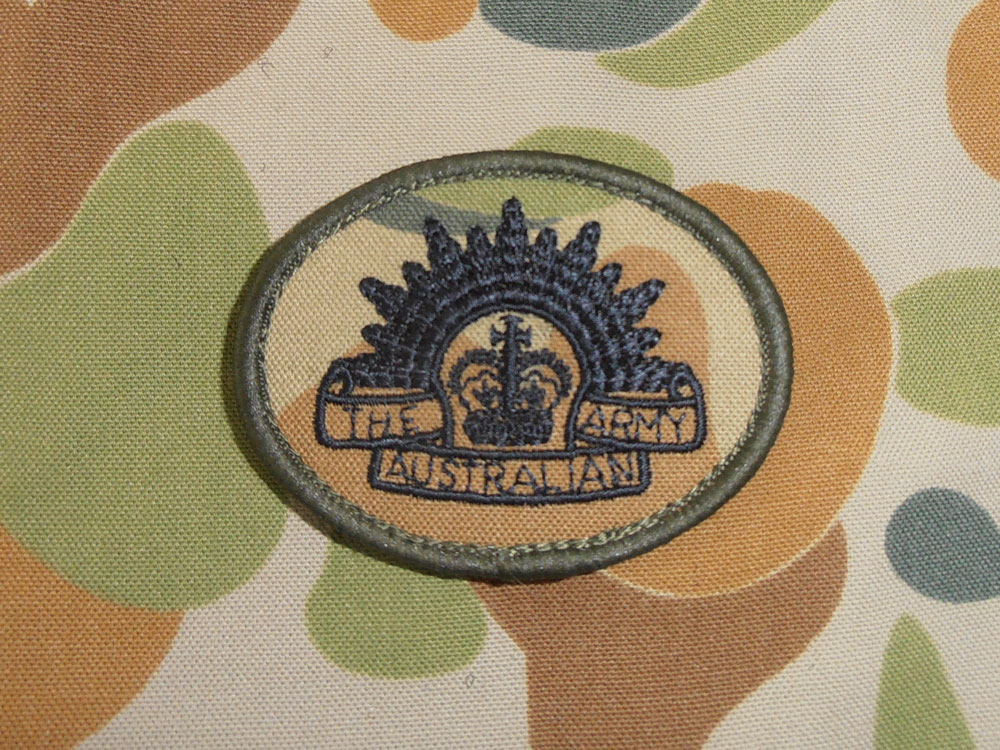 The early version of the Australian Army "Terra" Combat Boots represented by themselves tan combat boots made from kangaroo and cowhide leather, with padded collar and padded tongue inserts.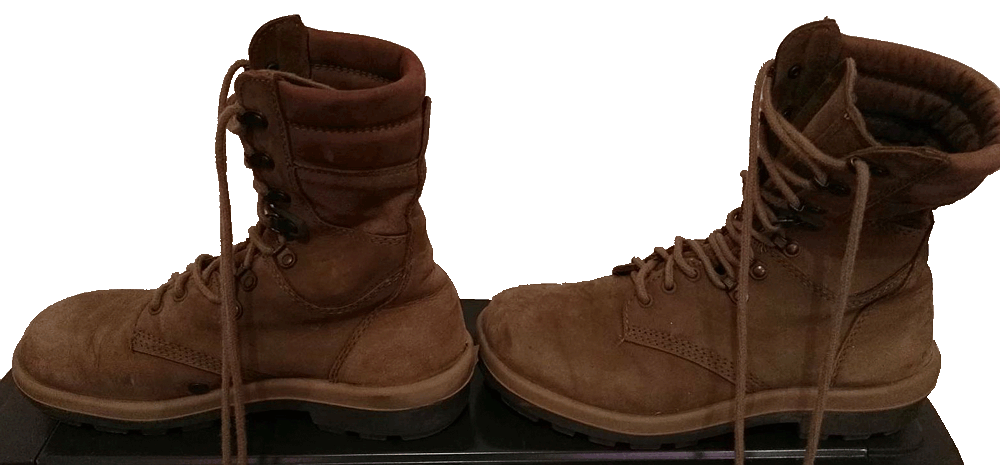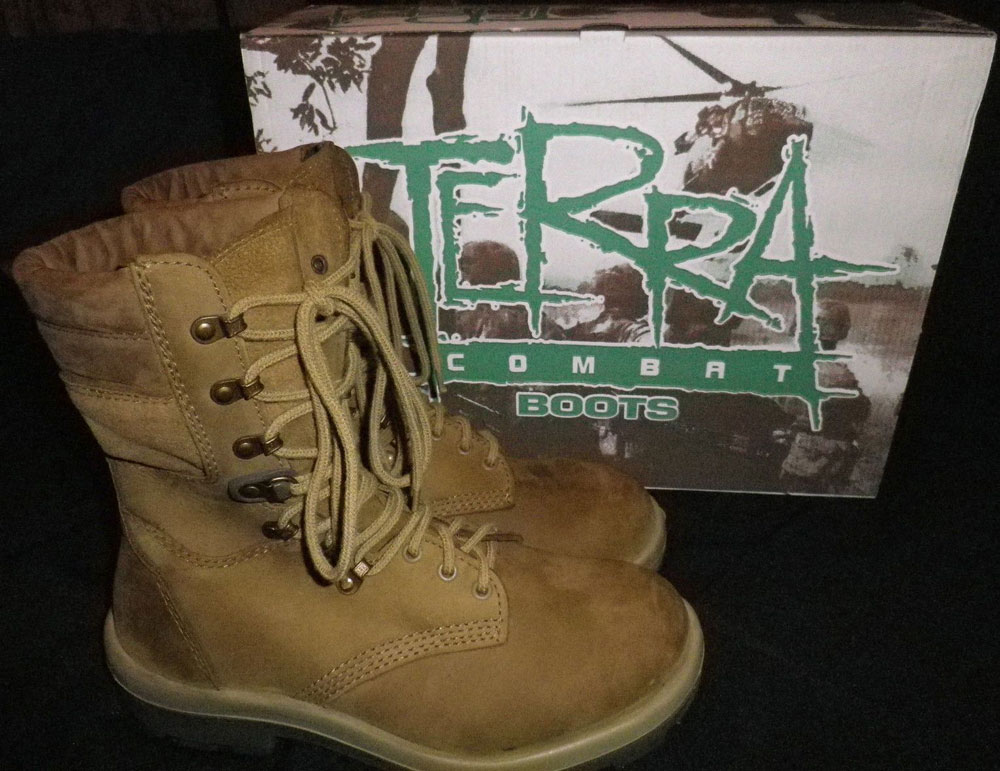 Each boot had three pairs of green painted alloy eyelets and seven pairs of riveted die cast alloy loops to retain the tan nylon laces. The middle loop had an alloy D-ring with a plastic lock down stud which retained the lace in position even when untied. There were a pair of mesh covered ventilation holes located at each instep.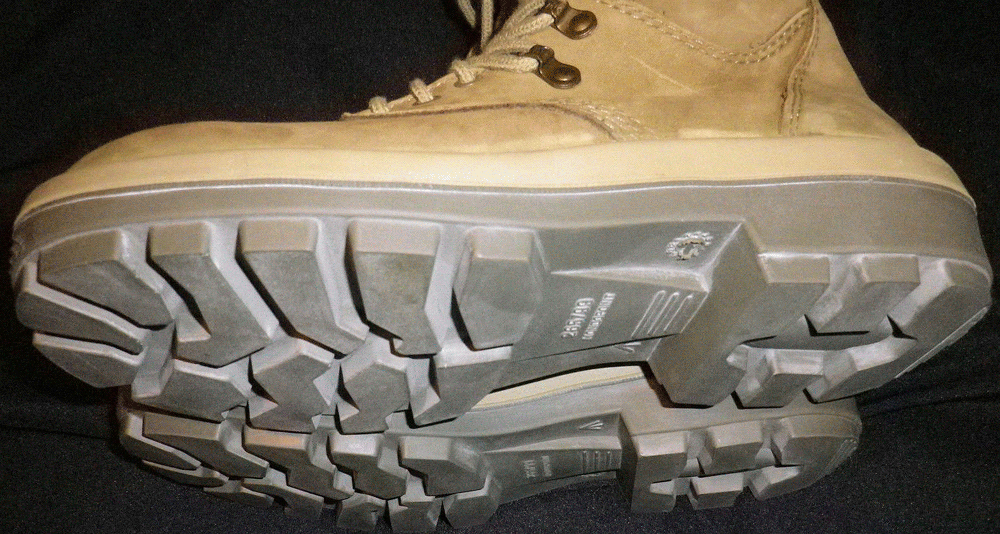 The padded tongue has a pocket on the inside secured with Velcro, allowing access to the separate padding inserts.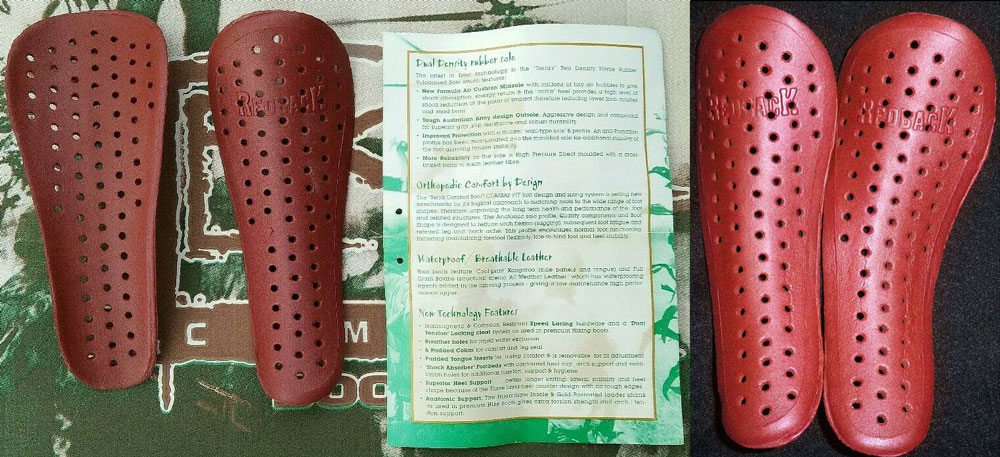 The soles are of dark green moulded polymer plastic (TPU), over an inner layer of lighter olive green polymer. TPU stands for thermoplastic polyurethane, which is a highly versatile elastomer with unique properties that offers both superior performance and processing flexibility.
TPU has been known for over 60 years, and represents by itself a unique type of plastic bridging the gap between rubbers and plastics. The key to TPU's versatility is that its hardness can be highly customized. TPU can be as soft as rubber or as hard as rigid plastics. The look and feel of TPU is just as versatile. It can be transparent or colored as well as smooth to the touch or provide grip.
The base of each "Terra" boot's out-sole is marked with a broad arrow, manufacturing date and the size in Mondopoint measurement (for example, 245/93).
These boots were first used in East Timor by Australian forces during their INTERFET (International Force East Timor) deployment in 1999. At this time, a new range of footwear for Australian military use was being trialled and modifications were made to this boot as a result of feedback received from the INTERFET operation (East Timor, 1999-2013).
"Redback" is operated by the Cloros family, the 4th Generation boot makers. Back in the 1990s the Australian Government removed Tariff barriers that protected bootmakers in Australia. As a result a lot of bootmakers moved manufacturing overseas, where costs are lower. "Redback" decided to stick with manufacturing in Australia, believing there was still a demand for Australian handmade quality boots.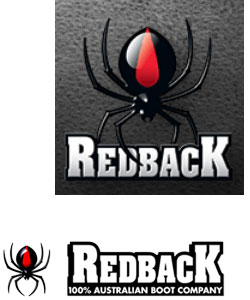 So "Redback" started making boots for specific high demand industries: Firefighters, Police, Paramedics, Smelter, Steel makers and the Defence Force. The common requirement was getting boots engineered that meet the rigorous demands of these industries. Today "Redback" have evolved and have widened their range to include General Purpose Industrial, Hiking, Hospitality and Casual Footwear.
The question of manufacturing the boots for the ADF overseas is quite painful for the Australian footwear manufacturers.
For example, this matter was set up in the article "Defence snubs SA-made Rossi boots in favour of imports for Defence workers" by Sally Brooks, "The Advertiser", of July 13, 2014.
The Adelaide-based footwear company "Rossi Boots" has been rejected for a lucrative Defence Department contract - and instead, Australian soldiers got the boots made in Indonesia. The contract to manufacture about 100,000 pairs of non-combat boots, worth up to $15 million over five years. "Rossi Boots" is still owned by the Rossiter family, who established the business in South Australia in 1910. The company supplied boots to soldiers in World War I and World War II, and it was one of the last remaining Australian-based boot makers where the entire boot - sole and upper - is manufactured in Australia.
A spokesman for Defence Minister David Johnston confirmed the fawn safety boot will be manufactured overseas: "The fawn boot is being supplied by "Blue Steel Boots", which will manufacture them in Indonesia. Rossiter's was not successful for the fawn safety boot as their price was more expensive than the successful bidder," he said. The tender was for three types of non-combat safety boots - a fireman's safety boot, a fawn safety boot and black safety boot - and would be worn by Australian Defence Force personnel. He said the previous supplier of the black safety boot was Lymington Pacific, which manufactured the boots in China.
However all "Redback" boots are still made in Australia, and, as they say: "We handle the boots from the Hide to the Box". The brand is growing rapidly, "Redback" are now one of the largest footwear manufacturers in Australia, with thier reputation for innovation being world renowned. Although experiencing significant growth, "Redback's" vision of providing quality Australian Made boots is still the same today.
Most Australian boots are manufactured to the UK sizing system. The Australian/UK Men's sizes, depending on the style go from size 2 to 15. UK sizes read 1 size smaller than USA sizes. It's worth mentioning that half sizes are just wider and not longer.
But, as it was told above, "Redback's" military "Terra" boots have size and widths marking in Mondopoint system.
The best way to select the correct fitting boots according to your Mondopoint Sizing is to measure the length and width of your foot in mm. The first number is the length and second number the width. For example, if your foot is 275 mm long and 90 mm wide, you would buy a 275/90 or slightly bigger to allow for thick socks.
The most accurate way of measuring the correct foot size is the so-called "Brick Method".
Mondopoint Men`s Shoe Size Table
Mondo
200
205
210
215
220
225
230
235
240
245
250
255
260
265
270
275
280
285
290
US/Can
1
1½
2
3
3½
4
4
5
6
6½
7
7½
8
8½
9½
10
10½
11
11½
UK
0
0½
1
2
2½
3
3½
4
5
5½
6
6½
7
7½
8½
9
9½
10
10½
Euro
32
33
33
34
35
36
36
37
38
39
39
40
41
42
42
43
44
45
45
Aus
0
0½
1
2
2½
3
3½
4
5
5½
6
6½
7
7½
8½
9
9½
10
10½
Japan
20
20.5
21
21.5
22
22.5
23
23.5
24
24.5
25
25.5
26
26.5
27
27.5
28
28.5
29
You can use two bricks for this. Place one brick against your heel and the other against your longest toe, remove your foot and measure the distance between the bricks, repeat this process for the width of your foot.
| | | | | | | | | | | | | | | | | | |
| --- | --- | --- | --- | --- | --- | --- | --- | --- | --- | --- | --- | --- | --- | --- | --- | --- | --- |
| Mondopoint | 240 | 245 | 250 | 255 | 260 | 265 | 270 | 275 | 280 | 285 | 290 | 295 | 300 | 305 | 310 | 315 | 320 |
| UK/Aus | 4.5 | - | 5.6 | 6.2 | 6.8 | 7.4 | 8 | 8.6 | 9.2 | 9.7 | 10.3 | 11 | 11.5 | 12.1 | 12.7 | 13.3 | 13.9 |
| USA men | 5 | 6 | 6.5 | 7 | 7.5 | | 8 | 8.5 | 9 | 10 | 11 | 11.5 | 12 | 12.5 | 13 | 13.5 | 14 |
The advanced Dual Density "Redback's" sole construction uses no stitching, screws or glue as over time these methods break down. Advanced technology used by "Redback" means that molten or liquid sole material (TPU) is formed directly onto the leather fibers under pressure. So the sole actually then becomes part of the upper, reducing the chance of sole coming apart from the leather. The "dark" side of this convenience is the non-repairability and disposability of shoes made using such technology.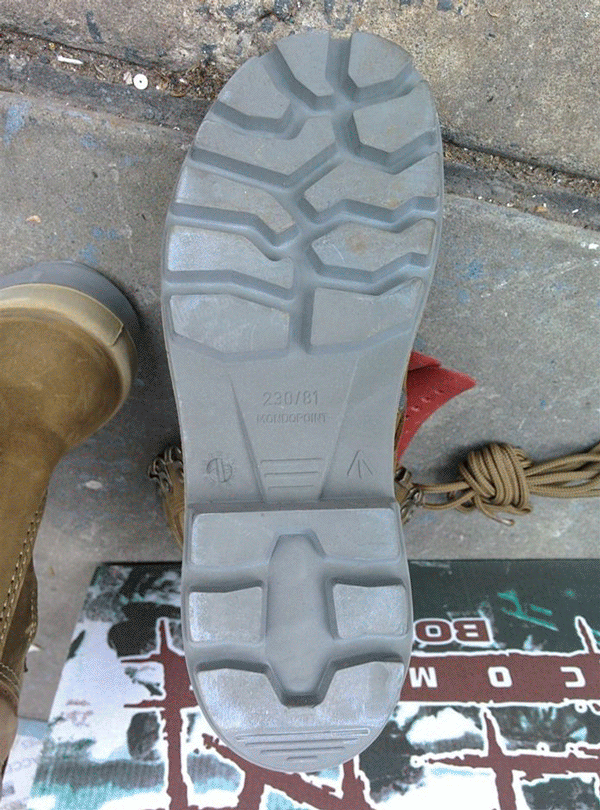 The TPU out-sole has excellent oil and acid resistance to almost all those encountered in normal working environments. It has 2 times the abrasion resistance of many rubber soles. The soles are heat resistant to approximately 392 F (200°C).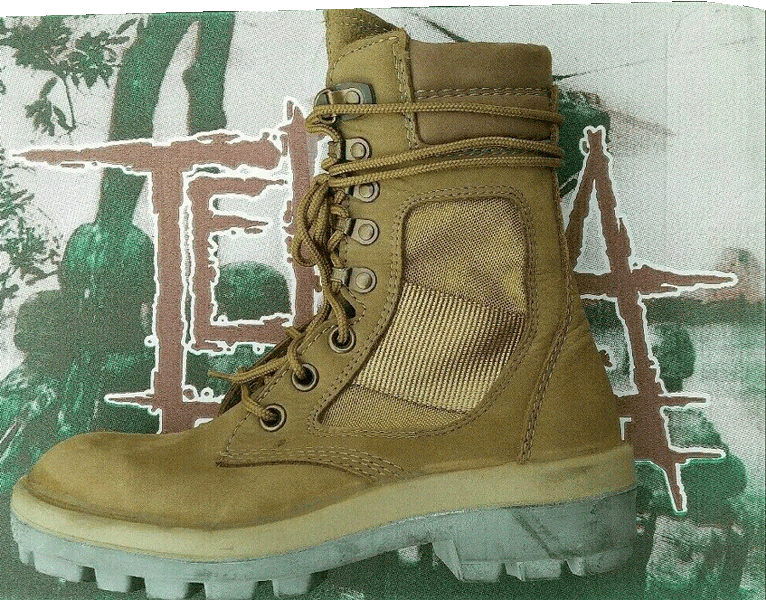 The "Redback" sole has been designed in consultation with leading orthopedists. The Anatomic wedge sole profile is designed to reduce arch flexion (sagging), subsequent foot fatigue and referred leg and backache. This profile encourages normal foot functioning including maintaining forefoot flexibility, fore-to-hind foot and heel stability.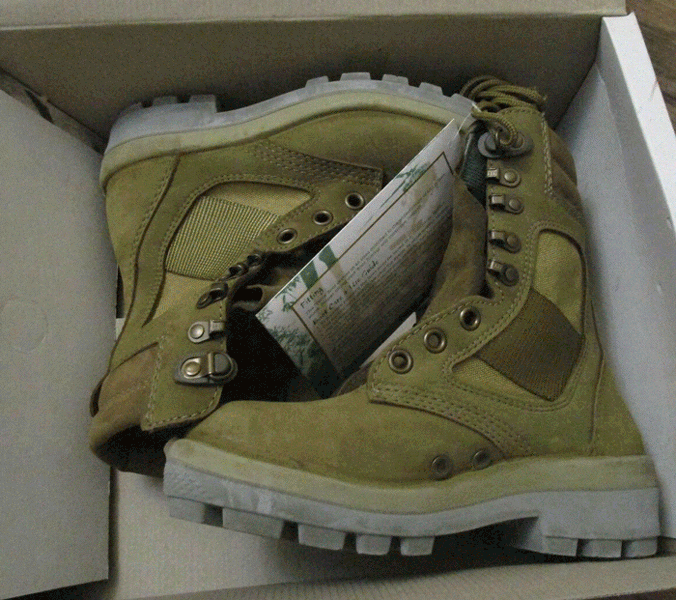 Most high-end boots have a 2.4-2.6 mm thick full-grain premium cowhide upper, but the "Redback's" leathers are 2.5 mm to 2.7 mm thick, this is 20% stronger than normal work boots. The oiled tannage means that all their boots are more resistant to hardening and cracking and hold their shape longer. The leather has oils that need to be replenished during the life of the boots. This manufacturer recommends a boot wax or dubbin.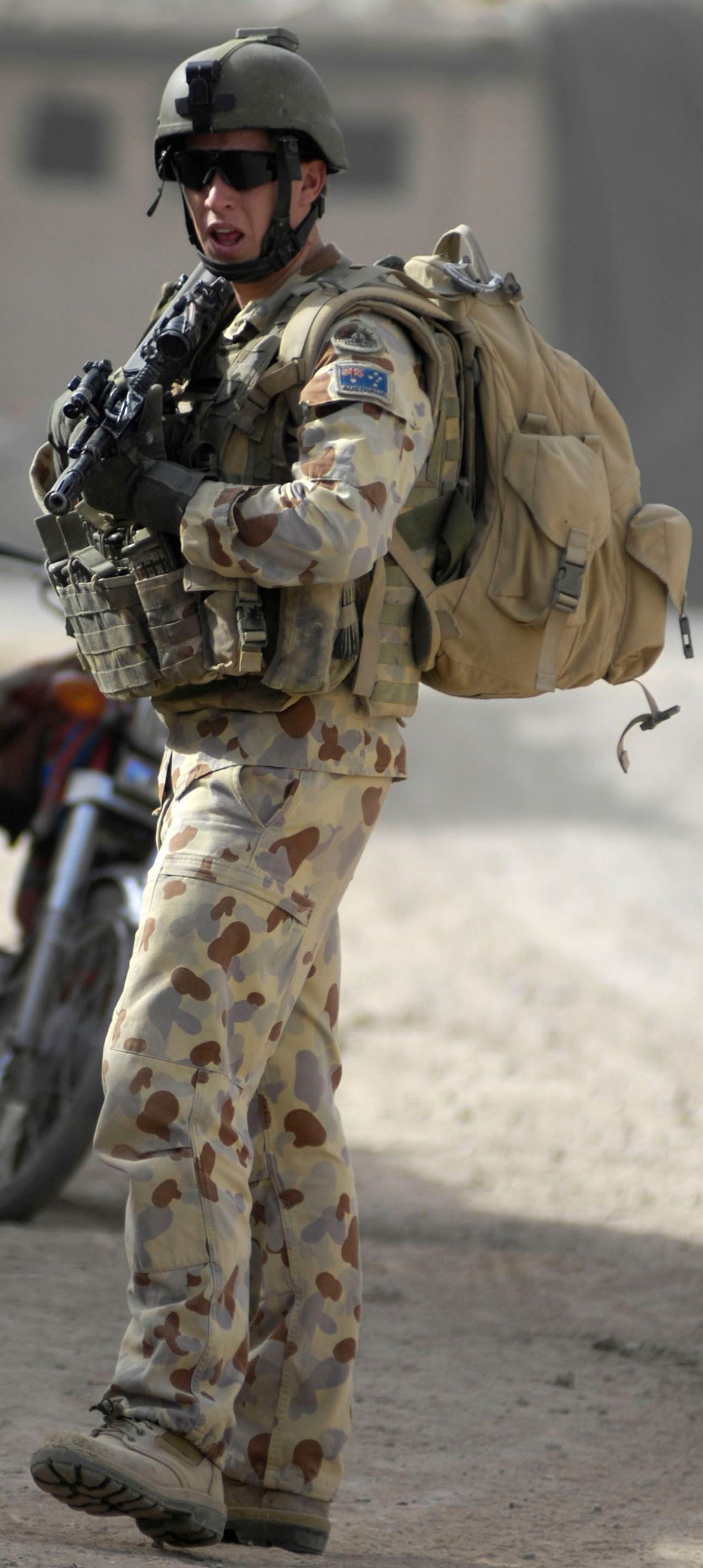 "Redback" believes that boots must be breathable. Synthetic linings and leather linings, which are glued to the upper, stop the leather breathing. The system of mesh covered ventilation holes for rapid water exclusion, waterproof breathable leather of the boot's top and the removable insoles made of thick and mellow rubber with an upper surface of leather keep your feet at the most comfortable working climate.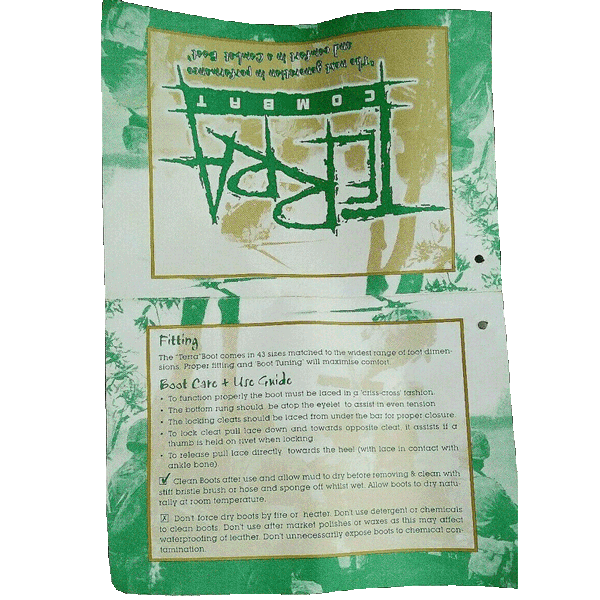 Next model of light brown suede Australian military issue "Terra" boots by "Redback Boot Company Pty Ltd" has no toecaps, as well as the previous and next models.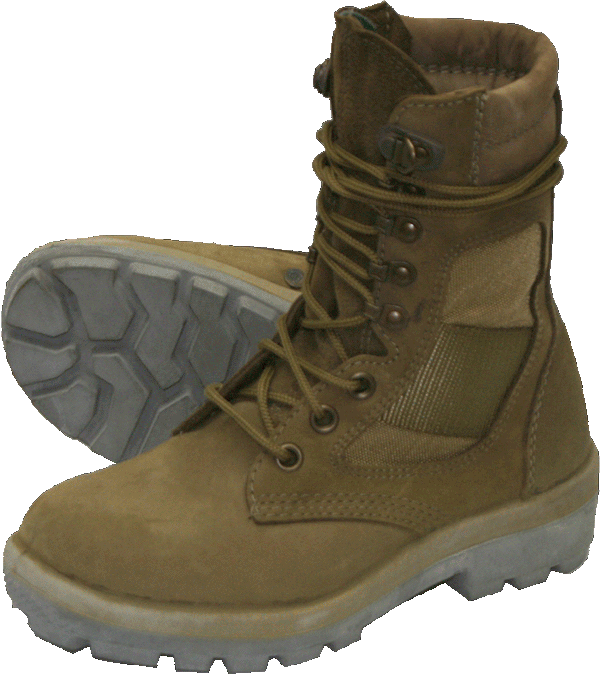 These are in production since circa 2001. Each boot has four pairs of simple round-shape brass eyelets and four pairs of riveted loops to retain the tan nylon laces.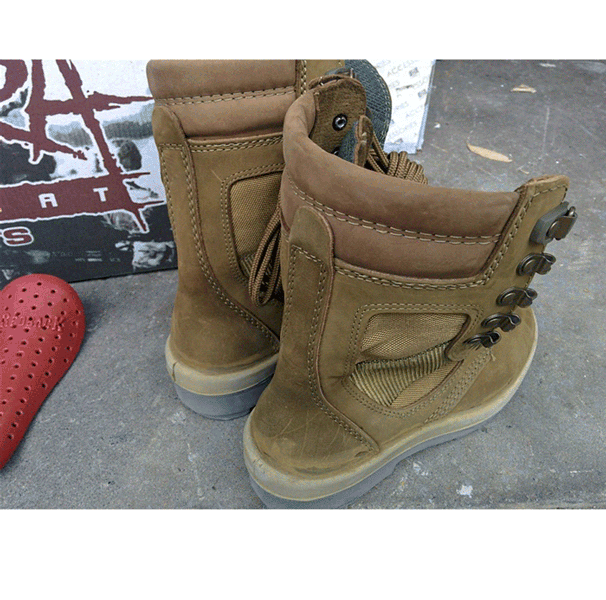 The top loop has a brass D ring with a plastic lock down stud which retains the lace in position even when untied.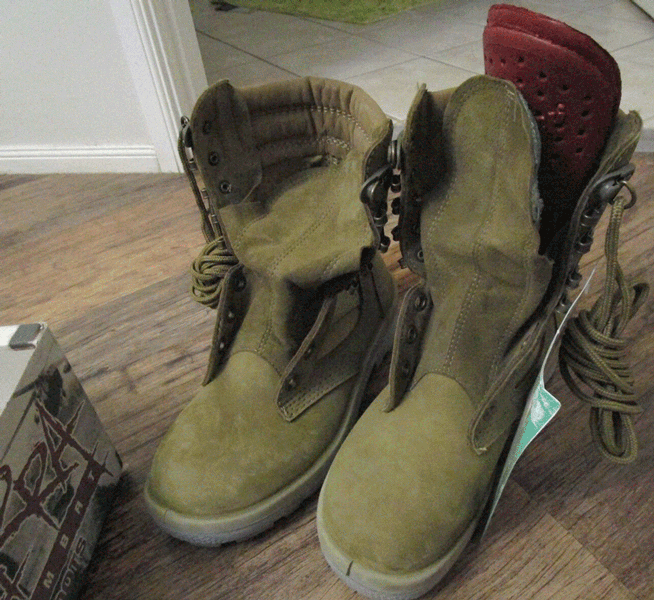 There are a pair of mesh covered ventilation holes located at each instep. The boot uppers from the heel to the ankle are of pale brown woven nylon, with a reinforcing strip of nylon webbing stitched across them.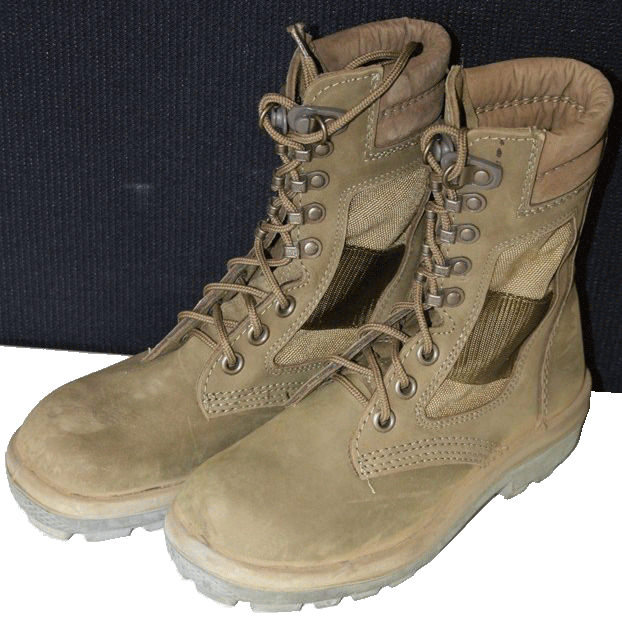 The upper ankle support section is made of padded brown suede leather.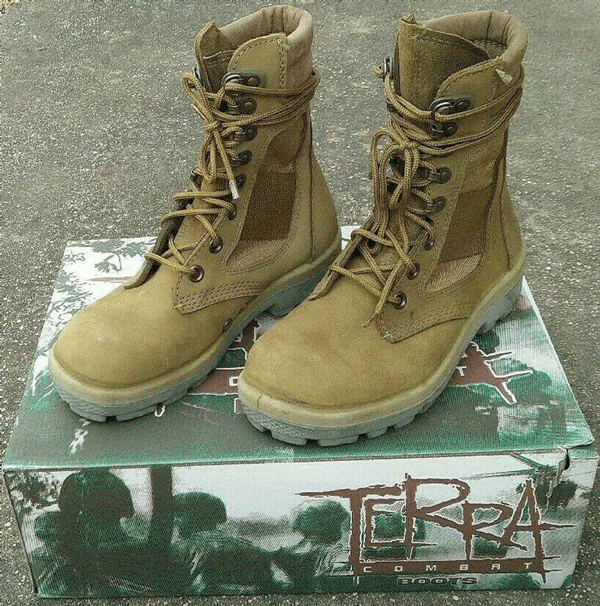 As it was told above, these combat boots feature waterproofed kangaroo and bovine leather uppers with nylon ankle reinforcing, pair of breather holes with brass inserts at the base of the uppers, padded tongue and collar, and locking cleat lacing hardware. The padded tongue is supplied with a Velcro seal allowing padding to be removed or replaced. The soles are molded with the boot size (245/93 MONOPOINT) and the Defence broad arrow.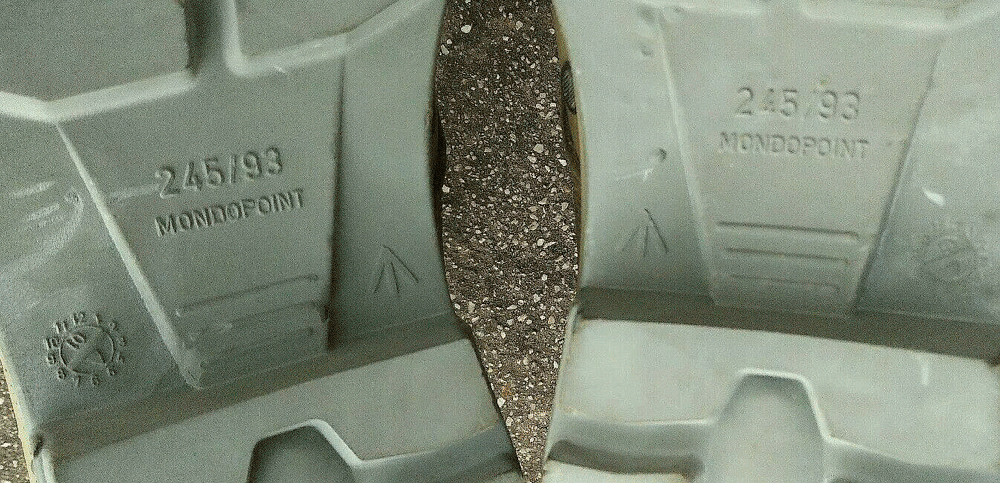 The soles are of dark green TPU, over an inner layer of lighter olive green TPU, as the previous boot's model: the out-sole represents by itself a combination of double density polyurethane layers, as it was told above. The suede tongues are lined with green fabric, and each has a built-in Velcro pocket.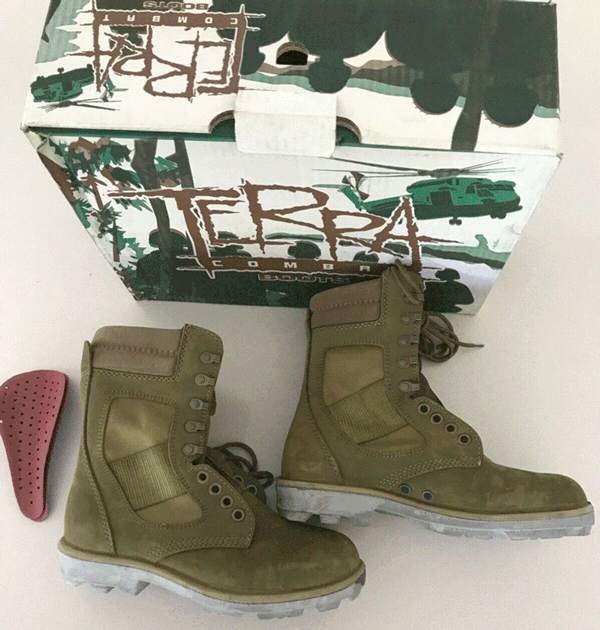 The removable insoles are made of rubber with an upper surface of leather.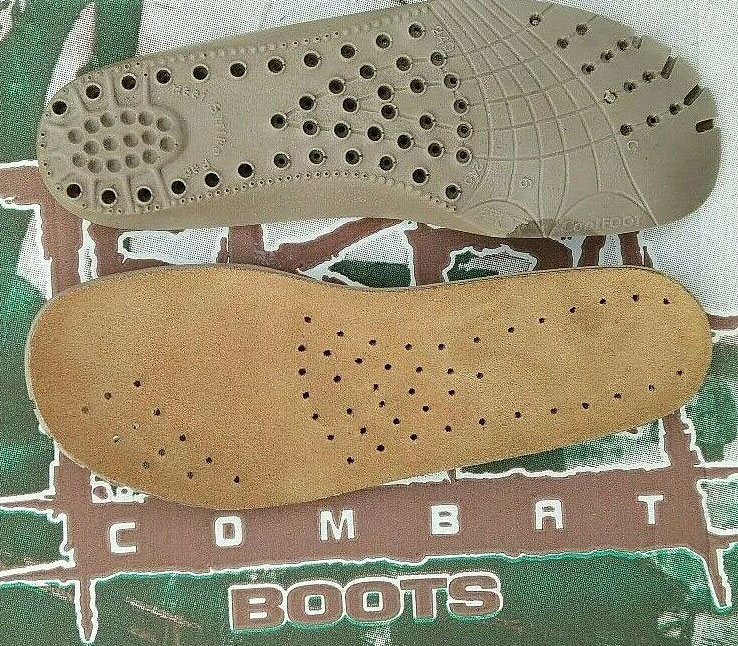 These boots were actively used during the conflict in Iraq, in the years 2003-2013.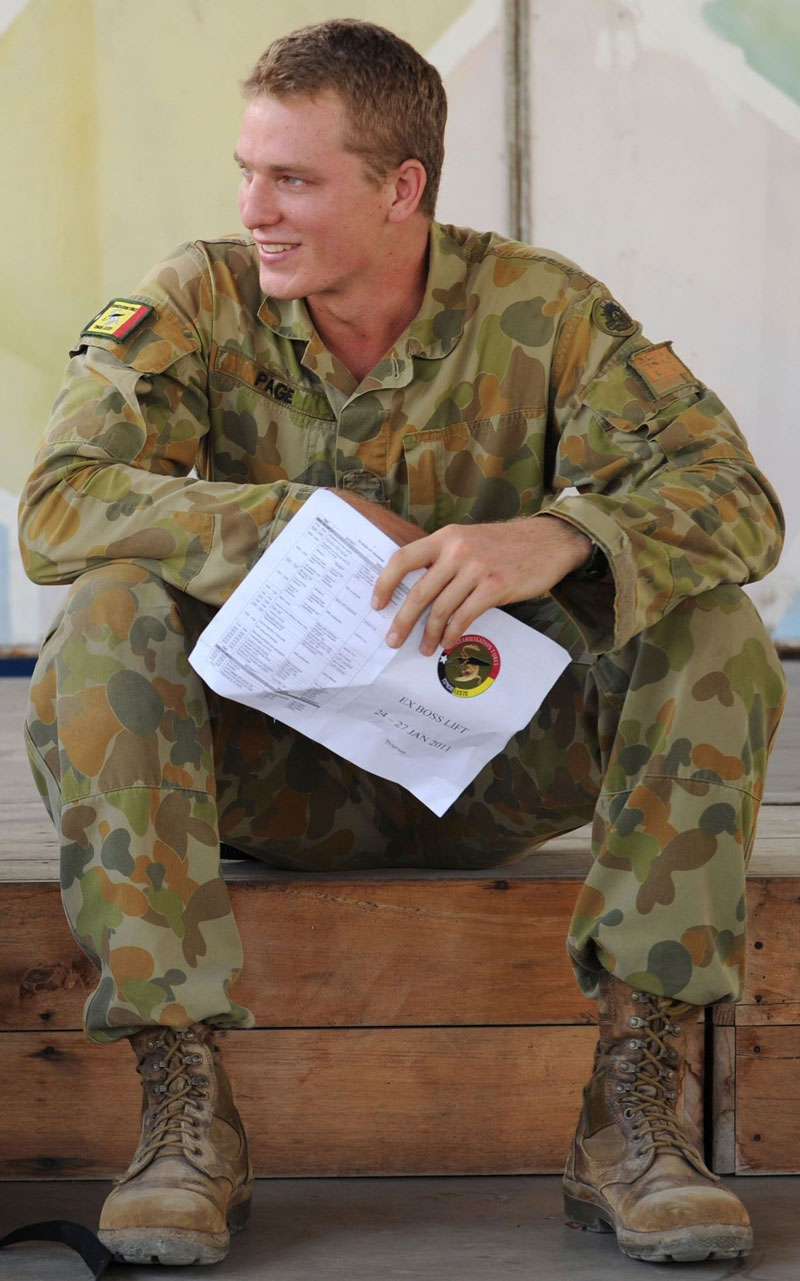 A year later (circa 2002) a slightly modified version of such boots was introduced.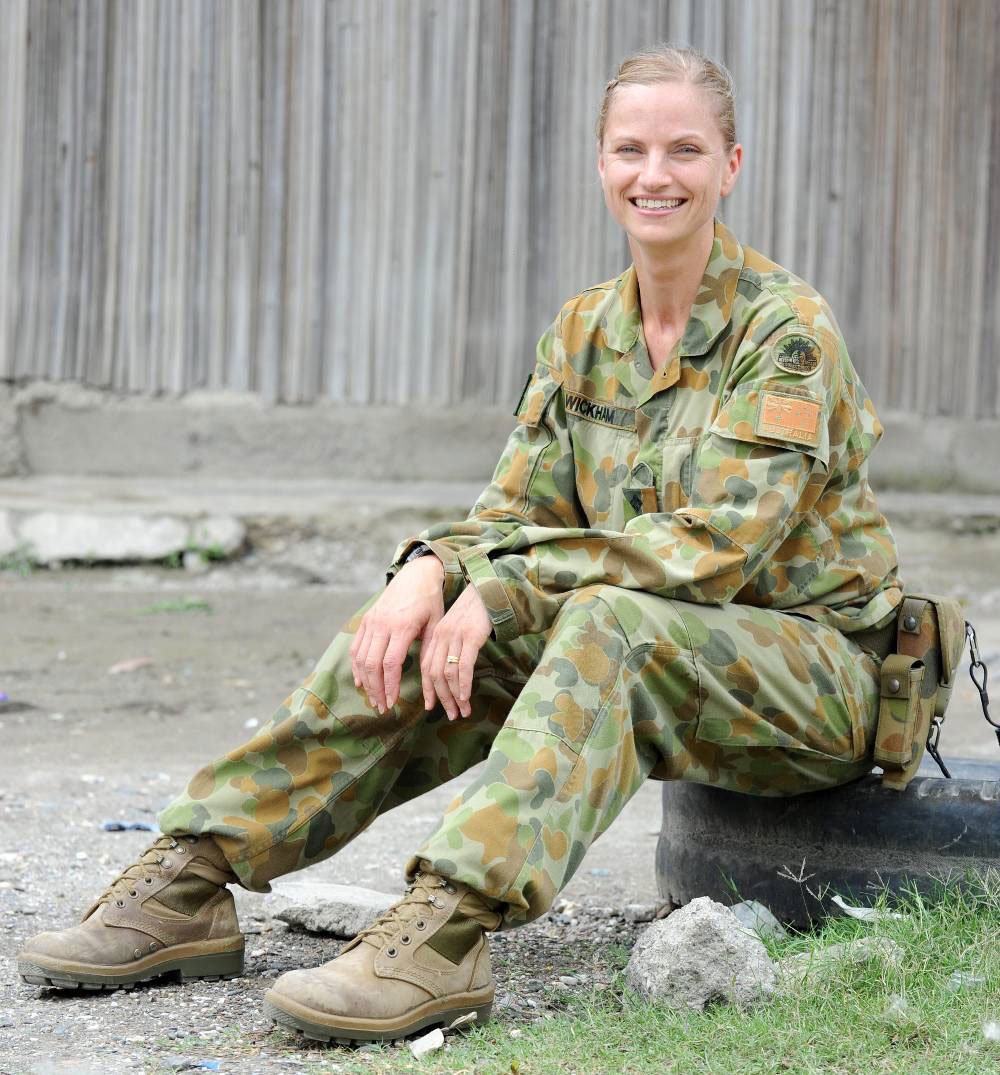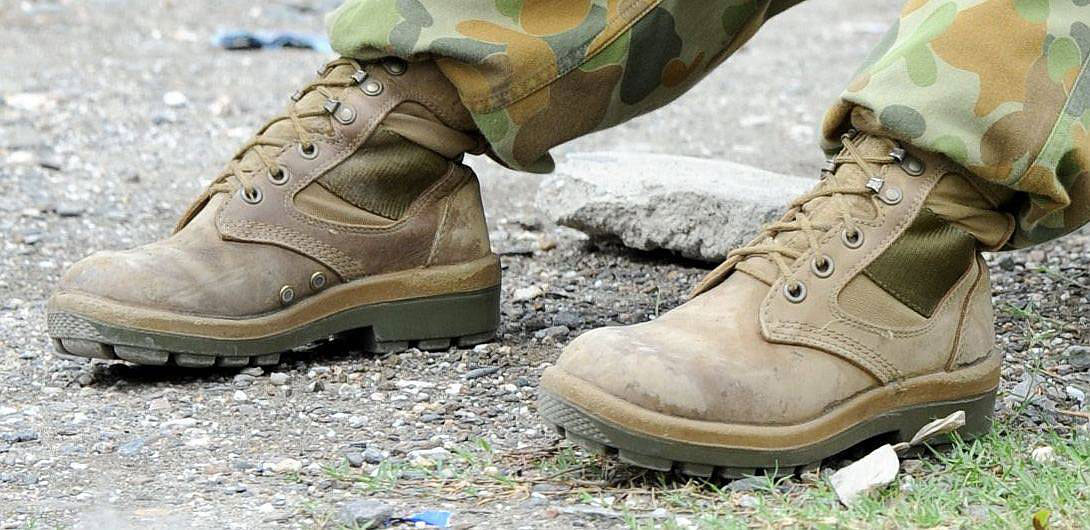 These boots are also made of leather and nylon and feature padded collar and removable cushion insole. Each boot has four pairs of brass eyelets and five pairs of riveted loops. This model lacks the upper brass D- ring with a plastic lock down stud which retains the lace in position even when untied.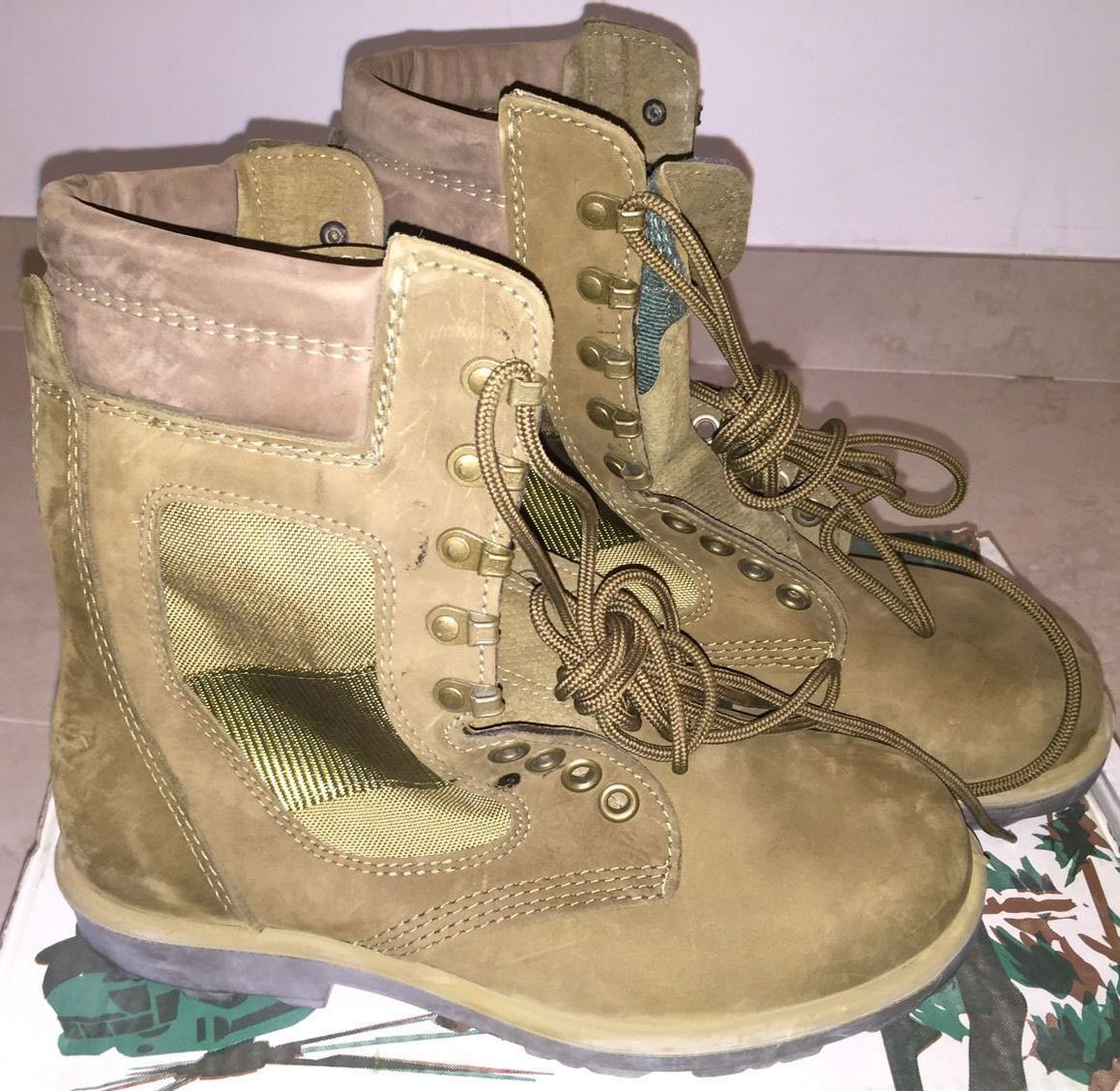 Each boot features a pair of mesh covered ventilation holes located at each instep. The boot uppers around the ankle are nylon with a webbing strip stitched across it, in the same way as it was in the previous version of the boots. The suede tongues are also lined with green fabric and have a small pocket for additional removable padding inserts secured with "Velcro".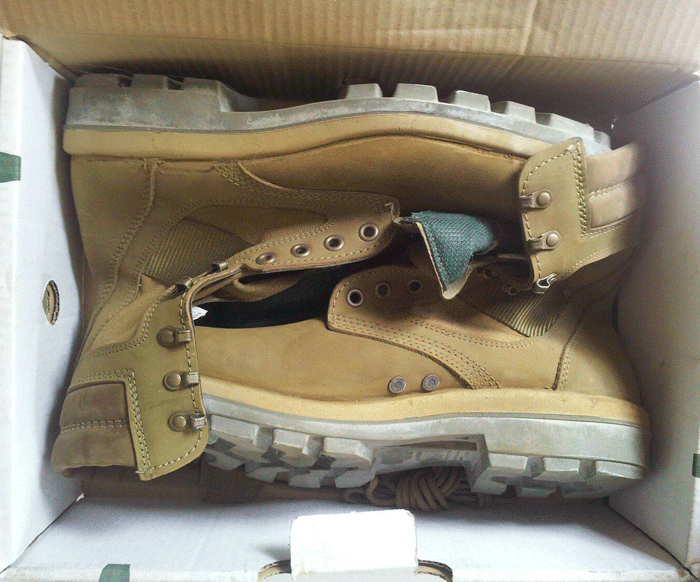 Under the arch of both boots is stamped into the rubber sole the size and widths, e.g. "280/100 / MONDOPOINT", manufacturing date and the Government "Broad arrow" symbol.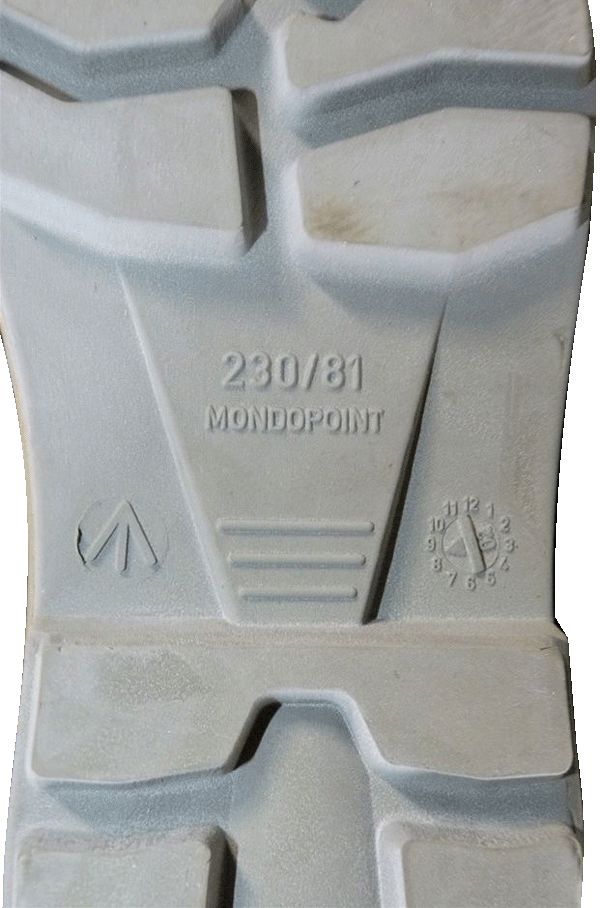 An octagonal Australian Defence Forces identity disc (the so-called "dog-tag") is to be threaded through the laces of the left boot. As distinct from the US, Canada, UK, Germany, Switzerland, Belgium and other countries, the Australian military identification tags set consists of two differently shaped discs, made of oxidised (black) brass.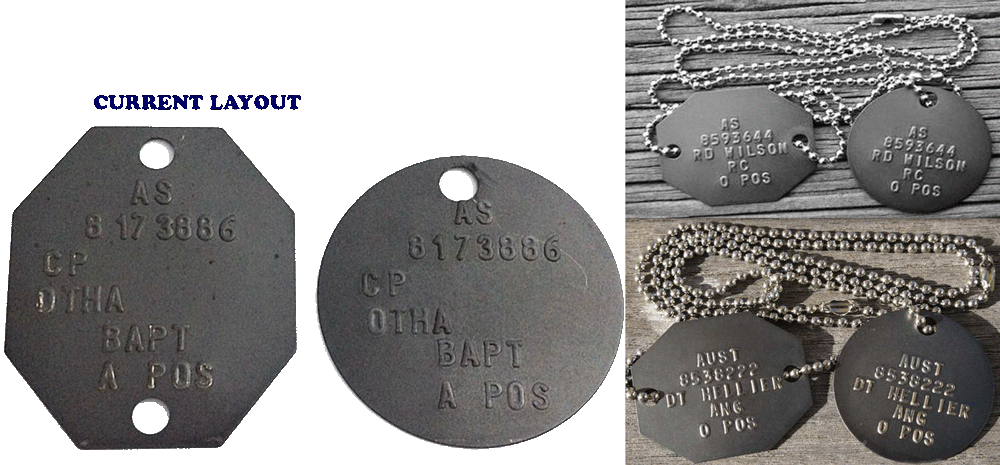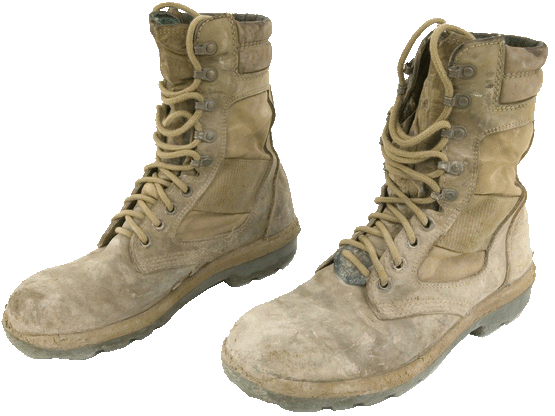 The discs are shaped in the octagonal and round forms, respectively. The ADF set is provided with 2 ball chains of steel: 60 cm and 11 cm long. The hexagon-shaped disc is to be placed in the lower part of the left boot's lacing, while the round-shaped "dog-tag" is to be worn on the neck chain.
There are 5 lines of information, each line can be embossed with 10 characters only. The current layout for the ADF Military ID tag is as follows:
1. Nation e.g. AUST, sometimes AS [denoting Australia];
2. PMKeyS/ Service Number;
3. Initials and Surname;
4. Religious Preference;
5. Blood Group.
Example of such filled-in "dog-tag":
1. AS
2. 8549302
3. SMITH DE
4. RC
5. A POS
The Australian Defence Forces uses the following abbreviation name for religion: BAPT (Baptist); C OF E (Church of England) or ANG (Anglican); C SCI (Christian Science); GC (Greek Catholic); GO (Greek Orthodox); J (Jewish); OD (Other Denominations); PRES (Presbyterian); RC (Roman Catholic); UN C (United Church); C (Congregationalist); NR (No Religion).
The recent model of the Australian military issue "Terra" boots is also made of light brown suede, it also has a tough construction and well made appearance, representing by themselves a long lasting heavy duty boot with a pair of mesh covered air ventilation loops located at each instep of the foot arch area. They have plastic reinforced toe cap. The lacing system of each boot consistis of four pairs of simple round-shape brass eyelets and four pairs of "quick-lacing" riveted loops to retain the tan-coloured nylon laces.
The two main visual differences with the previous model consist in the new improved out-sole design and some changes to the boot's top.
In the early version of this model the area from the heel to the ankle represnted by itself the leather with 2 "windows", made of pale brown woven "Cordura" nylon. These sides of the boot uppers, namely a reinforcing strip of nylon webbing stitched across the sides was changed to to full-leather system with two cut-offs on each side of the boot's top.
In more recent version of the ADF "Terra" boots (which is sometimes called the fifth version of these combat boots ) the "windows" of the woven nylon was changed to thin and soft suede underlayer (of the same material as the boot's tongue), while the other part ot the boot's top is made of more thick rough-out leather.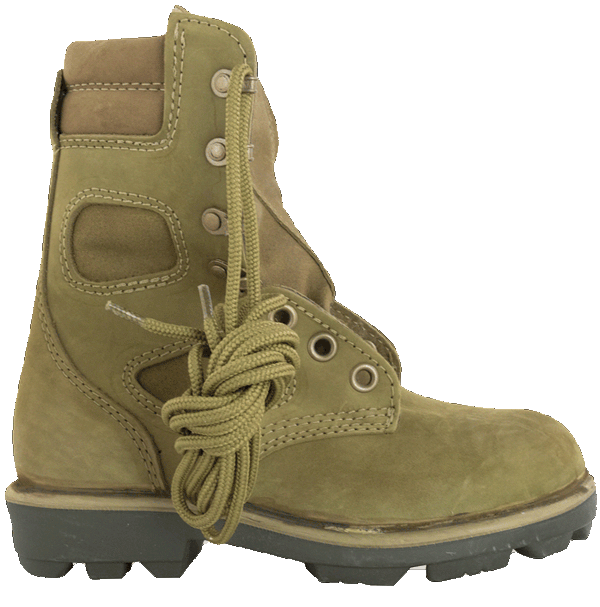 Some version 5 "Terra" boots feature the round-shaped damper element on the upper back side of the boots for the purpose of flexibility of foot bending and for better ventilation. The upper ankle support section is also made of padded brown suede leather.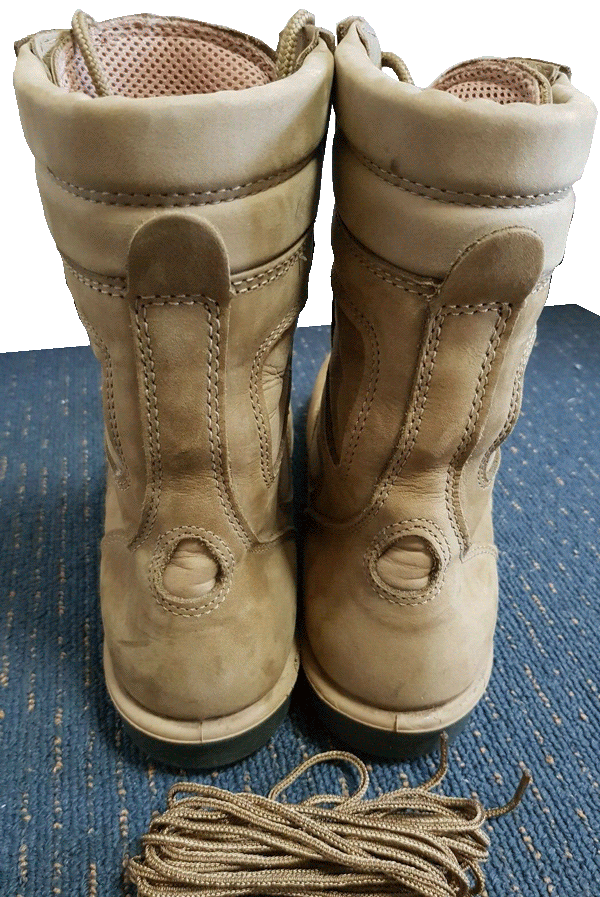 The soles are of dark green TPU, over an inner layer of lighter olive green.
The lining inside the boot is made of mesh breathable brown-coloured "Cambrelle" material (capable of absorbing moisture 5 times more than its own weight), provides good heat balance and sweat disposal, as well as favorable micro climate inside the boots. The suede tongues are lined with light brown meshy "Cambrelle" fabric, and each has a built-in Velcro pocket for additional removable padding layer. The upper part of the boot features soft leather cuffs of more light-colored leather intended to grip the legs tightly and to prevent the ingress of extraneous dust and small objects. The removable insoles are made of rubber with an upper surface of leather.
The more advanced and improved new version of the out-soles tread pattern feature bigger lugs, providing more stability and allowing less mud and dirt to get between the lugs of the sole. The tread pattern of the sole is comparatively simple, and one can say it is formed of big angular protrusions of different configurations. This pattern allows to provide good grip on different surfaces and stable position of the feet when walking.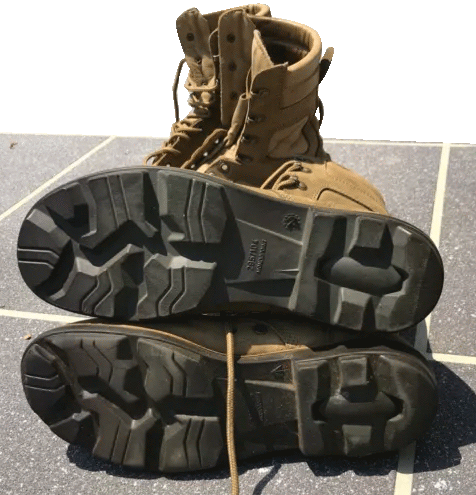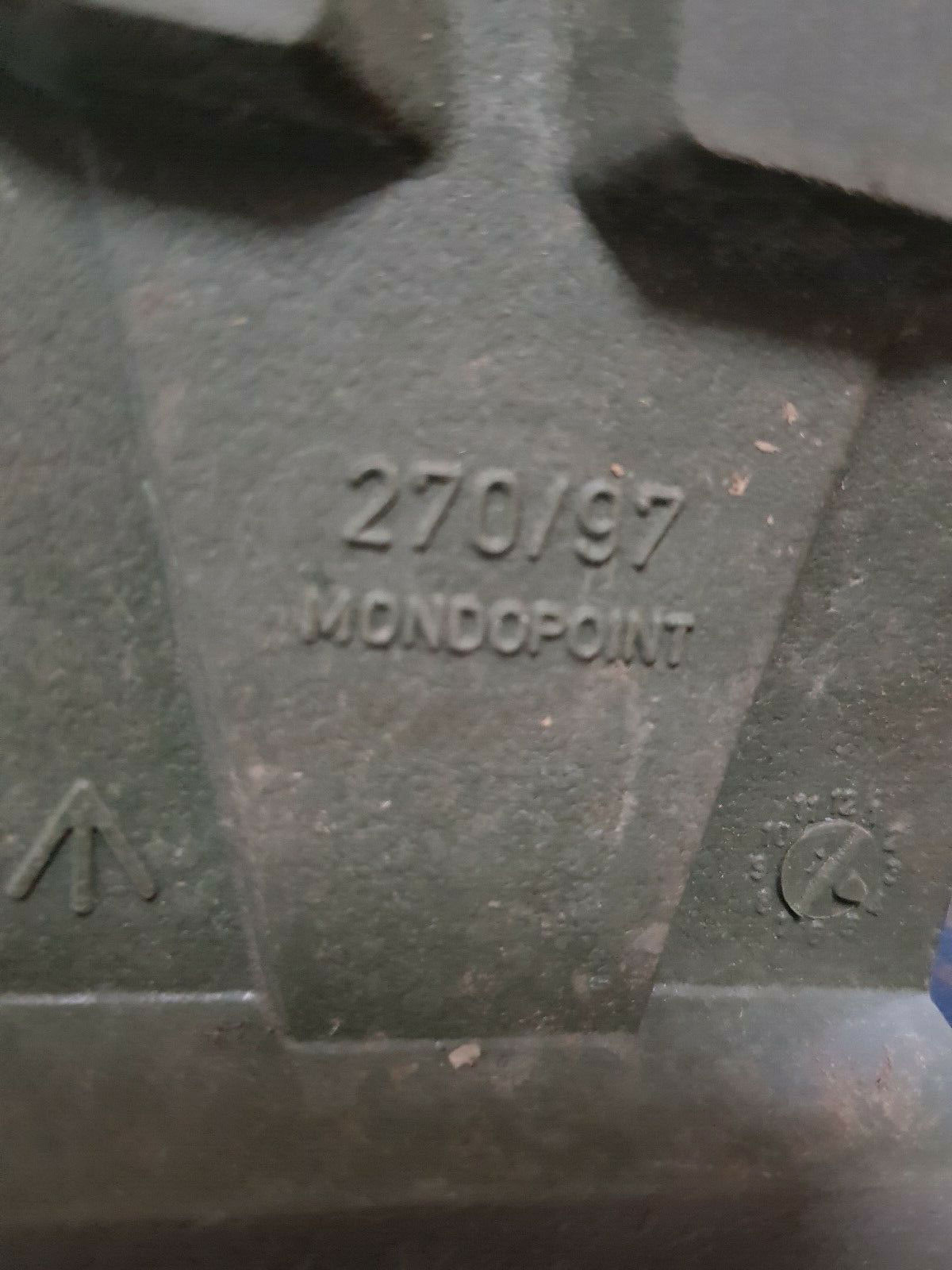 However, as the polyurethane is a plastic material, a polymer composed of a chain of organic units joined by carbamate links. "Redback" footwear is made up of polyurethane in the midsoles thus creating the lightweight, long-lasting comfort. While polyurethane is very flexible, light and durable it can be susceptible to hydrolysis if not used properly or worn-out hardly.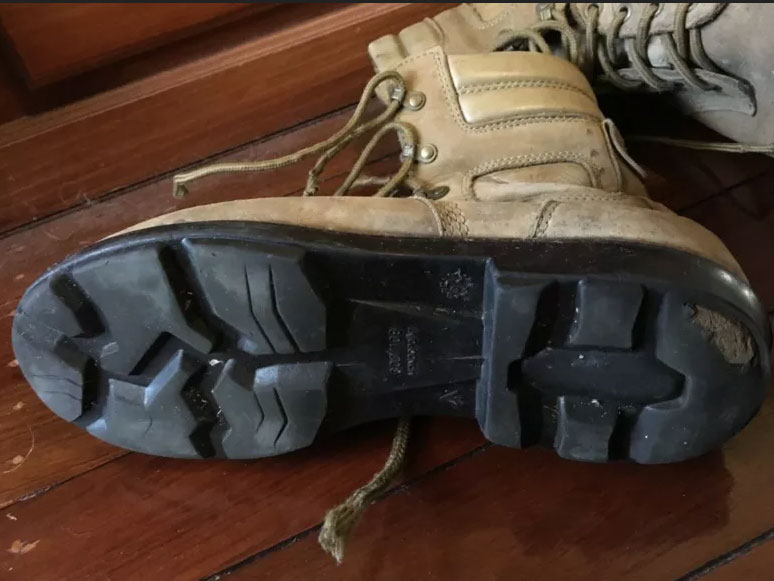 Hydrolysis is a reaction, when undisturbed poly molecules sit for extended periods of time they become weaker and thus leading to problems such as sole disintegration. The best way to avoid hydrolysis is to use your boots, wearing them will keep the Polyurethane molecules "alive" and make them last. Storing our boots for a long time can create hydrolysis.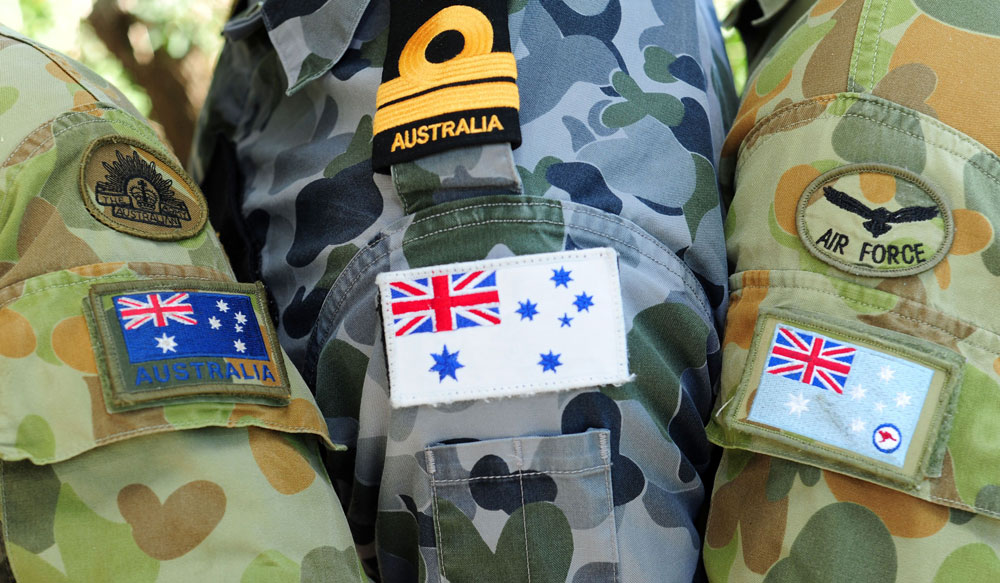 Talking about the ADF combat boots, it is also worth mentioning, that the Australian army now uses several types of camouflage, each of which is tailored to certain conditions.
The first is the Australian Disruptive Camouflage Pattern (ADCP) print, which has been around since the mid 1980s and was developed using aerial photographs of Australian terrain. First tested in 1982-83, the original colors of the ADCP were slightly different from those finally released in 1984. Uniforms are known officially as DPCU (Disruptive Pattern, Combat Uniform), and for this reason the term is also often applied to the pattern. Although there are some slight color differences depending on the manufacturer and the fabric, in general this five-colour military camouflage pattern features orange, brown, dark olive & lime green spots on a khaki background.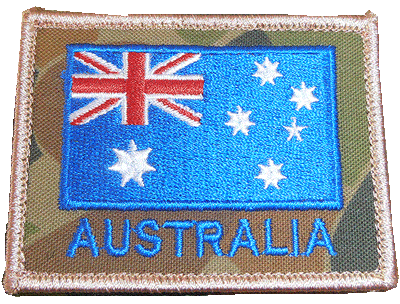 Several nicknames have also been applied to the pattern, including "AUSCAM" and "OzCam", and "jelly bean camo", and "bunny cam" (as some of the shapes in the design look like rabbit caricatures).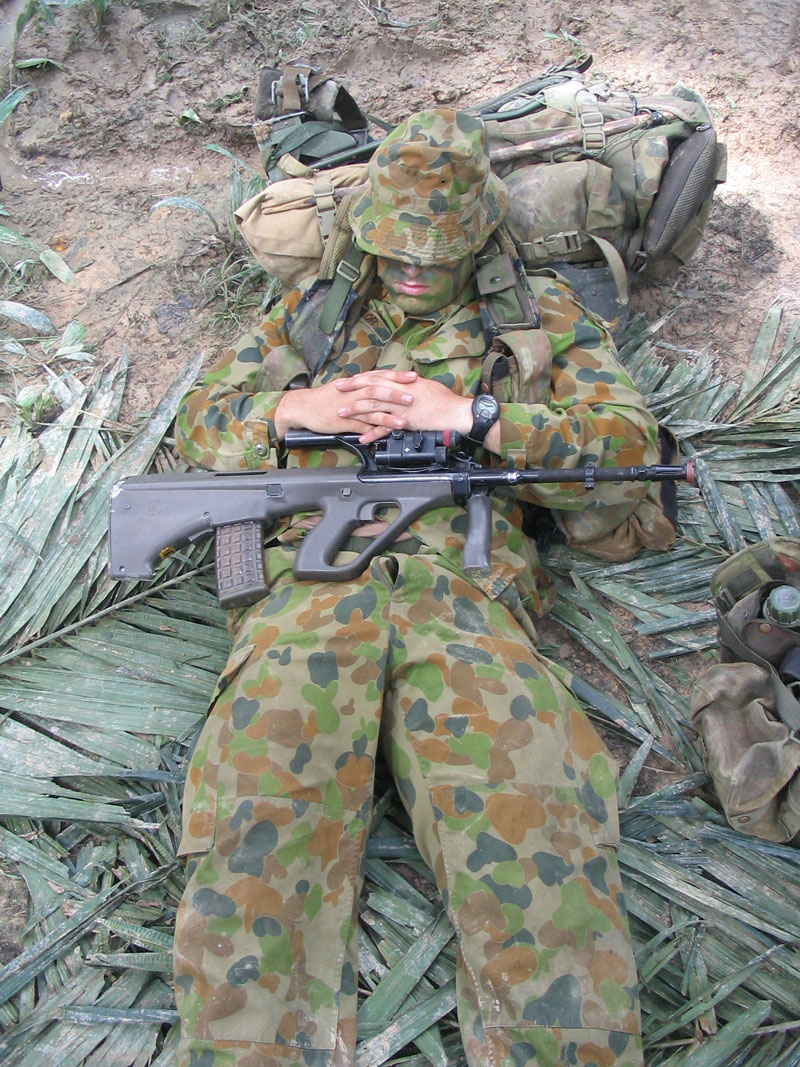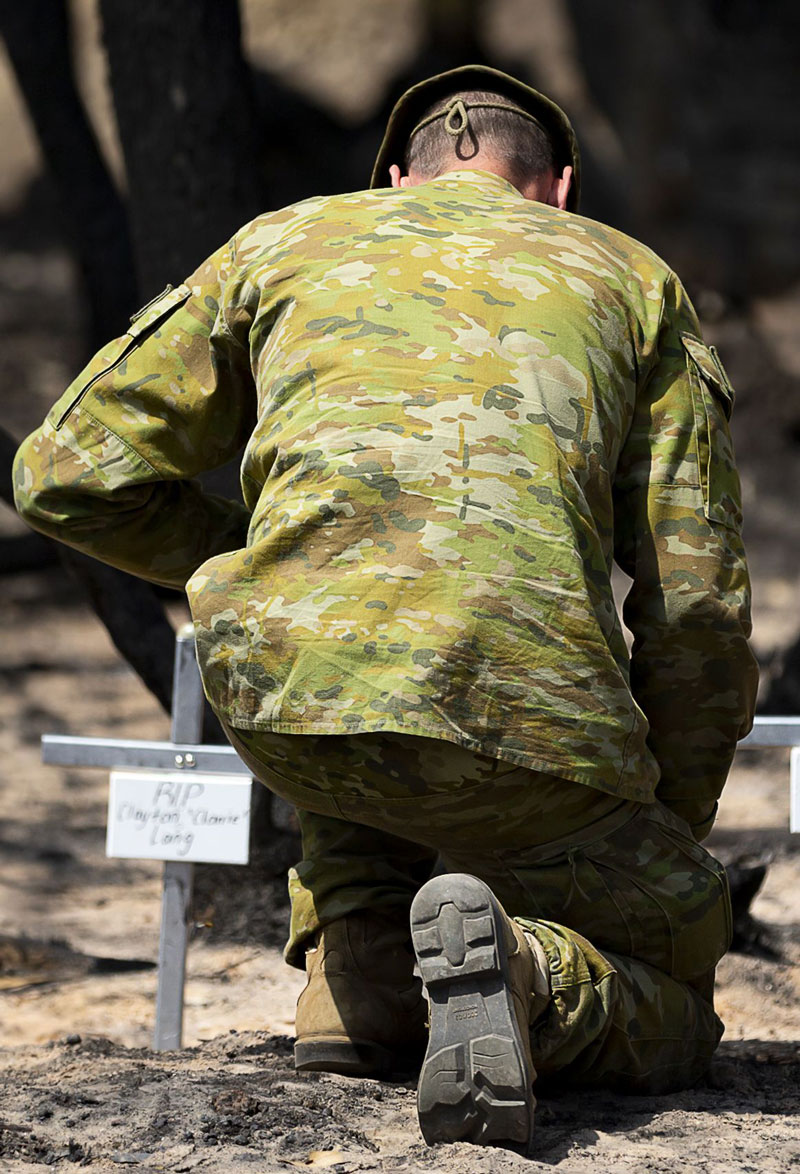 What about the nicknames, the Australian Soldiers are usually called "the Diggers". In more general meaning, the name "diggers" are applied both the the Australians ("Aussies") and New Zealanders ("Kiwis").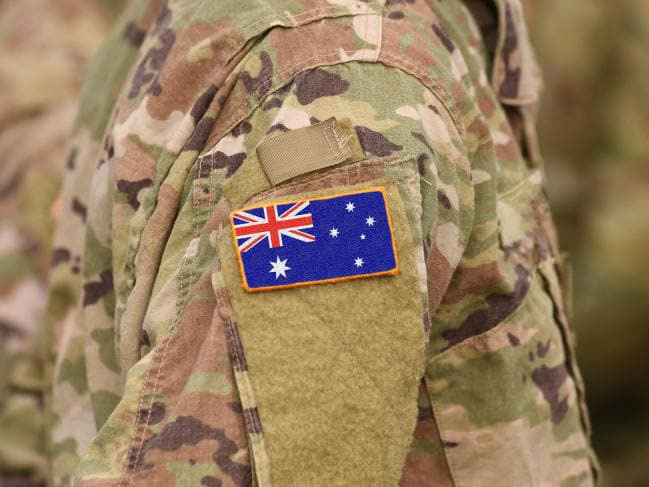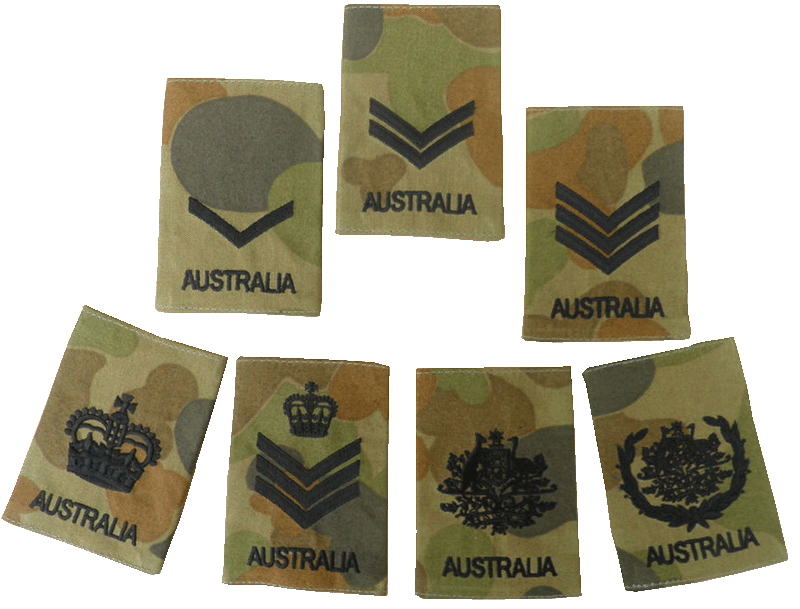 Another camou pattern is a Disruptive Pattern Desert print (Desert AUSCAM), which incorporates sand & brown colored spots on a tan background, and is used in desert conditions.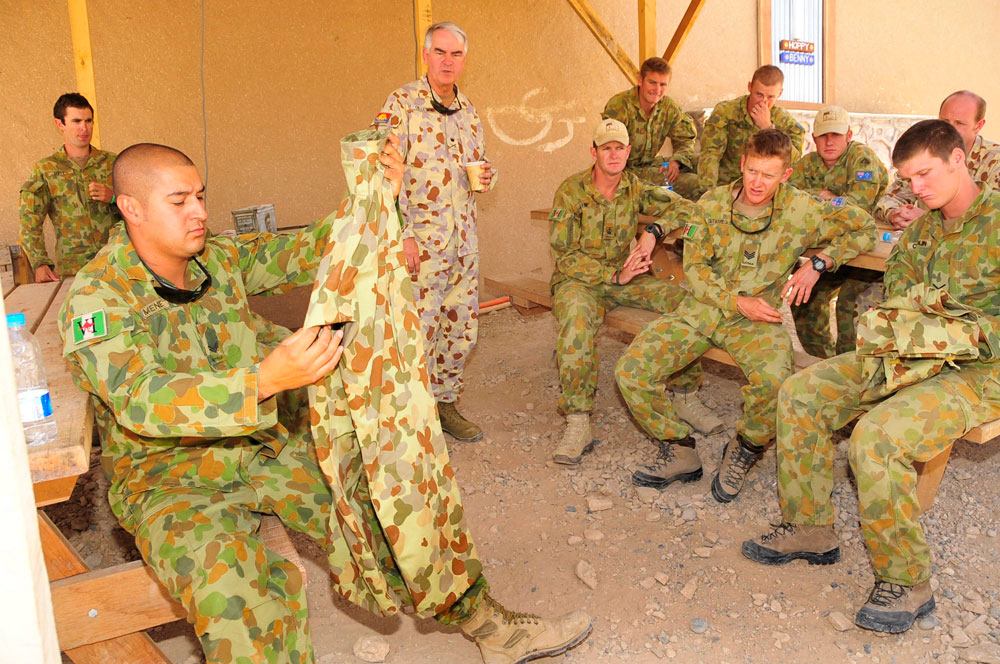 The uniform itself is officially designated Desert Pattern Disruptive Uniform (DPDU) and hence that term is also often applied to the desert camouflage pattern. The first version (Mk 1 or Series 1) desert pattern was fielded by the SASR (Australian Special Air Service Regiment) when they originally deployed to Afghanistan in 2001-2002; however, as the colors were universally disliked the pattern was not adopted.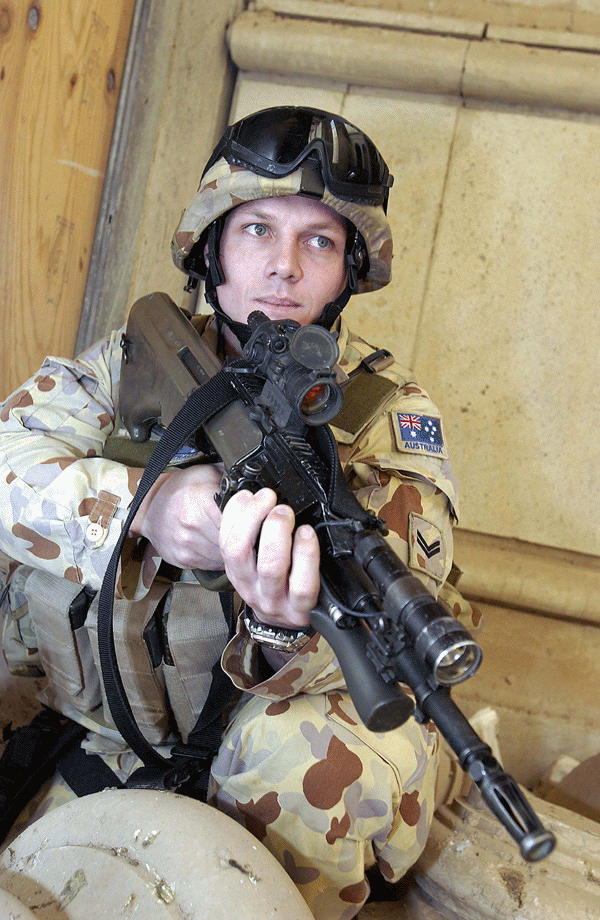 A second version of desert AUSCAM (Mk II or Series 2), that featured mint green, grey, brown & light grey spots on a pinkish background was then tested in Afghanistan between 2002 and 2003.
Beginning in 2002, a third version of the desert AUSCAM (Mk III or Series 3) was approved and initially issued to Australian personnel deployed to Afghanistan. Featuring pale green, brown & grey spots on a yellow-tan background, this color combination was deemed the most effective and ultimately approved for general issue to the Australian Armed Forces. It has continued to serve with Australian personnel various arid theaters of deployment and the design itself has remained relatively unchanged despite at least one complete uniform overhaul (from the standard DPCU to the Land 125 system). Land 125 is the Australia's soldier modernisation programme (SMP), similar in taks and purposes with the best world's armies.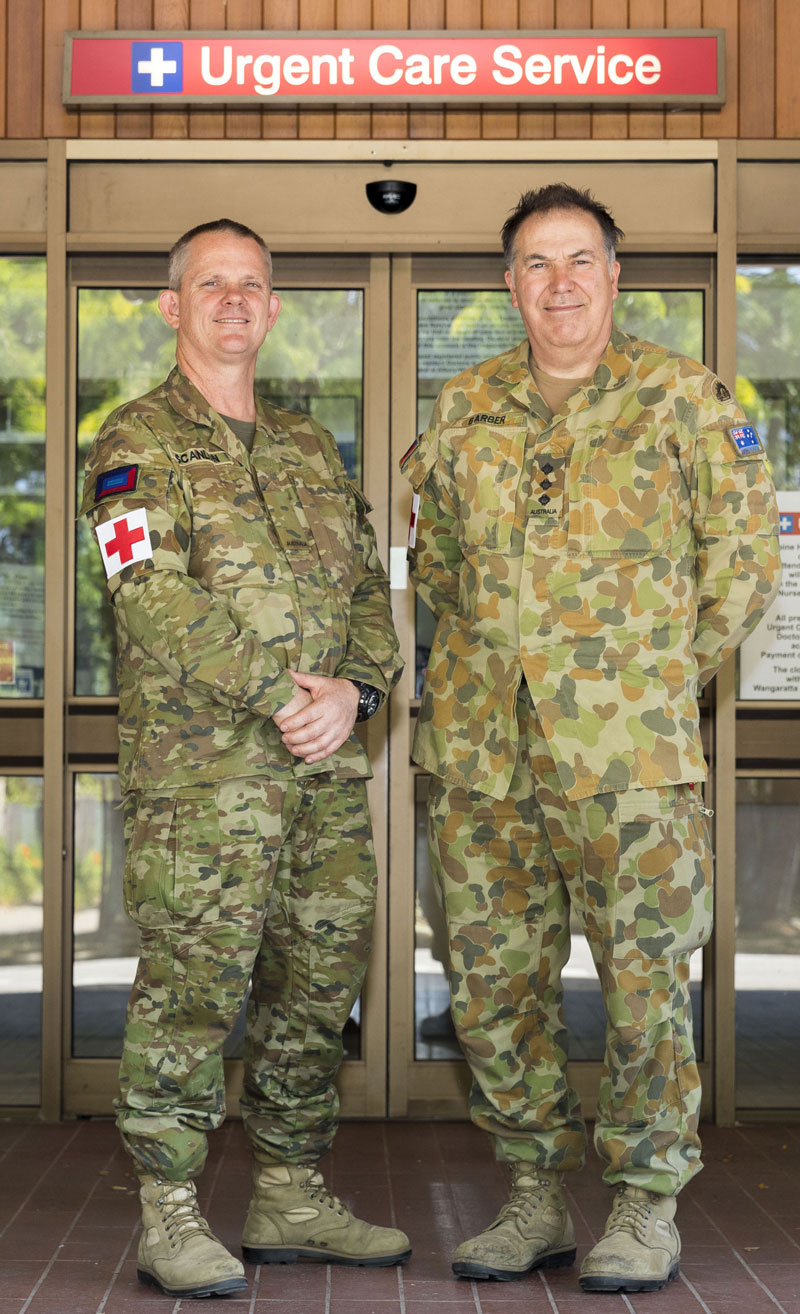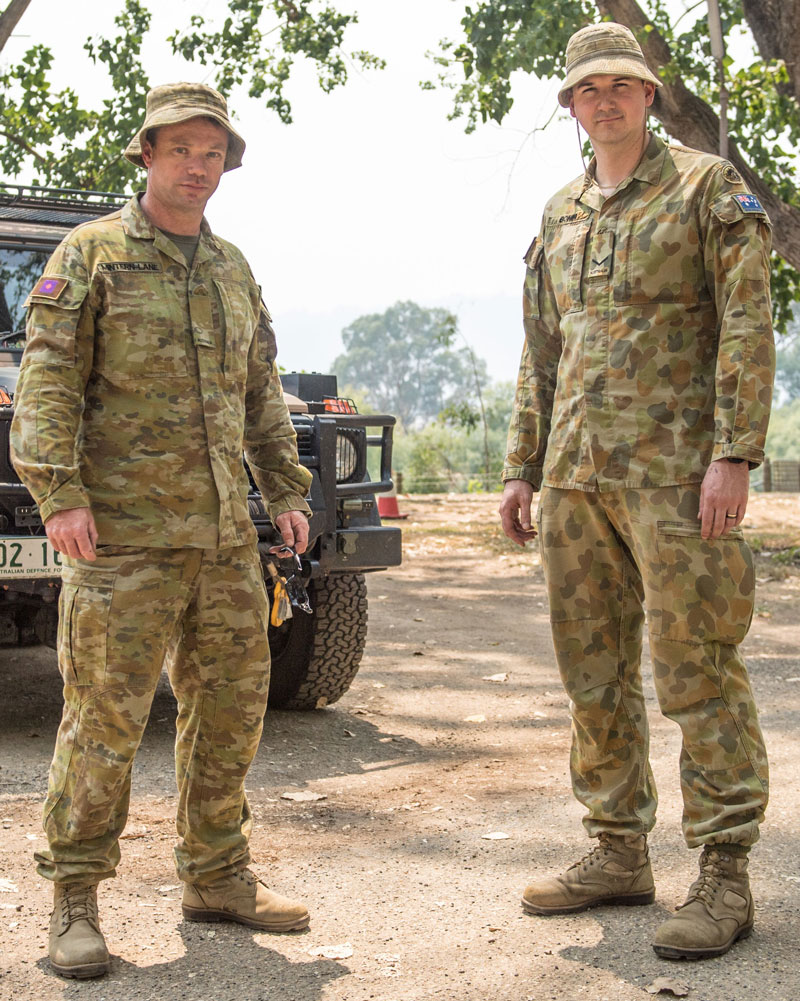 In late 2010 it was announced that Australian personnel deploying to Afghanistan would all receive US-produced "Multicam" pattern camouflage uniforms, as it was determined this design had a higher performance rating than the DPCU. A variation of the pattern, developed specifically for Australian military personnel by "Crye Precision" and incorporating many of the "bunny" and "jellybean" features found in the standard DPCU (although reduced in size), will begin replacing commercial "Multicam" for troops deploying to Afghanistan in late 2012.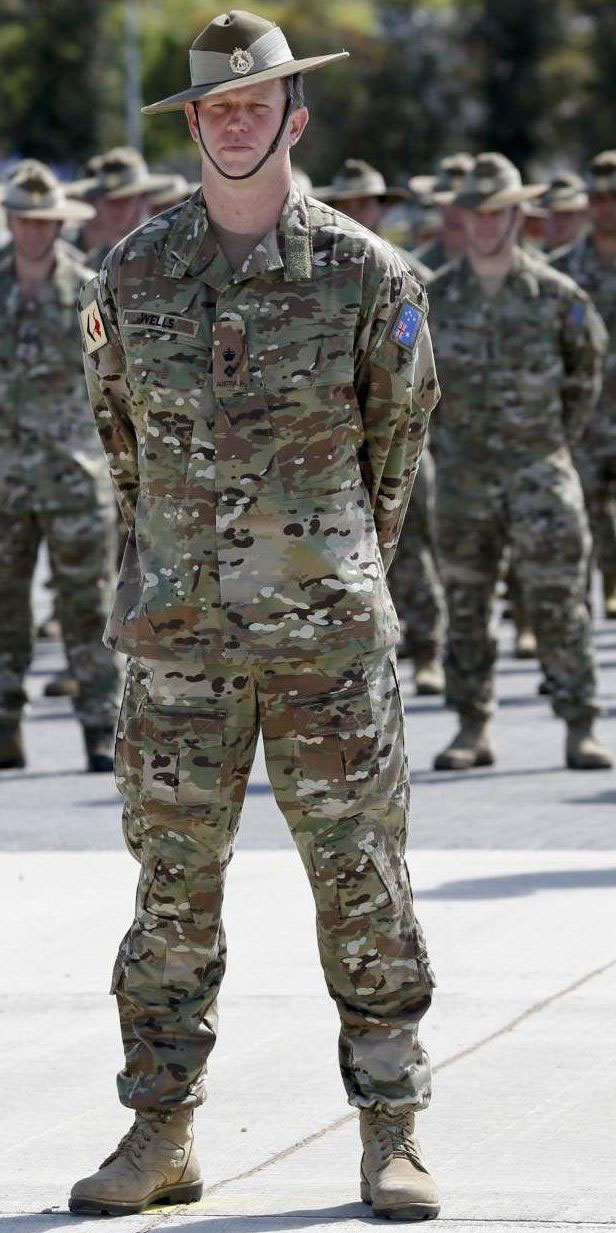 The pattern also has a miniature Australian Military Forces (AMF) logo embedded into the design.
The Australian Army website refers to this design as Australian Multicam Pattern (AMP), and the uniform itself as Australian Multicam Pattern Operational Combat Uniform (AMP OCU). This uniform only saw issue for approximately two years, and was replaced by the Australian Multicam Camouflage Uniform (AMCU), general issued from 2014 onwards.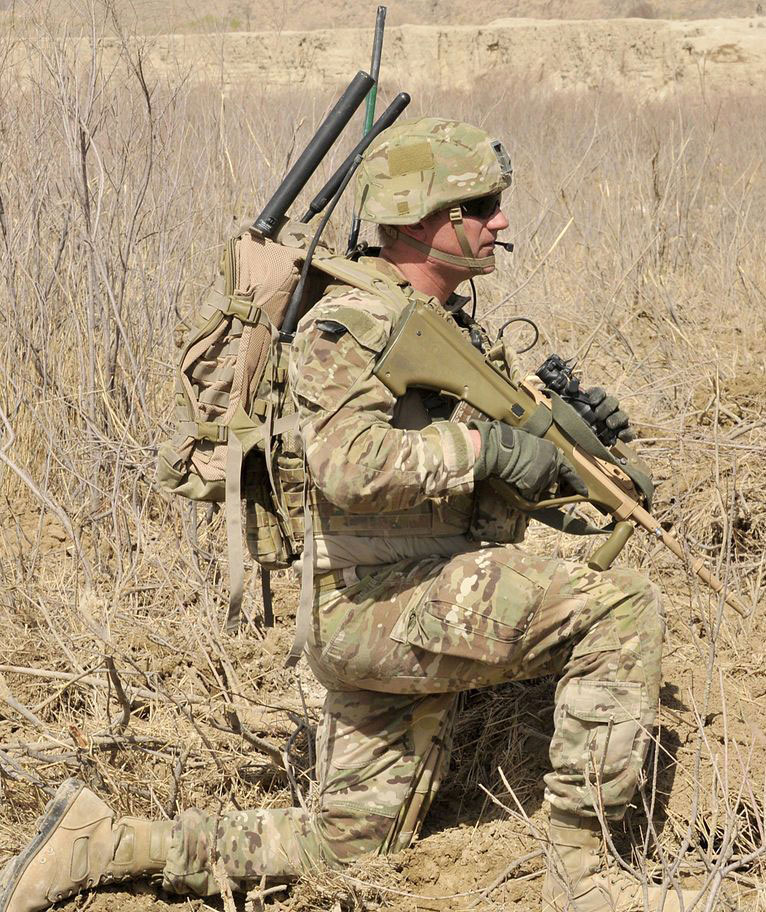 The AMCU is replacing the previously used Disruptive Pattern Camouflage Uniform (DPCU) and Australian Multicam Pattern - Operational Combat Uniform (AMP-OCU) camouflage patterns.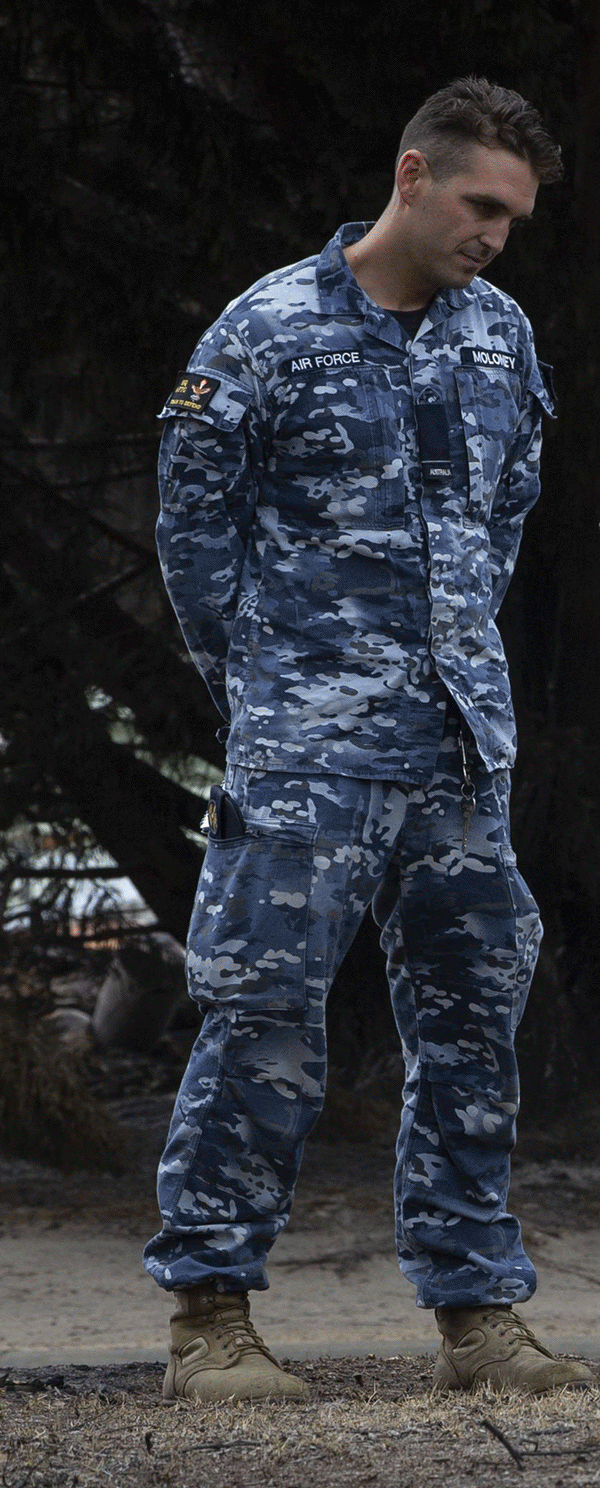 How can you tell if it's genuine Australian MultiCam Pattern? Why by branding of course! On the photos above, taken during one of the past Land Warfare Conferences in Melbourne, Australia, one can see the ADF Tri-Service Crest on AMP.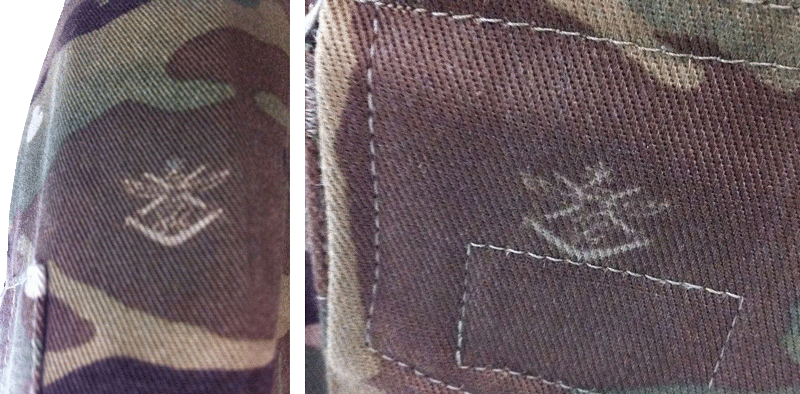 AMP was developed by "Crye Precision" specifically for the Australian Defence Force to provide a distinct version of MultiCam in similar fashion to the Multi Terrain Pattern for the UK MoD.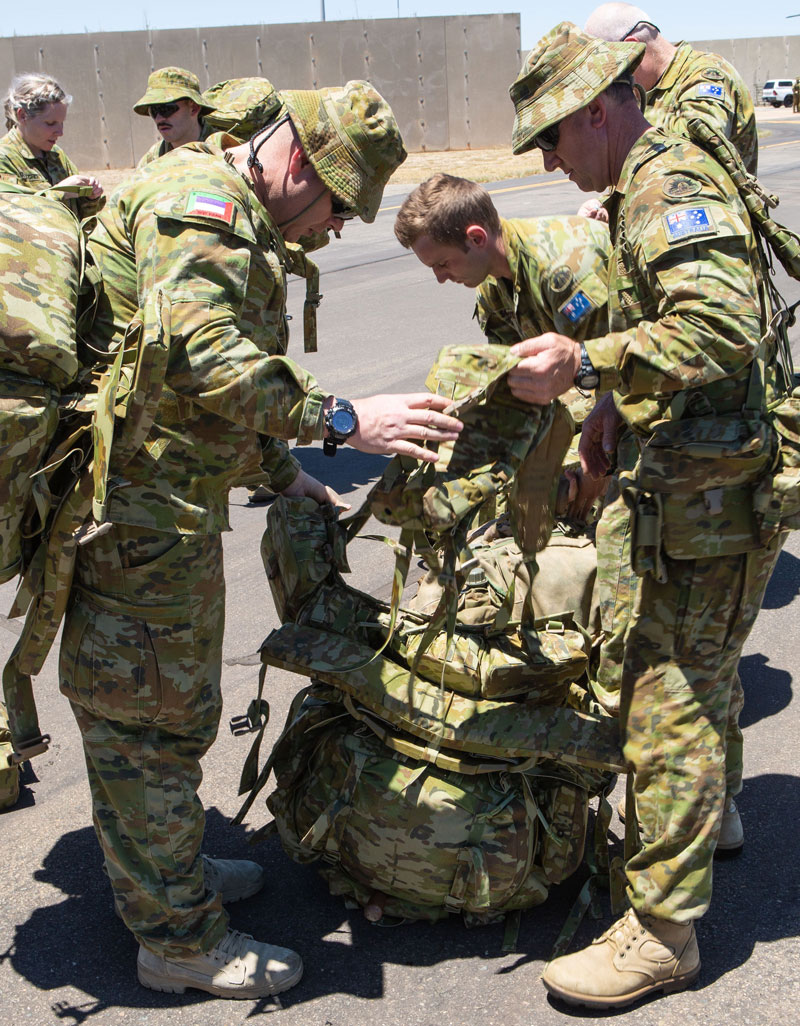 Exclusively for cartalana.com

We still have a lot of creative ideas, but unfortunately we lack the financial means to realize them.
If you enjoy the publications on this site, you can support us financially with:


,

,


svetvik@gmail.com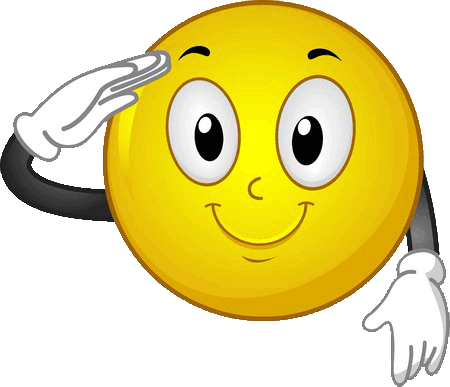 Thank you for your donation: Andrei Stanevich


(⇚ + ctrl) PREVIOUS PAGE ◄► NEXT PAGE (ctrl + ⇛)