IBAN: UA423348510000026200404121108


SITE MENU / Heading Content
J. ARNOLD, S. SINTON, illustrated by DARKO PAVLOVIC
US COMMANDERS OF WORLD WAR II. NAVY AND USMC
Born in Portland, Oregon in 1883, Robert Ghormley graduated twelfth in his class from Annapolis in 1906 and received his commission two years later. He served with the Atlantic Fleet's battleship force and in the office of the Chief of Naval Operations during World War One. He graduated from the Naval War College in 1938 and received promotion to rear admiral. Thereafter, lie directed the Navy Department's War Plans Division and then served as assistant to the Chief of Naval Operations from 1938 to 1940. Because of his diplomatic skills, Ghormley served in London as senior naval observer from 1940 to 1942 and became a vice admiral in September 1941. He then transferred to the Pacific as Commander South Pacific Forces in April 1942.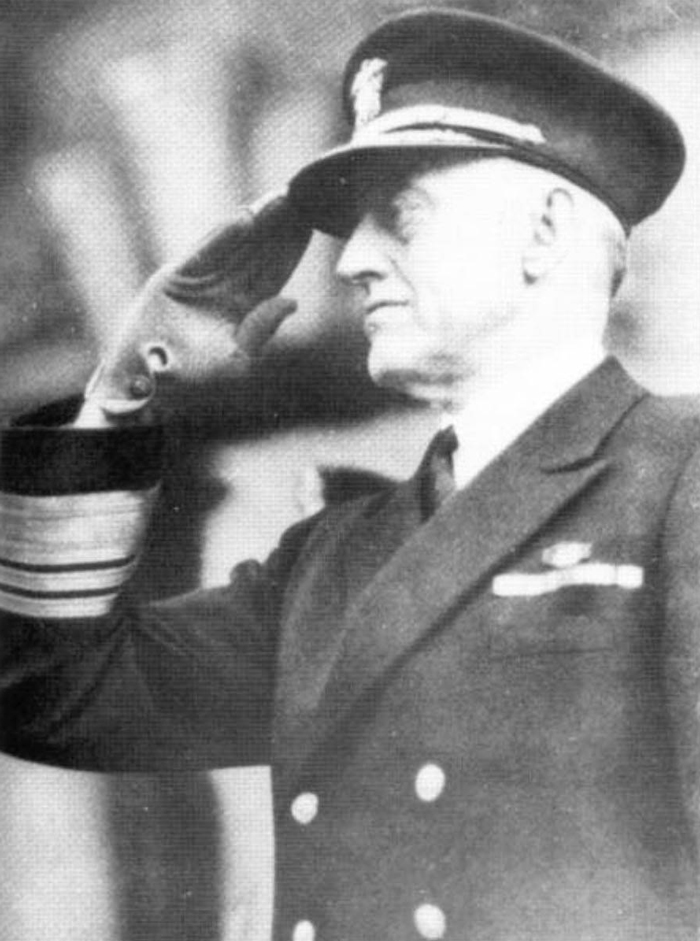 Vice Admiral Robert L. Ghormley's excessive caution during the naval battle of attrition for Guadalcanal caused him to be relieved of command. When he asked Admiral Nimitz why, Nimitz replied, "I had to pick from the whole Navy the man best fitted to handle that situation. Were you that man?" Ghormley candidly answered, "No. If you put it that way, I guess I wasn't." (US Naval Historical Center)
The next seven months placed him in a crucial position as the US Navy began its first significant offensive, Operation Watchtower, the invasion of Tulagi and Guadalcanal. Admiral King told Ghormley, "You have a large and important area and a most difficult task. I do not have the tools to give you to carry out that task as it should be done." From the beginning, Ghormley believed that this invasion was unwise because the forces were too few and unready. Surprisingly, Ghormley remained at his headquarters in New Caledonia instead of taking an active role aboard a combat ship. Still, his planning measurably contributed to the fact that the invasion force reached the beaches of Tulagi and Guadalcanal with little difficulty on August 7, 1942. Ghormley well knew that he possessed so few resources that any loss would be significant. The disastrous Battle of Savo Island on August 9 subtracted four Allied cruisers from his order of battle and caused Ghormley and his headquarters staff to become excessively anxious and cautious.
Subsequent combat further reduced Ghormley's surface fleet as Guadalcanal became a war of attrition: the carrier Enterprise damaged during the Battle of the Eastern Solomons on August 24; the carrier Saratoga torpedoed on August 31; the carrier Wasp torpedoed and sunk on September 15. The steady losses wore down Ghormley. His caution changed to indecision. In addition, he suffered from badly abscessed teeth at this time. As a result, while the battle for Guadalcanal raged, Ghormley worked extremely hard to little avail, at one point radioing Nimitz, "My forces totally inadequate to meet the situation." General "Hap" Arnold reported that Ghormley did not leave his shipboard office in Noumea for about a month and commented, "no man can sit continuously in a small office fighting a war ... without suffering mentally, physically and nervously." The strain caused depression and defeatism and prompted concerned senior commanders to investigate. Both Arnold and Nimitz concurred that Ghormley seemed to have lost his confidence. The burden of work and worry had crushed him. They recommended that he be relieved. Nimitz commented that Ghormley was "too immersed in detail and not sufficiently bold and aggressive at the right time." On October 18, the far more aggressive Admiral William Halsey replaced Ghormley.
Ghormley was reassigned to the 14th Naval District, a largely administrative post. Thereafter, he served on the staff of Admiral Stark in Europe from 1944 to 1945. In this capacity, he oversaw the demobilization of the German Navy. Ghormley commanded US Navy forces in German waters from May 1945 until his retirement in August 1946. He died in 1958.
According to naval historian, Samuel Eliot Morison, Ghormley was "a meticulous and conscientious man with a long record of achievement." Morison adds, that he "apparently lacked the personal qualities needed to inspire American fighting men in a tough spot." In August 1942, Ghormley was thrust into the most critical combat assignment in the Pacific. He proved wanting.
Born in Portland, Oregon in 1885, Richmond Turner graduated fifth in his class from Annapolis in 1908. During World War One, he served aboard battleships as a gunnery officer but did not see combat. Following the war, he had ordnance duty ashore for three years and then joined the staff of the Commander Scouting Fleet in 1923 as a gunnery officer. He commanded a destroyer in 1924. At the age of 42, he entered flight training and became a naval aviator in 1927. He commanded aircraft squadrons assigned to the Asiatic Fleet and then served as a technical adviser on naval aviation to the American delegation that participated in the Geneva Disarmament Conference. Promoted to captain in 1935, Turner attended the Naval War College and then stayed at the school to teach strategic studies. He commanded the cruiser Astoria from 1938 to 1940. In October 1940, Turner became director of the navy's War Plans Division. Promoted to rear admiral, he served as one of Admiral King's top strategists after Pearl Harbor.
Turner became the commander of Amphibious Forces South Pacific in July 1942. This placed him in charge of the scarce, but all-important, transports and cargo ships necessary to land and support amphibious invasions. In preparation for the invasion of Guadalcanal, the first major amphibious operation undertaken by the United States since 1898, Turner met with Admiral Fletcher. When he learned that Fletcher intended to keep his carriers within supporting distance for only 48 hours. Turner vehemently protested, to no avail. In the event, when Fletcher's carriers withdrew only 36 hours after the landing on Guadalcanal, the withdrawal left Turner "bare-arse" in his own colorful words. Turner made the stunning decision to withdraw his transports as well. The marine commander, General Vandegrift, vehemently protested about his "running away," but Turner believed that he had no choice. Before he could withdraw, the disastrous Battle of Savo Island took place on August 9, 1942. It was the worst defeat ever suffered by the US Navy and it was Turner who designed the flawed Allied pre-battle dispositions. Turner bravely continued unloading operations the next morning, but that afternoon ordered the transports to retire "in view of impending heavy air attacks." It was a controversial decision that left the marines without their 1,000-man reserve, most of their artillery and heavy equipment, and half of their food supplies.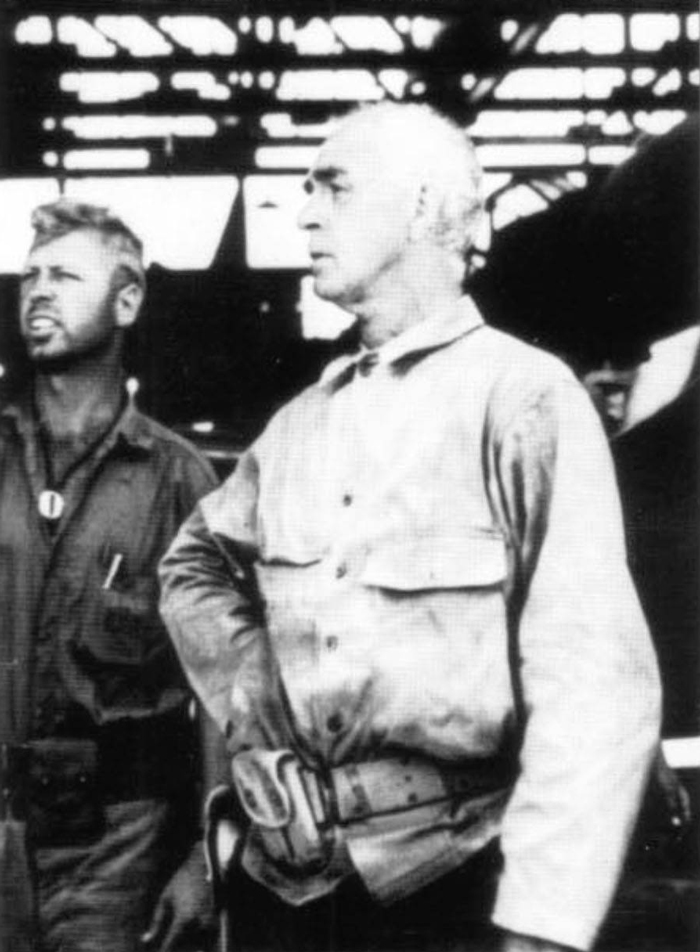 Richmond Kelly Turner possessed a "grizzled head, beetling black brows, tireless energy and ferocious language," that made him legendary in the Pacific. Fully aware that it was the first American amphibious operation of the war, Turner carefully planned Operation Watchtower, the invasion of Tulagi and Guadalcanal. He attended to all essential details, including the employment of every landing craft and the exact times and amounts of naval gunfire support. He often explained his exacting attention to detail with the remark that he "hated above all things to see soldiers swimming." (National Archives)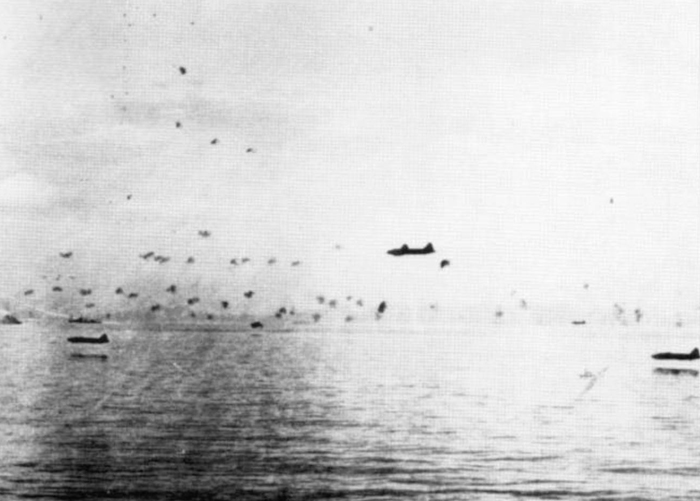 Fear of a Japanese air attack caused Turner to withdraw his vulnerable transports before they had completely unloaded their cargo at Guadalcanal. A flight of four Japanese bombers makes a low level attack against transports off Guadalcanal. (US Naval Historical Center)
In contrast to this cautious decision, in September 1942 Turner boldly sailed reinforcements to Guadalcanal in spite of threatened air and submarine attacks. Moreover, it was Turner who sagely recognized the salient importance of Guadalcanal to the entire Pacific campaign. He wrote to Admiral Ghormley, "Here in the Solomons we now have an unsinkable aircraft carrier which I believe may finally be multiplied into an invincible fleet adequate for a decisive move, but this will require patience and reinforcements." In addition to his profound grasp of strategy, throughout the Solomons campaign Turner demonstrated brilliant organizational skills. However, he could not restrain his instinct to control: he "studied everything, remembered everything, interfered in everything." A marine officer who served with him observed, "Turner was a martinet; very, very gifted, but he was stubborn, opinionated, conceited, thought that he could do anything better than anybody in the world." In the months ahead. Turner's difficult personality caused problems.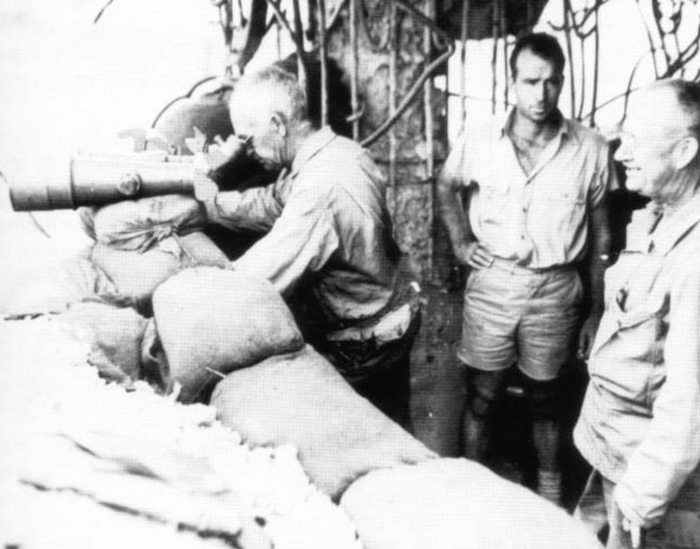 Admiral Turner peers through field glasses at a captured Japanese observation post in the Marianas. At the far right is Holland Smith. (National Archives)
Until mid-1943 Turner continued to command amphibious landings in the Solomons and had his headquarters' ship sunk beneath him off Rendova. He took command of the 5th Amphibious Force for operations in the Central Pacific. In March 1944, he was promoted again to command of Amphibious Forces Pacific. Turner supervised the landings on Tarawa, Kwajalein, Saipan, Tinian, Guam, Iwo Jima, and Okinawa. During the Tarawa invasion. Turner and Marine General Holland Smith quarreled over command authority, to the detriment of all concerned. The terrible casualties suffered on Tarawa prompted Turner to carefully review the operation and devise a valuable set of "Lessons Learned." However, after supervising major amphibious operations, Turner began to falter. As he later told a biographer, "When I came back from the Marshalls I was dead tired. I stayed tired for the rest of the war." Moreover, Turner began to drink heavily. Although he was never observed to be impaired during combat, his frequent hangovers made him even more difficult to cooperate with.
Nonetheless, Admiral Raymond Spruance wanted to continue to work with Turner. He commented, "Our ideas of professional matters were thoroughly worked out together, and we usually thought alike. I was greatly impressed with RKT's brilliant mind, his capacity for hard work and his fine military and personal character." Turner received promotion to full admiral in May 1945 and received the assignment of planning for the invasion of Japan. After the war he was the US naval representative on the United Nations' military staff committee. He retired in 1947 and died in 1961.
In spite of his difficult personality, "Kelly" Turner's leadership earned him the accolade, "the premier US amphibious commander in the Pacific War."
Born in Hanover, New Hampshire, in 1888, Thomas Kinkaid graduated from Annapolis in 1908. He served aboard the battleship Arizona during World War One. Kinkaid graduated from the Naval War College in 1930 and was commanding officer of the heavy cruiser Indianapolis from 1937 to 1938. He was naval attache in Rome and then in Belgrade from 1938 to 1941. As a rear admiral, Kinkaid commanded a cruiser division following the Japanese raid on Pearl Harbor. He fought in all of the Pacific War's early battles, including the Coral Sea in May 1942 and Midway a month later. He commanded the Enterprise task force during the Guadalcanal campaign and was aboard this carrier at the third great carrier versus carrier battle, the August 24 Battle of the Eastern Solomons. At this battle, the Enterprise was badly damaged by Japanese bombs. Aboard the repaired Enterprise, Kinkaid was the senior admiral and, thus, directed the next important carrier engagement, the October 26 Battle of the Santa Cruz Islands. It was the fourth carrier battle in six months. Kinkaid's forces included a new and inexperienced officer in charge of fighter-direction (Halsey had taken the experienced officer onto his land-based staff) and suffered a tactical defeat, as measured by combat tonnage sunk. However, the action bought invaluable time for the Americans to build up strength on Guadalcanal. It prompted Admiral Nimitz to observe, "The general situation at Guadalcanal is not unfavorable." On November 24, Kinkaid returned to Espiritu Santo to take over a cruiser task force based around the dead Admiral Callaghan's shattered command. Kinkaid had absorbed the lessons from previous battles and devised a sound battle plan for the next engagement at Guadalcanal. Unfortunately, the high command then made the mistake of transferring him, for no sound reason, before he could implement his plan. His replacement, Rear Admiral Carleton Wright, adopted Kinkaid s plan to engage an outnumbered Japanese destroyer force on November 30, 1942 at the Battle of Tassafaronga. It was an American debacle caused largely by Wright's inexperience.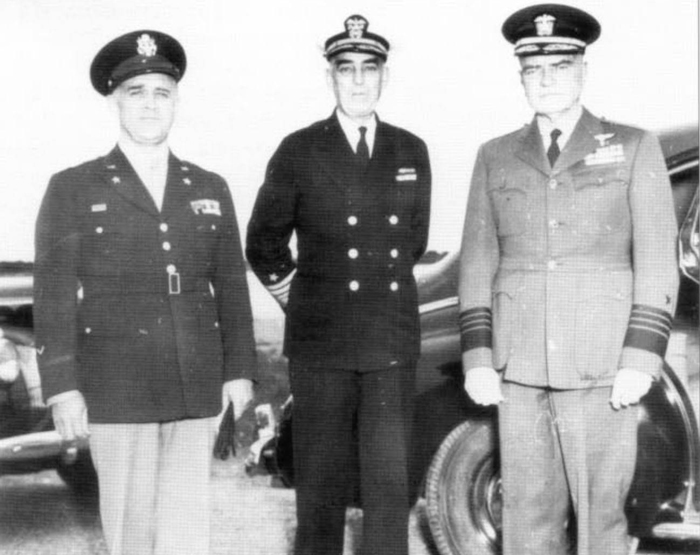 After service with the fleet during many of its important early war engagements, Admiral Thomas Kinkaid (center) became commander of the 7th Fleet, the naval unit assigned to support General Douglas MacArthur, in November 1943. Not only did he have to satisfy MacArthur, but he also had to deal with MacArthur's difficult chief of staff, General Richard Sutherland (left). Admiral Halsey (light) correctly believed that Kinkaid was up to the challenge. (National Archives)
On January 3, 1943 Kinkaid assumed command of naval forces in the North Pacific and promptly placed a tight blockade around Japanese-held Attn and Kiska in the Aleutian Islands. Although he was not personally present, this effort led to the Battle of Komandorski Islands, one of the few daylight surface engagements of the Pacific War. His ineffectual efforts to direct his subordinates from afar during this battle caused amusement. Thereafter, Kinkaid supervised the recapture of Attn in May 1943 and Kiska in August 1943. In November 1943, Vice Admiral Kinkaid became commander of the 7th Fleet, the naval units assigned to support General Douglas MacArthur. This fleet was always a secondary force compared to the carrier task forces sweeping through the Pacific. Quite simply, naval leaders did not trust MacArthur with the responsibility for aircraft carriers and modern battleships. Still, the size of the 7th Fleet swelled dramatically. For the invasion of Leyte in October 1944, it had grown so enormously that when MacArthur joined the 700-vessel invasion fleet, Kinkaid greeted him with the words, "Welcome to our city." The fleet included a bombardment force of six old battleships, four heavy cruisers, four light cruisers, and 18 escort carriers. Surrounded by such power, Kinkaid, like Admiral Halsey, did not expect the Japanese fleet to fight to defend Leyte.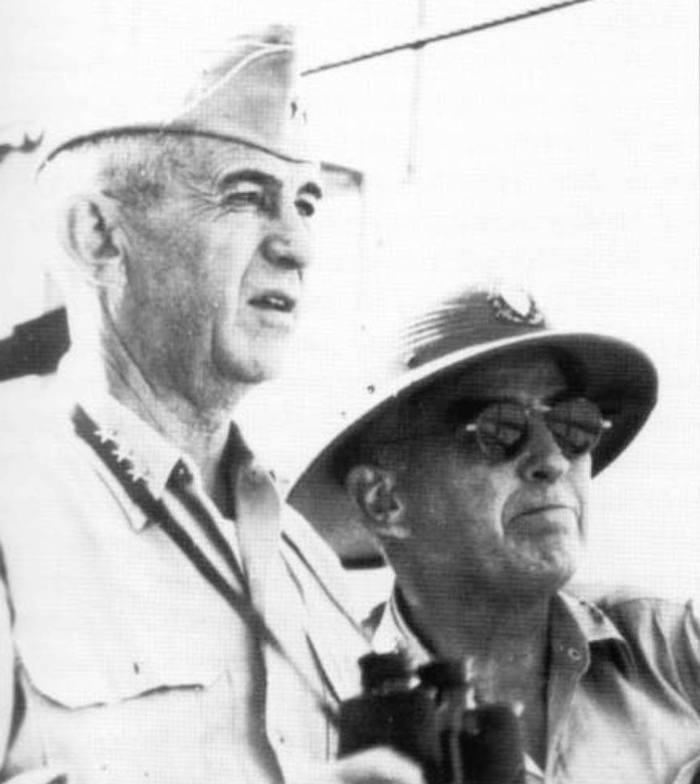 Admiral Kinkaid (left) with General Walter Krueger during the invasion of Leyte. (National Archives)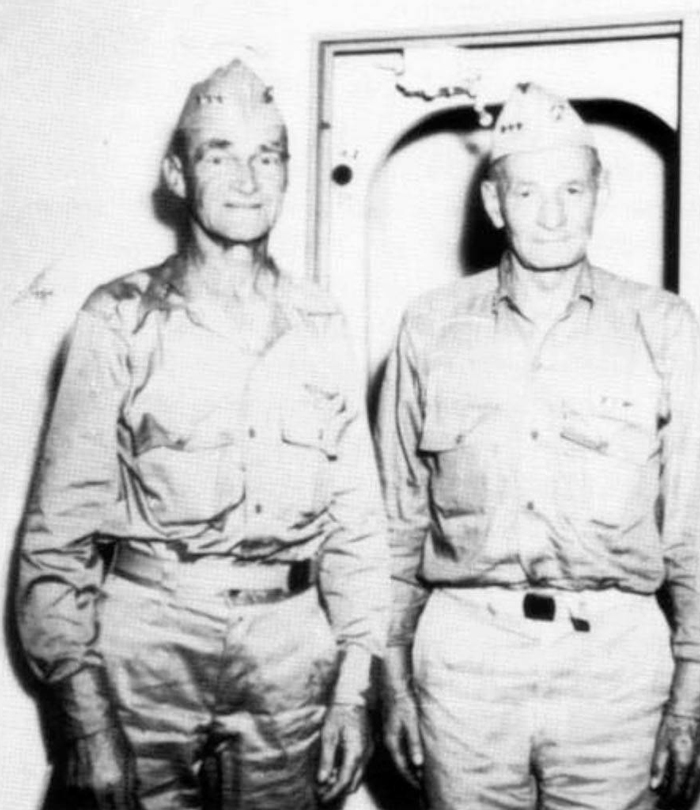 Called "Slew" by his friends and "Popeye" by his men because of his skinny frame, sunken cheeks (he wore false teeth), and prominent nose, Admiral John McCain (left) was a strong advocate for naval aviation both before the war and during the war's early years. On McCain's left is Admiral Marc Mitscher. (National Archives)
When the surprise Japanese thrust came, Kinkaid sent Rear Admiral Jesse B. Oldendorf's battleships to block the Surigao Strait. Five of Oldendorf's six battleships had been salvaged from the wreckage of Pearl Harbor. Oldendorf's battleships "capped the F on the Japanese. Having defeated the Japanese thrust through the Surigao Strait, Kinkaid was well satisfied. On the morning of October 25, he asked his chief of staff , "Is there anything we haven't done." The staff officer replied that they should ensure that Halsey was blocking the San Bernardino Strait. The surprising response came that Halsey was not doing this. Twenty minutes later Kinkaid learned that Japanese battleships and cruisers were attacking his escort carriers in the Leyte Gulf. Heroic American fighting and Japanese blunders saved the invasion fleet. After supporting MacArthur in the Philippines, Kinkaid performed a final operation, when his ships landed US forces in Korea following the Japanese surrender. Kinkaid retired in 1950 and died in 1972.
During the war, Kinkaid served under the Pacific Theater s two most demanding and difficult leaders, Halsey and MacArthur. As both a surface unit commander and a carrier leader under Halsey, he performed solidly. His ability to avoid confrontation and cooperate with MacArthur was unusual and his performance satisfied MacArthur as well. Kinkaid was one of very few officers whose wartime duties included extensive surface actions, carrier combat, and amphibious support.
Born in rural Mississippi in 1884, John McCain graduated from Annapolis in 1906 and received a commission two years later. During the interwar period he served on surface ships but became steadily more interested in naval aviation. He waited nine years for acceptance to flight school and finally qualified as a naval aviator in 1936 at the age of 52. He commanded the carrier Ranger from 1937 to 1939. The attack on Pearl Harbor found him in command of naval aircraft on the American west coast. His first important wartime service came in May 1942 when he was named Commander, Air Forces, South Pacific Area under Vice Admiral Ghormley. His forces included army, navy, and Marine Corps planes operating from island bases or seaplane tenders in New Caledonia, Fiji, Efate, and Espiritu Santo. Initially, McCains most important responsibility was to conduct air searches in the Solomons. After an airfield on Guadalcanal had been secured, McCain worked to provide scarce planes for service at Guadalcanal. He managed this key task well and, hereby, helped make Guadalcanal an unsinkable aircraft carrier that dominated the surrounding waters. In October, he became Chief of the Bureau of Aeronautics. In August 1943, he was promoted to vice admiral and became the first officer to hold a newly created post, Deputy Chief of Naval Operations for Air. The posting put McCain in charge of developing and training the air arm assigned to carrier task forces, land- based naval forces, and the Marine Corps air arm.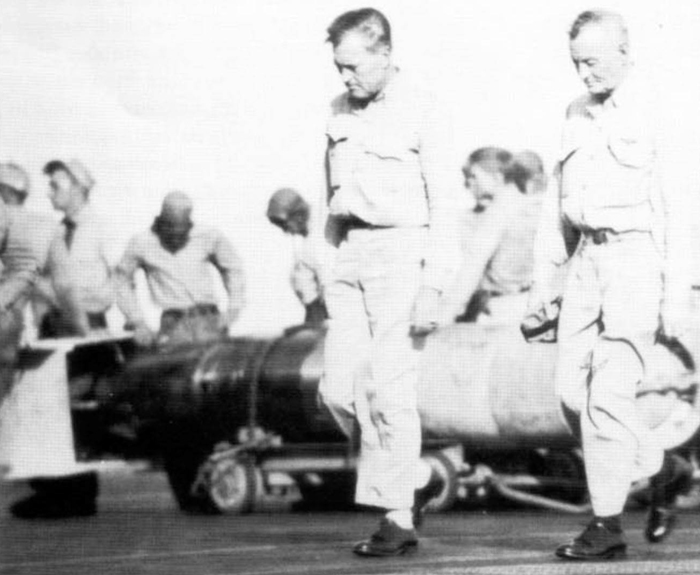 Admiral McCain (left) paces a carrier flight deck in 1944. (National Archives)
In August 1944, McCain received a coveted combat position as commander of Carrier Task Force 38.1 under Admiral Mitscher. During the Leyte campaign, an overconfident Halsey released McCain's Task Force for rest and refit at Ulithi. Then came the startling news, on October 25, that Japanese battlewagons were loose among the Leyte invasion fleet. Halsey hurriedly recalled McCain. McCain rushed toward Leyte Gulf. In order to recover his patrol aircraft, he boldly ordered his carriers to surge ahead at full speed and then, to gain a favorable wind for landing, to reverse at 33 knots and countermarch through the fleet. Having recovered his planes, McCain launched a strike, at the long range of 340 miles, against the marauding Japanese surface fleet. In the event, the strike did little damage, but McCain's performance showed that he was an aggressive leader willing to take risks.
Subsequently, McCain commanded Halsey's Task Force 38 and led a two-week raid against Hainan and Formosa in January 1945. The main Japanese threat had become kamikaze attacks. McCain improvised effective anti-kamikaze tactics. In addition, a damaging typhoon struck McCain's fleet. McCain was almost relieved of command because of this storm. As the war neared an end, McCain's health failed and he was relieved in September 1945. He died at his home in Colorado on September 6. McCain's son achieved four-star rank and was US Commander-in-Chief Pacific Command during much of the Vietnam War. His grandson, a navy pilot in that war, was shot down over North Vietnam, and imprisoned for the war's duration. As of 2002, McCain's grandson serves in the US Senate and holds presidential ambitions.



IBAN: UA423348510000026200404121108


(⇚ + ctrl) PREVIOUS PAGE ◄► NEXT PAGE (ctrl + ⇛)