Let me offer you a link to the TransferGo,
where in the "Send to" line you only need to enter IBAN: UA423348510000026200404121108


SITE MENU / Heading Content
THE UNITED STATES MARINE CORPS (USMC) DEVOTIONAL FIELD BOOK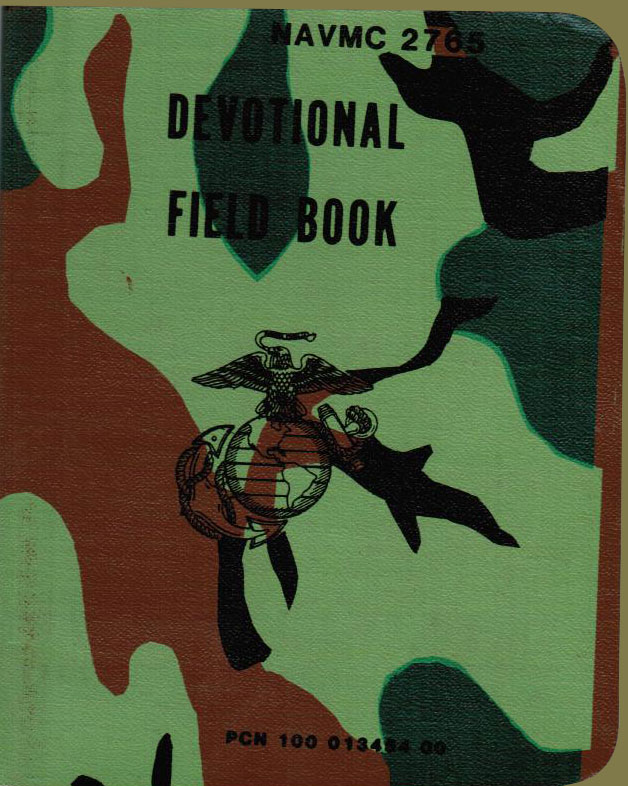 Almighty Father, whose command is over all and whose love never fails, make me aware of Thy presence and obedient to Thy will. Keep me true to my best self, guarding me against dishonesty in purpose and deed and helping me to live so that I can face my fellow Marines, my loved ones and Thee without shame or fear. Protect my family. Give me the will to do the work of a Marine and to accept my share of responsibilities with vigor and enthusiasm. Grant me the courage to be proficient in my daily performance. Keep me loyal and faithful to my superiors and to the duties my country and the Marine Corps have entrusted to me. Make me considerate of those committed to my leadership. Help me to wear my uniform with dignity, and let it remind me daily of the traditions which I must uphold.
If I am inclined to doubt, steady my faith, if I am tempted, make me strong to resist; if I should miss the mark, give me courage to try again.
Guide me with the light of truth and grant me wisdom by which I may understand the answer to my prayer. Amen
The United States Marine Corps is indebted to all who gave permission to use worship materials, hymns, and tunes under their control that are used in this Devotional Field Book (DFB). Every effort was made to ensure that all copyrighted works are used by permission of the owners. Acknowledgement of such permission is given in the index of acknowledgements and sources or below the hymns, as appropriate. If, through oversight, any copyrighted material has been used without permission, proper acknowledgement will be given in future printings. Reproduction of copyrighted material is not authorized without permission of the copyright owners.
This pocket-size Devotional Field Book (DFB) is a resource for Command Religious Programs (CRP) in the Fleet Marine Forces (FMF). In addition to being a personal devotional guide for Marines and Sailors, it may be used in conducting divine services or lay led services. This book has been designed primarily to support those FMF operations where limited printed resources are available for the CRP.
The scriptures, prayers, hymns and songs, statements of faith and meditations contained in this book were carefully chosen by chaplains, Marines and Sailors. These selections have historically offered guidance, encouragement and support to people in time of need. This book is dedicated to the hope that it will lead others to the inexhaustible resources of God.
And God spoke all these words, saying,
2 "I am the LORD your God, who brought you out of the land of Egypt, out of the house of bondage.
3 "You shall have no other gods before me.
4 "You shall not make for yourself a graven image, or any likeness of anything that is in heaven above, or that is in the earth beneath, or that is in the water under the earth; 5 you shall not bow down to them or serve them; for I the LORD your God am a jealous God, visiting the iniquity of the fathers upon the children to the third and the fourth generation of those who hate me, 6 but showing steadfast love to thousands of those who love me and keep my commandments.
7 "You shall not take the name of the LORD your God in vain; for the LORD will not hold him guiltless who takes his name in vain.
8 "Remember the sabbath day, to keep it holy. 9 Six days you shall labor, and do all your work; 10 but the seventh day is a sabbath to the LORD your God; in it you shall not do any work, you, or your son, or your daughter, your manservant, or your maidservant, or your cattle, or the sojourner who is within your gates; 11 for in six days the LORD made heaven and earth, the sea, and all that is in them, and rested the seventh day; therefore the LORD blessed the sabbath day and hallowed it.
12 "Honor your father and your mother, that your days may be long in the land which the LORD your God gives you.
13 "You shall not kill.
14 "You shall not commit adultery.
15 "You shall not steal.
16 "You shall not bear false witness against your neighbor.
17 "You shall not covet your neighbor's house; you shall not covet your neighbor's wife, or his manservant, or his maidservant, or his ox, or his ass, or anything that is your neighbor's."
12 "And now, Israel, what does the LORD your God require of you, but to fear the LORD your God, to walk in all his ways, to love him, to serve the LORD your God with all your heart and with all your soul,
13 and to keep the commandments and statues of the LORD, which I command you this day for your good?
14 Behold, to the LORD your God belong heaven and the heaven of heavens, the earth with all that is in it;
15 yet the LORD set his heart in love upon your fathers and chose their descendants after them, you above all peoples, as at this day.
16 Circumcise therefore the foreskin of your heart, and be no longer stubborn.
17 For the LORD your God is God of gods and LORD of lords, the great, the mighty, and the terrible God, who is not partial and takes no bribe.
18 He executes justice for the fatherless and the widow, and loves the sojourner, giving him food and clothing.
19 Love the sojourner therefore; for you were sojourners in the land of Egypt.
20 You shall fear the LORD your God; you shall serve him and cleave to him, and by his name you shall swear.
21 He is your praise; he is your God, who has done for you these great and terrible things which your eyes have seen.
22 Your fathers went down to Egypt seventy persons; and now the LORD your God has made you as the stars of heaven for multitude.
9 Have I not commanded you? Be strong and of good courage; be not frightened, neither be dismayed; for the LORD your God is with you wherever you go."
5 Trust in the LORD with all your heart, and do not rely on your own insight.
6 In all your ways acknowledge him, and he will make straight your paths.
Blessed is the man who walks not in the counsel of the wicked, nor stands in the way of sinners, nor sits in the seat of scoffers;
2 but his delight is in the law of the LORD, and on his law he meditates day and night.
3 He is like a tree planted by streams of water, that yields its fruit in its season, and its leaf does not wither. In all that he does, he prospers.
4 The wicked are not so, but are like chaff which the wind drives away.
5 Therefore the wicked will not stand in the judgment, nor sinners in the congregation of the righteous;
6 for the LORD knows the way of the righteous, but the way of the wicked will perish.
The LORD is my shepherd, I shall not want;
2 he makes me lie down in green pastures. He leads me beside still waters;
3 he restores my soul. He leads me in paths of righteousness for his name's sake.
4 Even though I walk through the valley of the shadow of death, I fear no evil; for thou art with me; thy rod and thy staff, they comfort me.
5 Thou preparest a table before me in the presence of my enemies; thou anointest my head with oil, my cup overflows.
6 Surely goodness and mercy shall follow me all the days of my life; and I shall dwell in the house of the LORD for ever.
The earth is the LORD's and the fulness thereof, the world and those who dwell therein;
2 for he has founded it upon the seas, and established it upon the rivers.
3 Who shall ascend the hill of the LORD? And who shall stand in his holy place?
4 He who has clean hands and a pure heart, who does not lift up his soul to what is false, and does not swear deceitfully.
5 He will receive blessing from the LORD, and vindication from the God of his salvation.
6 Such is the generation of those who seek him, who seek the face of the God of Jacob.
God is our refuge and strength, a very present help in trouble.
2 Therefore we will not fear though the earth should change, though the mountains shake in the heart of the sea;
3 though its waters roar and foam, though the mountains tremble with its tumult.
4 There is a river whose streams make glad the city of God, the holy habitation of the Most High.
5 God is in the midst of her, she shall not be moved; God will help her right early.
6 The nations rage, the kingdoms totter; he utters his voice, the earth melts.
7 The LORD of hosts is with us; the God of Jacob is our refuge.
8 Come, behold the works of the LORD, how he has wrought desolations in the earth.
9 He makes wars cease to the end of the earth; he breaks the bow, and shatters the spear, he burns the chariots with fire!
10 "Be still, and know that I am God. I am exalted among the nations, I am exalted in the earth!"
11 The LORD of hosts is with us; the God of Jacob is our refuge.
He who dwells in the shelter of the Most High, who abides in the shadow of the Almighty,
2 will say to the LORD, "My refuge and my fortress; my God, in whom I trust."
3 For he will deliver you from the snare of the fowler and from the deadly pestilence;
4 he will cover you with his pinions, and under his wings you will find refuge; his faithfulness is a shield and buckler.
5 You will not fear the terror of the night, nor the arrow that flies by day,
6 nor the pestilence that stalks in darkness, nor the destruction that wastes at noonday.
7 A thousand may fall at your side, ten thousand at your right hand; but it will not come near you.
8 You will only look with your eyes and see the recompense of the wicked.
9 Because you have made the LORD your refuge, the Most High your habitation,
10 no evil shall befall you, no scourge come near your tent.
11 For he will give his angels charge of you to guard you in all your ways.
12 On their hands they will bear you up, lest you dash your foot against a stone.
13 You will tread on the lion and the adder, the young lion and the serpent you will trample under foot.
14 Because he cleaves to me in love, I will deliver him; I will protect him, because he knows my name.
15 When he calls to me, I will answer him; I will be with him in trouble, I will rescue him and honor him.
16 With long life I will satisfy him, and show him my salvation.
Make a joyful noise to the LORD, all the lands!
2 Serve the LORD with gladness! Come into his presence with singing!
3 Know that the LORD is God! It is he that made us, and we are his; we are his people, and the sheep of his pasture.
4 Enter his gates with thanksgiving, and his courts with praise! Give thanks to him, bless his name!
5 For the LORD is good; his steadfast love endures for ever, and his faithfulness to all generations.
I lift up my eyes to the hills. From whence does my help come?
2 My help comes from the LORD, who made heaven and earth.
3 He will not let your foot be moved, he who keeps you will not slumber.
4 Behold, he who keeps Israel will neither slumber nor sleep.
5 The LORD is your keeper; the LORD is your shade on your right hand.
6 The sun shall not smite you by day, nor the moon by night.
7 The LORD will keep you from all evil; he will keep your life.
8 The LORD will keep your going out and your coming in from this time forth and for evermore.
Out of the depths I cry to thee, O LORD!
2 Lord, hear my voice! Let thy ears be attentive to the voice of my supplications!
3 If thou, O LORD, shouldst mark iniquities, Lord, who could stand?
4 But there is forgiveness with thee, that thou mayest be feared.
5 I wait for the LORD, my soul waits, and in his word I hope;
6 my soul waits for the LORD more than watchmen for the morning, more than watchmen for the morning.
7 O Israel, hope in the LORD! For with the LORD there is steadfast love, and with him is plenteous redemption.
8 And he will redeem Israel from all his iniquities.
O LORD, thou hast searched me and known me!
2 Thou knowest when I sit down and when I rise up; thou discernest my thoughts from afar.
3 Thou searches out my path and my lying down, and art acquainted with all my ways.
4 Even before a word is on my tongue, lo, O LORD, thou knowest it altogether.
5 Thou dost beset me behind and before, and layest thy hand upon me.
6 Such knowledge is too wonderful for me; it is high, I cannot attain it.
7 Whither shall I go from thy Spirit? Or whither shall I flee from thy presence?
8 If I ascend to heaven, thou art there! If I make my bed in Sheol, thou art there!
9 If I take the wings of the morning and dwell in the uttermost parts of the sea,
10 even there thy hand shall lead me, and thy right hand shall hold me.
Praise the LORD! Praise God in his sanctuary; praise him in his mighty firmament!
2 Praise him for his mighty deeds; praise him according to his exceeding greatness!
3 Praise him with trumpet sound; praise him with lute and harp!
4 Praise him with timbrel and dance; praise him with strings and pipe!
5 Praise him with sounding cymbals; praise him with loud clashing cymbals!
6 Let everything that breathes praise the LORD! Praise the LORD!
Seeing the crowds, he went up on the mountain, and when he sat down his disciples came to him.
2 And he opened his mouth and taught them, saying:
3 "Blessed are the poor in spirit, for theirs is the kingdom of heaven.
4 "Blessed are those who mourn, for they shall be comforted.
5 "Blessed are the meek, for they shall inherit the earth.
6 "Blessed are those who hunger and thirst for righteousness, for they shall be satisfied.
7 "Blessed are the merciful, for they shall obtain mercy.
8 "Blessed are the pure in heart, for they shall see God.
9 "Blessed are the peacemakers, for they shall be called sons of God.
10 "Blessed are those who are persecuted for righteousness' sake, for theirs is the kingdom of heaven.
11 "Blessed are you when men revile you and persecute you and utter all kinds of evil against you falsely on my account.
12 Rejoice and be glad, for your reward is great in heaven, for so men persecuted the prophets who were before you.
16 For God so loved the world that he gave his only Son, that whoever believes in him should not perish but have eternal life.
17 For God sent the Son into the world, not to condemn the world, but that the world might be saved through him. 18 He who believes in him is not condemned; he who does not believe is condemned already, because he has not believed in the name of the only Son of God.



Let me offer you a link to the TransferGo,
where in the "Send to" line you only need to enter IBAN: UA423348510000026200404121108


(⇚ + ctrl) PREVIOUS PAGE ◄► NEXT PAGE (ctrl + ⇛)